Donald Trump will end the first year of his presidency without hosting a state dinner
Running for office, Mr Trump criticised such events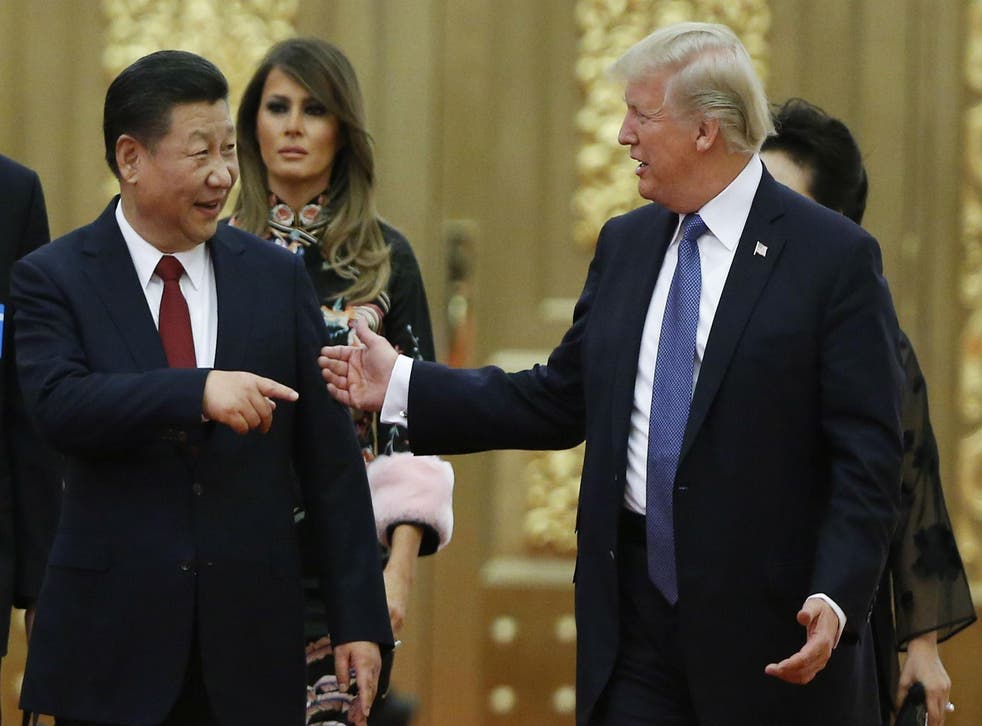 Donald Trump will become the first US president in nearly a century to end their first year without hosting a state dinner.
Running for office, the US leader criticised events like them, although they are viewed by many as as an important diplomatic tool. Often they include a showy arrival ceremony and an elaborate dinner at the White House.
Mr Trump disparaged former President Barack Obama for holding state dinners, and he was particularly critical when he Mr Obama held a state dinner during a 2015 visit by Chinese President Xi Jinping.
Ten great things Donald Trump will give the world in 2018
"I would not be throwing [Xi] a dinner," Mr Trump said at the time. "I would get him a McDonald's hamburger and say we've got to get down to work."
But earlier this year, on a tour in Asia, Mr Trump boasted about the red carpets, military parades and fancy dinners that Asian leaders had provided for him.
"Magnificent," he declared at one point on the trip to describe an event that had been hosted in his honour.
White House press secretary Sarah Huckabee Sanders said there was no "singular reason" why Mr Trump is yet to extend a state visit invitation, adding that Mr Trump's administration hopes to schedule a state visit early next year.
Ms Sanders did not say who was being considered for the diplomatic honour.
A state visit typically is offered as a sign of friendship and to showcase strategic ties between countries that are important to each other, said Anita McBride, a veteran of three Republican administrations who last served as chief of staff to first lady Laura Bush.
"The White House is the world stage to elevate that," she said. "These occasions really go a long way to solidify and strengthen relationships."
Donald Trump's international Presidential trips

Show all 22
Mr Trump has often bragged about his strong relationships with many of his foreign counterparts.
He hosted Mr Xi at his Florida estate in April, treating the Chinese leader to a full dinner – not the aforementioned burger – and what Mr Trump described as "the most beautiful piece of chocolate cake".
"President Xi was enjoying it," the President said.
While Mr Trump has also met with many world leaders at the White House, sometimes over lunch, they do not compare to a state dinner.
Mr Trump's visit to Beijing in November opened with a lavish arrival ceremony, with Mr Trump and his wife, Melania, being greeted at the airport by Chinese and American dignitaries standing at attention, with a band playing military music and scores of flag-waving children chanting "welcome".
The US leader was then whisked away for a private tour of the Forbidden City, which included dinner. The meal was a first for a visiting foreign leader at Beijing's historic imperial palace since the founding of modern China. Mr Trump also raved about an outdoor opera performance.
The following morning, a welcome ceremony at the Great Hall of the People featured a military parade. Mr Trump said "the world was watching" and claimed to have received telephone calls about it from around the globe.
"Nothing you can see is so beautiful," the President said at the time.
Mr Xi also honoured Mr Trump at a state banquet, playing video highlights from the Chinese leader's visit to Florida, along with clips from Mr Trump's trip and the screening of a video of the American President's granddaughter, Arabella, singing in Chinese.
The Associated Press contributed to this report
Register for free to continue reading
Registration is a free and easy way to support our truly independent journalism
By registering, you will also enjoy limited access to Premium articles, exclusive newsletters, commenting, and virtual events with our leading journalists
Already have an account? sign in
Register for free to continue reading
Registration is a free and easy way to support our truly independent journalism
By registering, you will also enjoy limited access to Premium articles, exclusive newsletters, commenting, and virtual events with our leading journalists
Already have an account? sign in
Join our new commenting forum
Join thought-provoking conversations, follow other Independent readers and see their replies