Donald Trump seeks to placate Steve Bannon as fired strategist says 'that presidency is over'
The former strategist has already returned to the powerful Breitbart News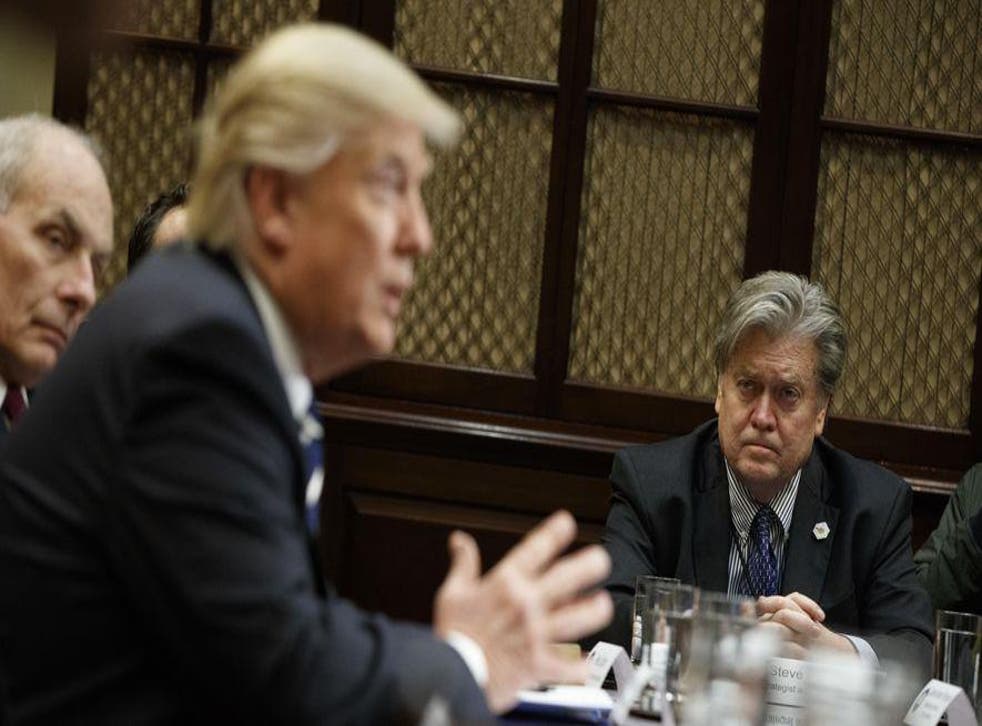 Donald Trump appears to be trying to placate Steve Bannon, the strategist whom he fired and who subsequently claimed that the "presidency is over".
Hours after Mr Trump sacked Mr Bannon, the right wing populist returned to his former position as the head of the pro-white nationalist Breitbart News. He said he would use his position to press his agenda.
"The Trump presidency that we fought for, and won, is over," Mr Bannon told the Weekly Standard.
"We still have a huge movement, and we will make something of this Trump presidency. But that presidency is over. It'll be something else. And there'll be all kinds of fights, and there'll be good days and bad days, but that presidency is over."
Commentators pointed out that with Mr Bannon declaring himself "free" and with his "hands back on my weapons" at the right-wing new site, he could be an extremely powerful player, and potentially a threat to Mr Trump.
The President, who earlier this week only offered a lukewarm endorsement of the 63-year-old, appeared to have come to that conclusion himself.
Breitbart's senior-editor-at-large Joel Pollak: With Bannon gone, Trump's presidency could fail
On Saturday, he said on Twitter: "I want to thank Steve Bannon for his service. He came to the campaign during my run against Crooked Hillary Clinton - it was great! Thanks S."
Seven hours laterm he followed up with another tweet, that said: "Steve Bannon will be a tough and smart new voice at @BreitbartNews...maybe even better than ever before. Fake News needs the competition!"
The precise circumstances of Mr Bannon's departure remain unclear. Some say he was fired at the instance of new Chief of Staff John Kelly following a series of clashes with other members of staff, while others said he had handed in his resignation two weeks ago.
World news in pictures

Show all 50
"On August 7, I talked to Kelly and to the President, and I told them that my resignation would be effective the following Monday, on the 14," he told the Weekly Standard. "I'd always planned on spending one year. Gen Kelly has brought in a great new system, but I said it would be best. I want to get back to Breitbart."
His departure followed the firing of Mr Trump's former Chief of Staff Reince Priebus, spokesman Sean Spicer, Communications Director Anthony Scarammuci and FBI Director James Comey. He also fired his national security advisor Michael Flynn.
Mr Bannon, who is said to have clashed with Mr Trump's daughter, Ivanka, and her husband, Jared Kushner, and the President's chief economic advisor Gary Cohn, was a populist and nationalist who pressed the New York tycoon to take a tough position on immigration, trade, and China.
The man who was brought into lead Mr Trump's presidential campaign last summer, had previously predicted he would last around eight months.
He said he now believed that with him gone from the White House, those remaining would seek to push Mr Trump in a different direction.
"I think they're going to try to moderate him," he said.
"I think he'll sign a clean debt ceiling, I think you'll see all this stuff. His natural tendency - and I think you saw it this week on Charlottesville - his actual default position is the position of his base, the position that got him elected. I think you're going to see a lot of constraints on that. I think it'll be much more conventional."
He also said he was ready to get back to working to push his own agenda.
"I feel jacked up," he said.
"Now I'm free. I've got my hands back on my weapons. Someone said, 'it's Bannon the Barbarian'. I am definitely going to crush the opposition. There's no doubt. I built a f***ing machine at Breitbart. And now I'm about to go back, knowing what I know, and we're about to rev that machine up. And rev it up we will do.
Register for free to continue reading
Registration is a free and easy way to support our truly independent journalism
By registering, you will also enjoy limited access to Premium articles, exclusive newsletters, commenting, and virtual events with our leading journalists
Already have an account? sign in
Register for free to continue reading
Registration is a free and easy way to support our truly independent journalism
By registering, you will also enjoy limited access to Premium articles, exclusive newsletters, commenting, and virtual events with our leading journalists
Already have an account? sign in
Join our new commenting forum
Join thought-provoking conversations, follow other Independent readers and see their replies