Donald Trump response on Steve Bannon: 'I'm my own strategist... he only came to my campaign late'
The US President refuses to definitively support his colleague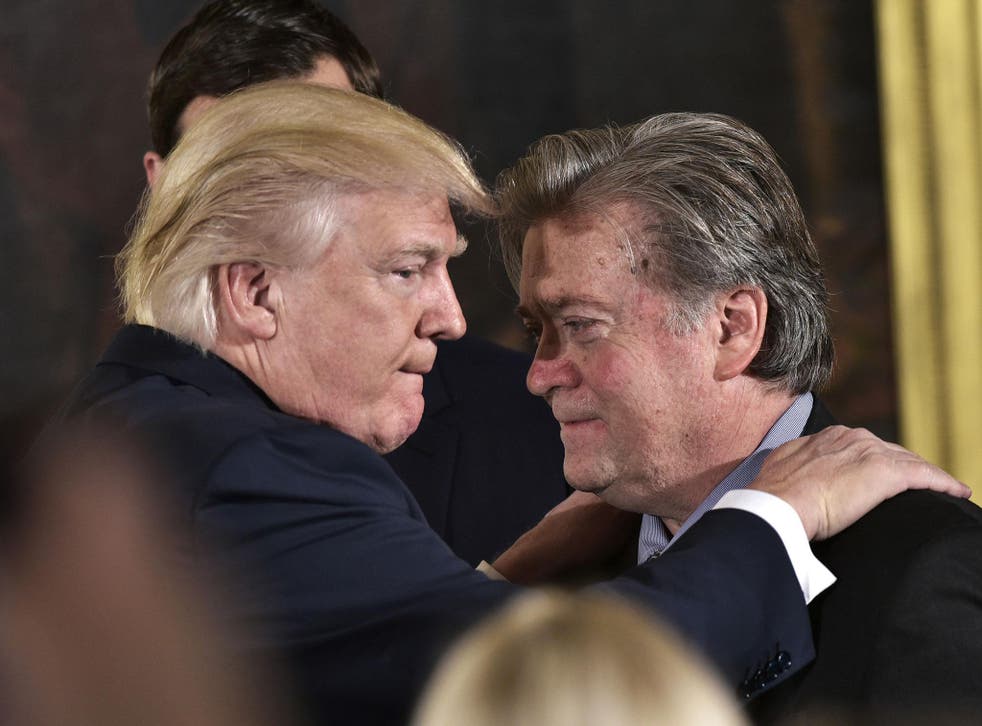 Donald Trump refused to confirm whether he still had confidence in the White House's chief strategist Steve Bannon, increasing speculation that his former campaign manager could be sidelined.
"I like Steve, but you have to remember he was not involved in my campaign until very late," the US President told New York Post columnist Michael Goodwin when asked about the issue.
"I had already beaten all the senators and all the governors, and I didn't know Steve. I'm my own strategist and it wasn't like I was going to change strategies because I was facing crooked Hillary."
He added: "Steve is a good guy, but I told them to straighten it out or I will."
Mr Trump's comments came shortly after Mr Bannon was stripped from his position on the National Security Council as part of a shake-up ordered by the US leader.
It followed reports that Mr Bannon had clashed with President Trump's son-in-law and fellow adviser Jared Kushner over a number of policy issues.
White House chief of staff Reince Priebus was reportedly forced to intervene.
Register for free to continue reading
Registration is a free and easy way to support our truly independent journalism
By registering, you will also enjoy limited access to Premium articles, exclusive newsletters, commenting, and virtual events with our leading journalists
Already have an account? sign in
Register for free to continue reading
Registration is a free and easy way to support our truly independent journalism
By registering, you will also enjoy limited access to Premium articles, exclusive newsletters, commenting, and virtual events with our leading journalists
Already have an account? sign in
Join our new commenting forum
Join thought-provoking conversations, follow other Independent readers and see their replies