Donald Trump's troubled history with the NFL and why his 'take a knee' fight may stem from a grudge held since the 1980s
One team owner threatened to punch future US President 'right in the mouth'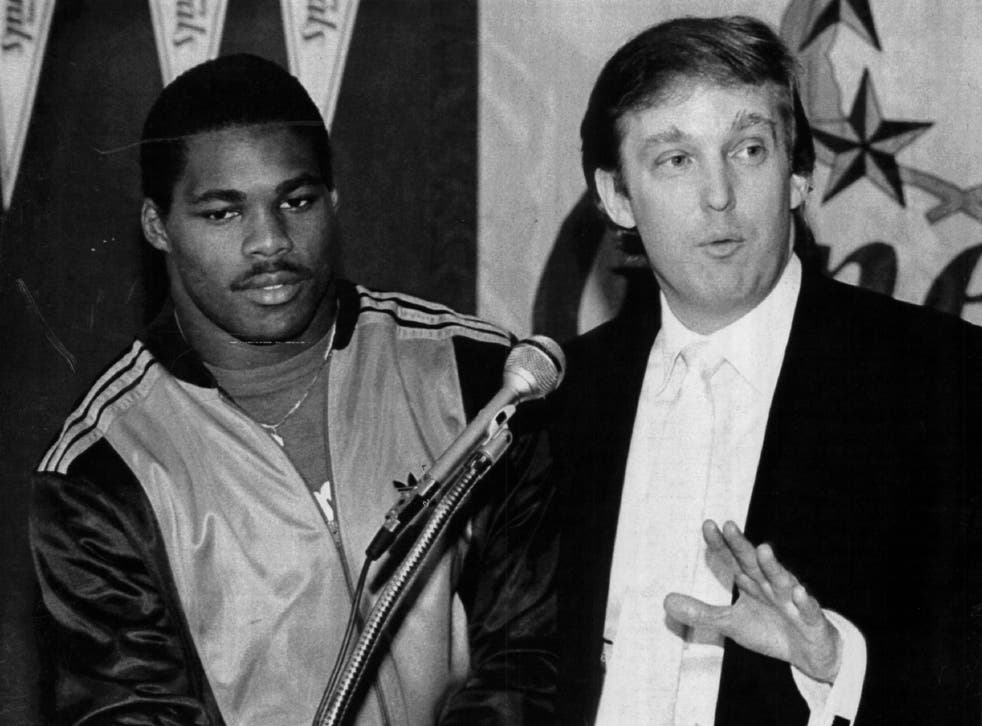 Donald Trump's "take a knee" fight with the NFL may have its origins in a grudge he has held against the league since the 1980s, according to a writer who has spent years researching American football.
Author Jeff Pearlman said the US President's current outbursts may stem from enduring resentment at how, more than 30 years ago, the National Football League refused to let him join its "ridiculously exclusive club" because he was viewed as a "scumbag huckster".
Pearlman told Newsweek that in 1984 Mr Trump, then a 40-year-old New York property tycoon, held a secret meeting with NFL commissioner Pete Rozelle and effectively offered to "do whatever it takes to join the NFL".
"I interviewed a guy who was at the meeting," said Pearlman, "And he was like, Rozelle said to him, 'You will never be an owner in the NFL. As long as I'm affiliated with the NFL or my family is affiliated with the NFL, you will never have a team in the NFL.'
"Because they just saw him as this scumbag huckster. He was this New York, fast-talking, kind of con-man. You know? He was just a huckster and they didn't really want that. The NFL never really wanted Trump. He's kind of [Dallas Cowboys owner] Jerry Jones without the dignity."
Thirty-three years after the snub, Mr Trump is now attacking the NFL over some players "taking a knee" (kneeling) when the American national anthem is played before games, in protest against police brutality.
He began his onslaught at a rally in Alabama when he urged NFL to sack "son of a bitch" players who protest, and followed up with a series of tweets belittling TV ratings for football games and accusing the league and its players of being unpatriotic.
Pearlman has now said he believes the President's hostility may be linked to the NFL's rejection of him in the 1980s.
Asked whether Mr Trump's "beef" with the NFL has inspired his current actions and whether he thought being refused entry to the team owners' club had stuck with the President for three decades, Pearlman said: "Oh, I do. He's clearly not a guy to let slights go and the NFL has rejected him repeatedly."
"He's the guy who covets what he doesn't have," added Pearlman. "He's the guy who sees – the NFL [team] ownership is a ridiculously exclusive club.
"He wanted in. He's always the guy who doesn't … You saw it when Obama made fun of him at the [White House] Correspondents Dinner – he has bruised feelings over not being what others are. And he really wanted to be what these guys were, which was NFL ownership – sports royalty."
Remembering when Obama destroyed Trump at the 2011 White House correspondents dinner
Pearlman has spent two years researching his book The Useless about the ill-fated United States Football League (USFL), which briefly rivalled the NFL in the 1980s. The book will not be published until next year, but in one of his blogs Pearlman appeared to give an indication of its theme and his view of the role played by Mr Trump, who in 1984 and 1985 owned the New Jersey Generals USFL team.
"Trump wasn't merely disliked by his fellow owners," writes Pearlman. "He was loathed and abhorred and detested. The general take: Here was a selfish bully who desperately craved an NFL franchise, and viewed the USFL as a temporary (and disposable) vehicle toward that end.
"Trump led the USFL's suicide march away from a spring season and towards the fall, and (much like now) his big words and loud voice and thuggish tendencies caused many lemming peers to follow."
One man who stood up to Mr Trump, said Pearlman, was Tampa Bay Bandits owner John Bassett. Pearlman, who interviewed about 420 people for his USL book, said: "You cannot find anyone who has a bad word to say of Bassett."
Pearlman uncovered a letter to Mr Trump written by Mr Bassett, who penned his missive despite the fact he was undergoing radiation therapy for a series of brain tumours. In the letter, dated 16 August 1984, Mr Bassett informs Mr Trump:
"I have listened with astonishment at your personal abuse of the commissioner and various of your partners if they did not happen to espouse one of your causes or agree with one of your arguments.
Donald Trump says NFL kneeling row " has nothing to do with race"
"It is obvious from the record that you are a talented and successful young man. It is also a fact that I regard you as a friend.
"While others may be able to let your insensitive and denigrating comments pass, I no longer will.
"You are bigger, younger, and stronger than I, which means I'll have no regrets whatsoever punching you right in the mouth the next time an instance occurs where you personally scorn me, or anyone else, who does not happen to salute and dance to your tune."
The older man signs off: "Kindest personal regards, John F Bassett".
Describing Mr Trump's alleged role in the USFL's downfall, Pearlman told Newsweek: "His motives were ridiculously awful. He wanted an NFL franchise and he saw this as a way to do it."
Before taking control of the New Jersey Giants, said Pearlman, Mr Trump "talked all happy-happy" about the USFL playing its games in spring and summer, so as not to clash with the NFL, which played in autumn and winter.
But, Pearlman said, once Mr Trump owned a team franchise, he drove the USFL – against the opposition of Mr Bassett and others – towards playing in autumn, in direct confrontation with the more-established NFL.
The conflict was engineered, said Pearlman, "So his team, somehow, would be absorbed by the NFL.
"He didn't give a shit about the other owners. Like, at all. No interest, whatsoever. His goal was to get in the NFL. If it took a merger [with the USFL], so be it. If it took the entire USFL collapsing and he gets an [NFL] team, that's fine too."
Donald Trump's international Presidential trips

Show all 22
Things came to a head in 1986 with the USFL filing an anti-trust lawsuit against the NFL, accusing the bigger league of unfairly maintaining a monopoly.
The USFL won, but was awarded only $3. It had reportedly been seeking up to $1.69bn (£126bn). Before that year's autumn season could begin, the USFL folded, having allegedly lost more than $163m.
Mr Trump's apparent efforts to beat or join the NFL did not stop there. In 2014 he tried to buy the franchise for the Buffalo Bills NFL team, but was outbid by natural gas billionaire Terry Pegula. Mr Trump responded at the time with a series of tweets disparaging the NFL.
Pearlman did not interview Mr Trump for his book, but in 2009 the future president was interviewed by Mike Tollin for the documentary Small Potatoes: Who Killed The USFL? "It was fun," said Mr Trump of his time with the USFL. "We had a great lawsuit."
After the programme came out, Mr Trump declared: "The documentary is third-rate, as was spring football. Football was meant to be played in the fall and I realised that early on. Tollin is a sad guy who is living in the past."
Mr Trump sent Mr Tollin a brief, handwritten note.
"Mike," wrote the future US president, "A third rate documentary – and extremely dishonest (as you know).
"Best wishes,
"Donald Trump
"PS You are a loser."
Mr Tollin had the note framed. He is an Academy Award-nominated and Peabody Award-winning director.
Join our new commenting forum
Join thought-provoking conversations, follow other Independent readers and see their replies