Donald Trump hits out at EU for 'complaining' about proposed steel and aluminium tariffs
President calls EU 'wonderful countries who treat the US very badly on trade'
Mythili Sampathkumar
New York
Saturday 10 March 2018 23:23 Comments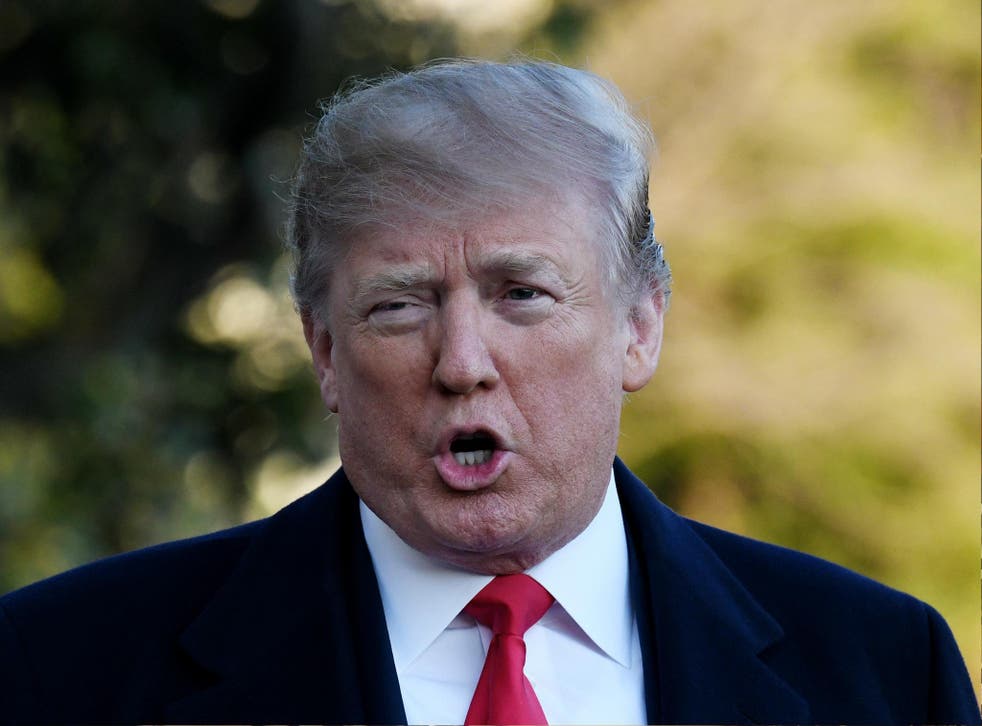 US President Donald Trump has taken the European Union to task for complaining about the President's proposed tariffs on imported steel and aluminium.
He tweeted that if the EU retaliates by placing higher tariffs on American goods, the US would "tax cars etc. FAIR!"
Mr Trump has proposed a 25 per cent tariff on steel and 10 per cent import duty on aluminium, and tweeted ahead of the formal announcement that "trade wars are good and easy to win".
Prior to signing the executive order on 9 March, surrounded by American steel workers, the President said that he promised "great flexibility and cooperation toward those that are real friends and treat us fairly on both trade and the military".
In the wake of the initial announcement, Brussels trade commissioner Cecilia Malmstrom said certain goods like cranberries, Florida orange juice, Levi's jeans, Harley-Davidson motorcycles, peanut butter, Kentucky bourbon and whiskey are on a provisional list of goods that could see high tariffs as a retaliation.
"Very soon that list will be public, so you will be able to plan your whiskey drinking," she said at a news conference.
"President Trump has recently said 'trade wars are good and easy to win' but the truth is quite the opposite. Trade wars are bad and easy to lose. For this reason I strongly believe that now is the time for politicians on both sides of the Atlantic to act responsibly," European Council President Donald Tusk said.
A spokesperson for the Prime Minister Theresa May added: "The [UK] Government has been clear that tariffs are not the right way to address the global problem of overcapacity, which requires a multilateral solution. We will work with EU partners to consider the scope for exemptions outlined today."
The United Nations Conference on Trade and Development, the World Bank and The International Monetary Fund have all condemned the high tariffs on steel and aluminium.
Liam Fox calls Donald Trump's tariffs on steel and aluminium 'absurd'
Mr Trump's chief economic advisor Gary Cohn resigned over disputing the President's move to go ahead with the tariffs.
A spokesperson for House Speaker Paul Ryan, who has proven to be a fairly reliable ally to the President, said: "The Speaker is hoping the President will consider the unintended consequences of this idea and look at other approaches before moving forward."
Mr Ryan's home state of Wisconsin could be particularly hard hit by the tariffs, but politically he is also running against a Democratic candidate with ties to the labour unions who support the tariffs.
The tariff was also called "a massive tax on American families" by Republican Senator Ben Sasse, adding that "protectionism is weak, not strong. You'd expect a policy this bad from a leftist administration, not a supposedly Republican one".
Mr Trump's America First foreign policy has centred on the idea that nearly every agreement or deal the US has entered in the last 15 years is "unfair" and unbalanced against the US and manufacturing industries like steel and coal, whose workers Mr Trump said would not experience "betrayal" any more after the tariffs go into effect in a few weeks.
World news in pictures

Show all 50
It took heavy lobbying by world leaders and even fellow Republicans in Congress to get Mr Trump to agree to exempt Canada and Mexico, as negotiations for a revamped North American Free Trade Agreement continue.
Register for free to continue reading
Registration is a free and easy way to support our truly independent journalism
By registering, you will also enjoy limited access to Premium articles, exclusive newsletters, commenting, and virtual events with our leading journalists
Already have an account? sign in
Join our new commenting forum
Join thought-provoking conversations, follow other Independent readers and see their replies