Trump celebrates 'amazing' tax cuts experts say will most benefit wealthy Americans
Critics say the bill will personally benefit the President 
Alexandra Wilts
Washington DC
,
Andrew Buncombe
Wednesday 20 December 2017 21:31 Comments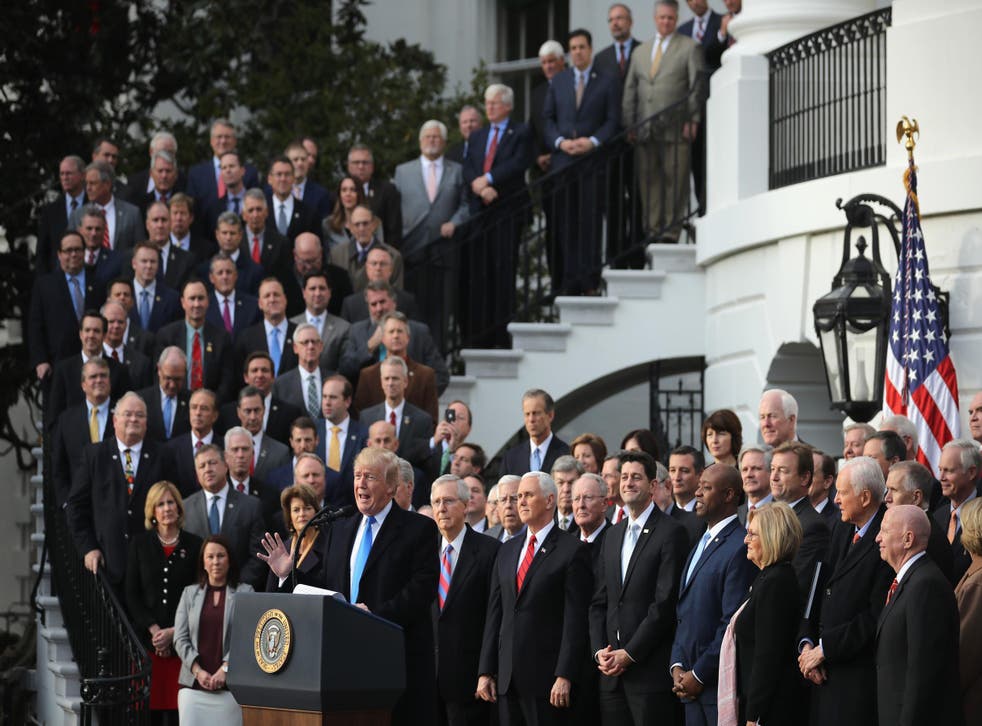 Donald Trump celebrated delivering a huge tax overhaul, a moment he said was "an amazing experience" but which was slammed by critics and independent analysts who said the move would disproportionately benefit the wealthiest Americans.
Speaking on the South Lawn of the White House where he was surrounded by senior officials and legislators, Mr Trump beamed over what will be considered his signature legislative achievement.
Indeed, so far it is the President's only legislative success of note – even if it not the largest tax cut in history, as he claimed.
"It's very simple," said Mr Trump. "You have not heard this statement – we are making America great again."
The drama that led to the passage of the $1.5 trillion (£1.12 trillion) package – whicht will affect everyone's taxes but is dominated by breaks for corporations and higher earners – involved two separate votes by the House of Representatives, after a Senate official found that three minor provisions violated Senate rules, forcing politicians to strip them out.
So while the Senate passed the bill in the early hours of Wednesday, the House was forced to hold its second vote in two days as congressional rules demand each chamber passes identical legislation before it can be signed into law.
The House voted 224-201, opening the way for the first major overhaul of the nation's tax laws since 1986.
While it was anticipated Mr Trump would sign the bill on Wednesday, it later emerged he will do so during the Christmas holiday, which he is spending at his Mar-a-Lago estate in Florida.
Mike Pence delivers public praise of Donald Trump after passing tax reform
Republicans and the administration have marketed the bill as a gift for the middle class, asserting that the package of tax cuts for corporations, small businesses and individuals will boost economic and job growth.
The plan is seemingly unpopular with the public – with one recent CNN poll suggesting 55 per cent now oppose it – and Democrats have repeatedly called it a windfall for corporations and the wealthy.
About a quarter of the tax cuts for individuals included in the tax bill would go to middle-class Americans, according to an analysis by the Joint Committee on Taxation. The committee found that middle-class taxpayers would get about $61bn in tax cuts in 2019.
However, those same individuals would see their taxes rise overall after a decade, according to the report.
Meanwhile, the Tax Policy Centre suggested almost three-quarters of the savings would go to the top 20 per cent of earners: those making more than 149,000. More than half of the savings would go to the top 1 per cent, that group who pocket more than $732,800.
World news in pictures

Show all 50
The bill will also cut corporate tax from 35 per cent to 20 per cent: a likely overall saving to US businesses of almost $2 trillion over the next decade.
Republicans have asserted that the legislation is needed to maintain their majorities in both the House and Senate during next year's mid-term elections.
But Democrats say the bill will "come back to haunt them, as Frankenstein did", according to House Democratic leader Nancy Pelosi.
Congressional Republicans who faltered badly in trying to dismantle Barack Obama's Affordable Care Act – or Obamacare – see passage of the tax bill as crucial to proving they can govern.
Along with permanently lowering the corporate tax rate, the bill also repeals the Obamacare requirement that most individuals have health insurance: a provision that would lead to 13 million fewer people with health insurance over the next decade, according to nonpartisan Congressional Budget Office.
Tax cuts for corporations would be permanent while the cuts for individuals would expire in 2026, in order to comply with Senate budget rules.
Within minutes of the House vote, Democratic congressman Richard Neal jumped on comments from Mr Trump that he was helping corporations, calling it proof that Republicans were never interested in passing meaningful tax cuts for the middle class.
Register for free to continue reading
Registration is a free and easy way to support our truly independent journalism
By registering, you will also enjoy limited access to Premium articles, exclusive newsletters, commenting, and virtual events with our leading journalists
Already have an account? sign in
Join our new commenting forum
Join thought-provoking conversations, follow other Independent readers and see their replies