Donald Trump to boycott next Republican debate amid feud with Fox News moderator Megyn Kelly
'It should be clear to the American public by now that this is rooted in one thing – Megyn Kelly'
Alexandra Sims
Wednesday 27 January 2016 10:23 Comments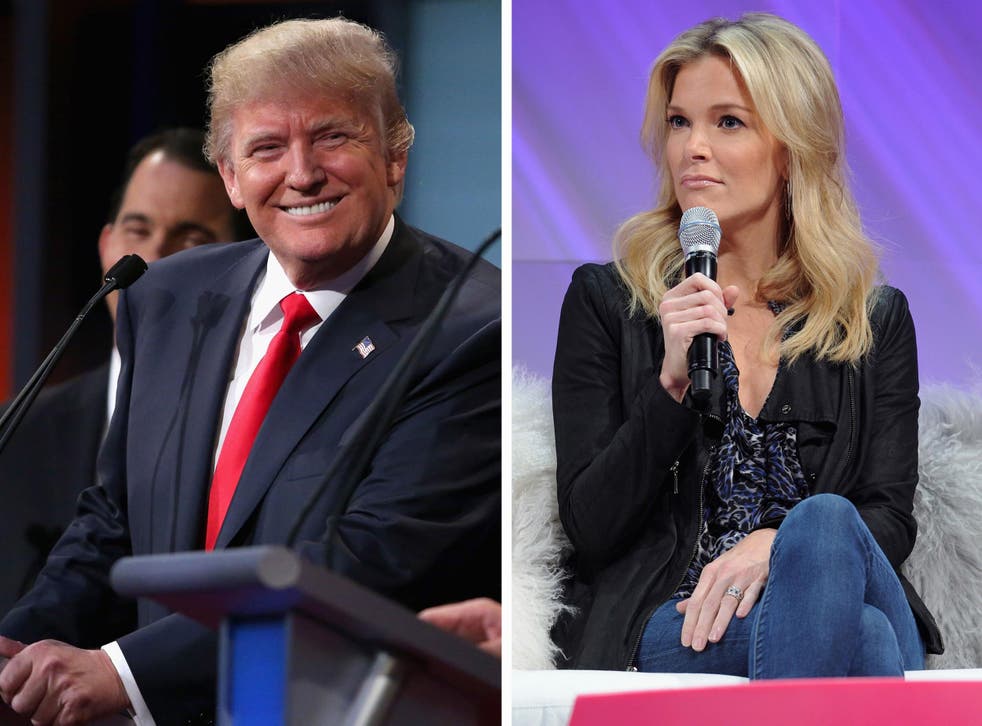 Donald Trump has said he will be backing out of the last Republican debate before the Iowa caucuses.
The decision was announced on Tuesday evening by Mr Trump's campaign manager - just 48 hours before the Fox News debate.
Mr Trump's campaign released a statement saying: "Unlike the very stupid, highly incompetent people running our country, Mr Trump knows when to walk away. Fox News think they can toy with him, but Mr Trump doesn't play games."
The statement says Mr Trump will instead host an event in Iowa to raise money for "the Veterans and Wounded Warriors".
The announcement followed a press conference in which Mr Trump dismissed Fox News' debate moderator, Megyn Kelly, as a "lightweight", "third-rate reporter" and claimed she had been "toying" with him.
On Tuesday night's airing of Ms Kelly's Fox News show, The Kelly File, the host said the debate would go on "with or without Mr Trump".
A Fox News spokesperson said Mr Trump was still welcome to participate in the debate but would not be allowed to "dictate the moderators or the questions".
So, who is the woman Donald Trump is running scared of?
Megyn Kelly v Donald Trump
Megyn Kelly
A journalist and political commentator, Ms Kelly has received criticism from Mr Trump since moderating the first GOP debate in August, when she quizzed him about past comments he made about women.
The host of The Kelly File, currently the second most-watched programme in all of the US's cable news, made headlines and received praise for her tough questioning.
"You've called women you don't like fat pigs, dogs, slobs and disgusting animals," Ms Kelly told the Republican frontrunner.
She also queried Mr Trump's party affiliation, asking: "When did you actually become a Republican?"
In an interview with CNN after the debate, Mr Trump criticised Ms Kelly's approach, saying she had "had blood coming out of her eyes, blood coming out of her wherever" while questioning him.
Mr Trump has since repeatedly criticised Ms Kelly and the jibes have intensified in the run-up to Thursday's debate.
Fox News has even accused Mr Trump's team of threatening her.
On Saturday, campaign manager Corey Lewandowski reportedly said Ms Kelly had a "rough couple of days after that last debate" and he "would hate to have her go through that again."
Fox News said in a statement: "It should be clear to the American public by now that this is rooted in one thing – Megyn Kelly, whom he has viciously attacked since August and has now spent four days demanding be removed from the debate stage.
"Capitulating to politicians' ultimatums about a debate moderator violates all journalistic standards, as do threats, including the one levelled by Trump's campaign manager Corey Lewandowski toward Megyn Kelly."
Donald Trump's most controversial quotes

Show all 14
Mr Trump has previously said he would not participate in the event because of Fox's insistence on including Ms Kelly.
"Megyn Kelly shouldn't be in the debate," Mr Trump said at a press conference before a campaign event in Iowa. "I'm not a fan of Megyn Kelly. I think she's a third-rate reporter. I think she is frankly not good at what she does. And I think they could do a lot better than Megyn Kelly".
Fox News Chairman, Roger Ailes, defended Ms Kelly telling The Washington Post: "Megyn Kelly is an excellent journalist, and the entire network stands behind her. She will absolutely be on the debate stage on Thursday night."
Additional reporting by Press Association
Register for free to continue reading
Registration is a free and easy way to support our truly independent journalism
By registering, you will also enjoy limited access to Premium articles, exclusive newsletters, commenting, and virtual events with our leading journalists
Already have an account? sign in
Register for free to continue reading
Registration is a free and easy way to support our truly independent journalism
By registering, you will also enjoy limited access to Premium articles, exclusive newsletters, commenting, and virtual events with our leading journalists
Already have an account? sign in
Join our new commenting forum
Join thought-provoking conversations, follow other Independent readers and see their replies