Trump attacks 'fake polls and fake news' as reports say he has worst approval rating in modern history
No president has had such poor ratings - at least going back to Harry Truman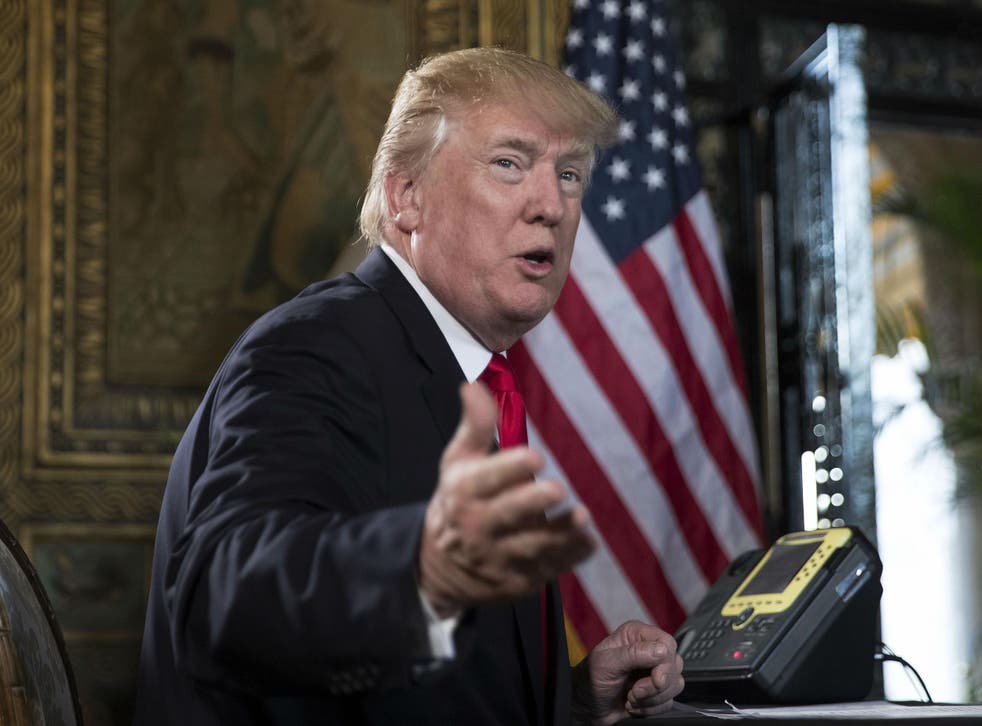 Donald Trump has attacked "fake polls" and "fake news" as surveys show he enters the holiday season with the lowest approval rating in modern presidential history.
"The Fake News refuses to talk about how Big and how Strong our BASE is," he wrote on Twitter, displaying his trademark affection for the use of capital letters.
"They show Fake Polls just like they report Fake News. Despite only negative reporting, we are doing well - nobody is going to beat us. MAKE AMERICA GREAT AGAIN."
Mr Trump approaches the end of 2017 amid a flurry of polls that show him with a dismal approval rating. A poll released last week by CNN found that it had tumbled to just 35 per cent, from the 45 per cent he enjoyed in March shortly after taking office.
A a nonpartisan poll released by the NBC/Wall Street Journal found the president's approval rating stood at 40 per cent. Peter Hart, a Democrat who helped conduct, said his final survey of 2017 found Mr Trump had "lost the support and respect of a majority of Americans in his first year as president".
Ten great things Donald Trump will give the world in 2018
Meanwhile, a tracker from the political data site FiveThirtyEight put his rating at 37.1 per cent. It said that dating the way back to President Harry Truman in 1945, at Day 337 of their first term every president had an approval rating at least ten percentage points better than where Mr Trump stands now at the same point.
Yet while Mr Trump is may be off target in his criticism of the polls and the media organisations, he is at least partly right about his claim that he retains intense loyalty among his base of supporters.
In October, a Fox News poll found that 83 per cent of Republican voters still approved of Mr Trump, compared to just 7 percent of Democrats. But while his overall support among conservatives has remained stead, the poll found he had leached some support among two crucial constituencies - white evangelical Christians and white men without a college degree.
Donald Trump's least presidential moments so far...

Show all 30
However, Mr Trump's ability to press through a tax overhaul bill likely help cement his support among traditional Republicans, especially fiscal conservatives who believe the government should reduce its spending on welfare programmes such as Medicare and Medicaid. His endorsement of religious conservative Roy Moore in Alabama, despite the candidate facing widespread allegations of sexual abuse of girls and young women - allegations he has denied - may help bolster his support among the religious right.
Indeed, a poll published last month by Politico-Morning Consult found that 82 per cent of respondents who voted for Mr Trump in the 2016 presidential race said they would support him again. Just seven per cent said they would pick another candidate if they had to recast their 2016 ballot.
That figure was even higher than that enjoyed by his rival, Hillary Clinton.
About three-quarters of those who voted for the former secretary of state, 78 per cent, say they would vote for the Democratic nominee again if they had the chance. A total of eight per cent said they would support a different candidate, a reflection perhaps of her failure to defeat Mr Trump in a contest in which most pundits had made her the favourite.
Join our new commenting forum
Join thought-provoking conversations, follow other Independent readers and see their replies