Ban NFL players who kneel in protest for a full season, Donald Trump says
League commissioner 'must now make a stand', billionaire tweets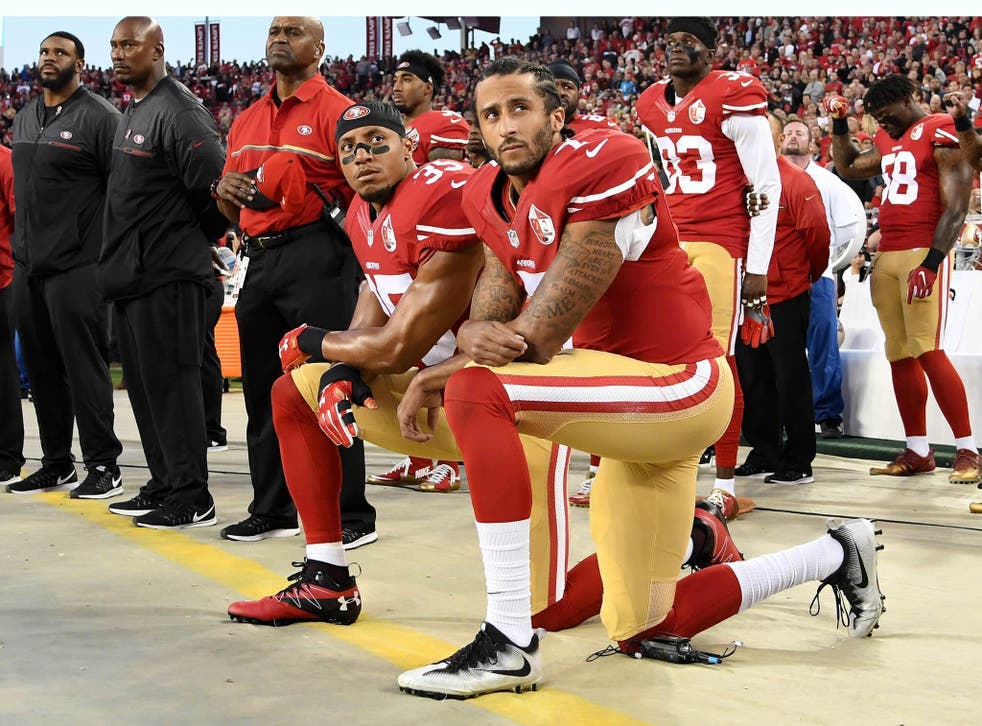 NFL players should be banned for an entire season if they kneel during the national anthem more than once, Donald Trump has said.
The US president revisited one of his favourite themes in a tweet calling on NFL commissioner Roger Goodell to "make a stand".
Mr Trump tweeted: "The NFL National Anthem Debate is alive and well again – can't believe it! Isn't it in contract that players must stand at attention, hand on heart?
"The $40,000,000 Commissioner must now make a stand. First time kneeling, out for game. Second time kneeling, out for season/no pay!"
Mr Trump has seized on protests against police brutality by football players who kneel when the anthem is played, and has tweeted frequently on the subject to generate political capital.
The NFL, following a challenge by the players' association, has agreed to suspend the introduction of new fines relating to anthem protests.
Several teams had pledged to support their players and not pass on any fines imposed by the league, USA Today reported.
The NFL and National Football League Players Association (NFLPA) released a joint statement on Friday addressing the conflict.
It said: "The NFL and NFLPA, through recent discussions, have been working on a resolution to the anthem issue. In order to allow this constructive dialogue to continue, we have come to a standstill agreement on the NFLPA's grievance and on the NFL's anthem policy. No new rules relating to the anthem will be issued or enforced for the next several weeks while these confidential discussions are ongoing.
"The NFL and NFLPA reflect the great values of America, which are repeatedly demonstrated by the many players doing extraordinary work in communities across our country to promote equality, fairness and justice.
"Our shared focus will remain on finding a solution to the anthem issue through mutual, good faith commitments, outside of litigation."
Additional reporting by AP
Register for free to continue reading
Registration is a free and easy way to support our truly independent journalism
By registering, you will also enjoy limited access to Premium articles, exclusive newsletters, commenting, and virtual events with our leading journalists
Already have an account? sign in
Register for free to continue reading
Registration is a free and easy way to support our truly independent journalism
By registering, you will also enjoy limited access to Premium articles, exclusive newsletters, commenting, and virtual events with our leading journalists
Already have an account? sign in
Join our new commenting forum
Join thought-provoking conversations, follow other Independent readers and see their replies