Donald Trump is keeping a US citizen locked up in Iraq without charges
Administration won't release name of man accused of fighting for Isis in Syria
Samuel Osborne
Tuesday 07 November 2017 11:57 Comments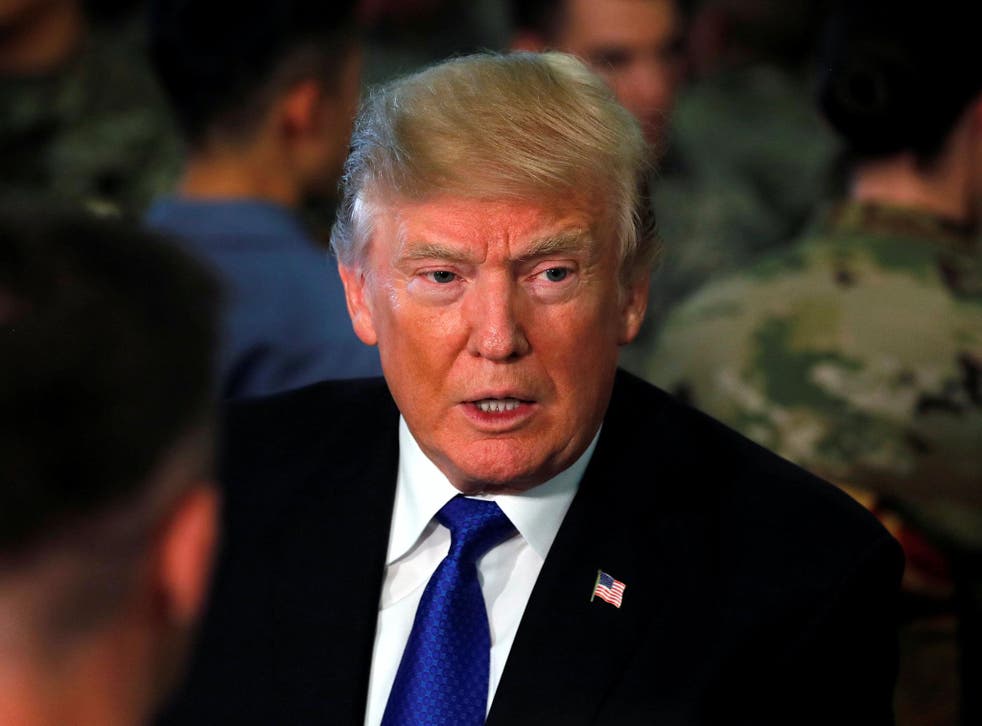 Donald Trump's administration has detained an American citizen at a secret jail in Iraq for nearly two months, denying him access to a lawyer and refusing to release his name.
The unidentified American, who has not been charged, surrendered to US-backed fighters around 12 September and allegedly fought with Isis militants in Syria.
He has been detained as an unlawful enemy combatant, although the American Civil Liberties Union argued the Pentagon has yet to present any evidence.
"An American citizen has been locked up for nearly two months and repeatedly asserted his constitutional right to a lawyer. But the Trump administration is doing all within its power to deny him that basic protection," said Jonathan Hafetz, a senior staff attorney with the ACLU in New York.
Donald Trump says 'Im the only one who matters'
Last month, the ACLU filed a petition in the US District Court in Washington, DC, challenging the man's detention and seeking to provide him legal counsel.
In a response filed last week, US attorneys argued the ACLU is asking to represent and provide legal counsel to an individual it does not know, has never met and does not officially represent.
The government said the ACLU's "attempt to interject itself as the advocate for an individual who came into US military custody less than seven weeks ago, was identified as an enemy combatant and is currently detained in Iraq pending a determination of his further disposition is improper, unnecessary and should be dismissed."
The government said the International Committee of the Red Cross had visited the detainee. The Red Cross could contact his relatives, who could seek legal representation on his behalf, it added.
The ACLU countered by saying the Red Cross' mission is not to obtain legal counsel for detainees it meets.
Mr Hafetz said there is no indication the detainee wants to or can contact relatives or whether they would be willing to risk reprisal by seeking a lawyer for him.
Donald Trump's least presidential moments so far...

Show all 30
The ACLU and other civil rights groups have claimed the detainee has been held too long without access to counsel.
But the government argued that the Supreme Court has recognised that in the case of military operations, the executive branch should be given a reasonable period of time to determine a detained individual's status.
The Defence Department "is still within that initial reasonable period" of time, the government attorneys wrote.
Steven Dalbey, director for the Defence Department's office of detainee policy, which receives and reviews all reports filed by the Red Cross, said the American surrendered to Syrian Democratic Forces on or around 12 September. Those US-backed forces turned him over to American forces which identified him as an enemy combatant and detained him in Iraq.
"This location is within an armed conflict zone with restricted civilian access based on military operational concerns, security concerns and political sensitivities of the host nation," Mr Dalbey said.
"As a known security risk, there is no capability to provide this detainee with an unclassified system for a video-teleconference in a private setting to discuss legal matters."
He said the Red Cross was granted access to the detainee on 29 September and 23 October. The Red Cross has not commented on the individual's identity, location or conditions of his detention.
In a blog post about the ongoing case, the ACLU said: "By opposing the ACLU's efforts in this case, the Trump administration is taking a very dangerous step: It is blocking an Americans citizen's access to his own country's courts. It is also undermining the bedrock guarantees of habeas corpus, which for centuries has served as the greatest check on unlawful government detentions.
"Now, we're fighting to stop the government's unconstitutional attempt to create a new rights-free zone."
Additional reporting by AP
Register for free to continue reading
Registration is a free and easy way to support our truly independent journalism
By registering, you will also enjoy limited access to Premium articles, exclusive newsletters, commenting, and virtual events with our leading journalists
Already have an account? sign in
Join our new commenting forum
Join thought-provoking conversations, follow other Independent readers and see their replies