Donald Trump's funding cuts to US women's ambassador 'a middle finger to women globally'
Storm gathering over cutbacks detailed in leaked State Department documents
Jon Sharman
Thursday 27 April 2017 11:39 Comments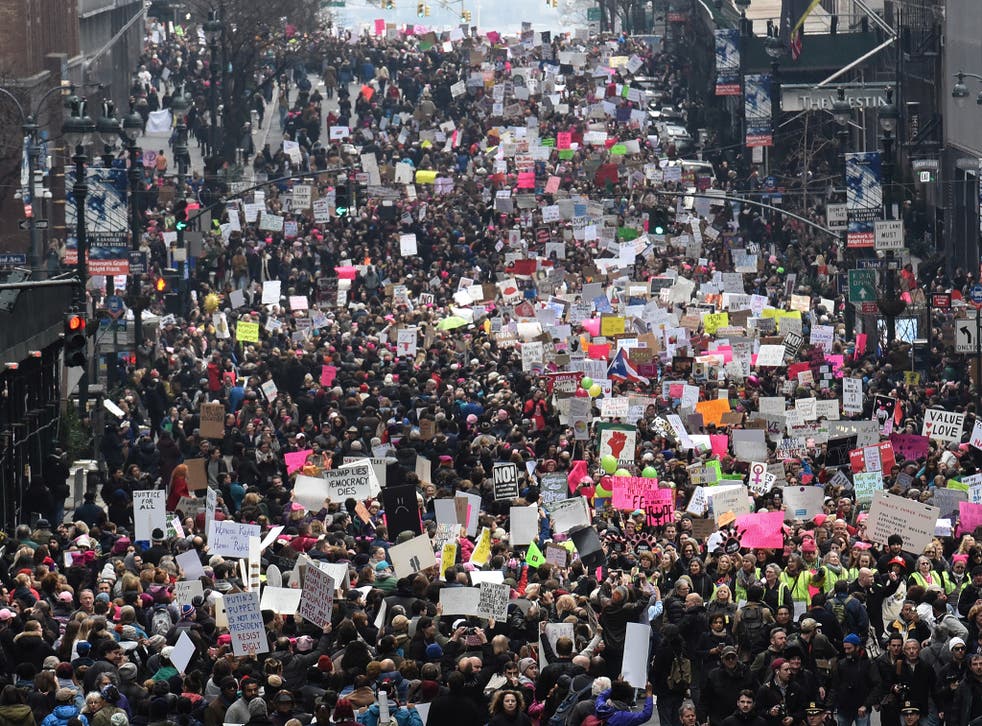 Donald Trump's plan to axe the office of the US women's ambassador is "a clear middle finger to women globally", Amnesty International has said.
Leaked documents revealed on Tuesday that planned cuts to the State Department – where Mr Trump is seeking savings to help pay for more military investment – included completely de-funding the Office of Global Women's Issues (OGWI), which promotes the rights and empowerment of women and girls.
Charities including Oxfam and the Global Fund for Women reacted with outrage to the news, which came as Ivanka Trump was forced to defend her father during an event in Germany called "Inspiring Women".
Tarah Demant, senior director of Amnesty's identity and discrimination unit, told The Independent: "This is absolutely devastating. It's just the opposite of what the administration should want to be doing.
"It's like a very clear middle finger to women globally. This is a very clear pronouncement on what this administration feels about women's rights. Not that we had many questions anyway.
"All this does is yank an insanely small amount of money from people who depend on it."
The proposed cuts would also see foreign aid reduced in other ways, including withdrawing health and development assistance cash from a string of developing countries.
Making up the difference in aid funding as well as how it is administered to benefit women – a central task for the OGWI – would be "a scramble", Ms Demant said.
She added: "It will be very difficult, if it's possible at all, and in the meantime people will die, disproportionately women."
Charities and NGOs lack the financial and diplomatic muscle to fill the role of the OGWI, she said.
According to its website the office, headed until 20 January by ambassador-at-large Catherine Russell, a former adviser to Dr Jill Biden, was created to ensure US foreign policy took into account the needs and voices of women.
In pictures: Ivanka Trump's Washington DC home

Show all 13
On Tuesday Ivanka Trump told an audience in Germany, where she shared a stage with Chancellor Angela Merkel, she was "really striving to think about how best to empower women in the economy, both domestically and across the globe".
She also defended her father's treatment of women and said the "thousands" he had employed in the Trump Organisation were "a testament to his belief and solid conviction in the potential of women and their ability to do the job as well as any man".
Mr Trump was the subject of some 700 protests around the world as Women's March demonstrators reacted to the billionaire's policies and past statements.
It followed his derogatory remarks about Fox News host Megyn Kelly after a presidential debate, and a recording of him boasting of famous men being able to grab women "by the pussy".
State Department documents first leaked to Foreign Policy showed the Trump administration planned to reduce the OGWI's 2016 budget of $8.25m (£6.43m) to zero in 2018, though the President's budget will still have to make it past Congress.
Mr Trump is seeking to plough $54bn (£42bn) into the military, which he said had been "depleted".
Register for free to continue reading
Registration is a free and easy way to support our truly independent journalism
By registering, you will also enjoy limited access to Premium articles, exclusive newsletters, commenting, and virtual events with our leading journalists
Already have an account? sign in
Join our new commenting forum
Join thought-provoking conversations, follow other Independent readers and see their replies