Donald Trump and Vladimir Putin agree to meet, usher in new era of 'constructive cooperation,' says Kremlin
The Trump-Putin waltz enters new stage as they agree current relationship 'unsatisfactory'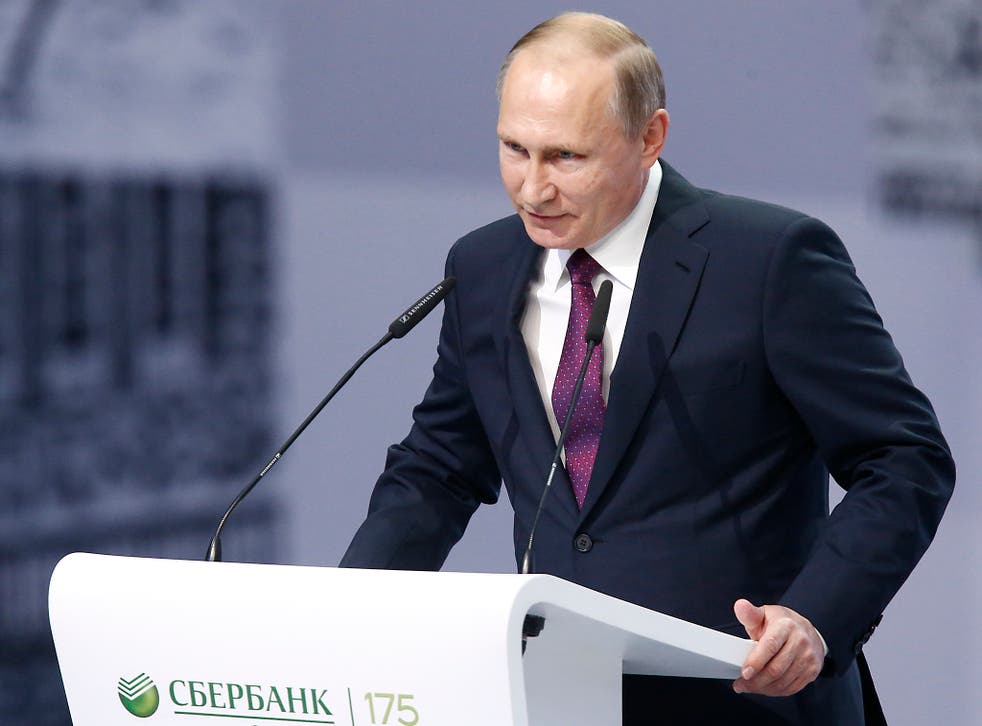 President-elect Donald Trump agreed to meet face-to-face with Russian President Vladimir Putin during a telephone call between the two men, the Kremlin said in a statement.
Monday's phone conversation, in which Mr Putin formally congratulated Mr Trump on his election victory, came amid widespread expressions of hope from Moscow that the transition of power in Washington will see an easing of tensions between the two nations.
In that vein, the Kremlin said in its brief reporting of the telephone exchange that the two leaders had agreed that relations between Moscow and Washington had become "unsatisfactory" and pledged to pursue a "partner-like" dialogue. Their goal, the statement said, was to open a new era of "constructive cooperation on a broad range of issues".
More specifically, the Kremlin noted that the men agreed also to harness their energies to fight their "shared enemy number 1 - international terrorism and extremism". That appeared to imply a shared determination to target Isis. Syria also featured in the conversation, Moscow said.
There were no details on when the two might have their face-to-face talks or whether such a meeting would take place in Russia, the United States or a third country. Mr Trump will be sworn as president on 20 January.
Russian parliament bursts into applause upon announcement of US election result
The Kremlin said that Mr Putin had wished Mr Trump "success in implementing the election programme," adding that he was ready to engage in dialogue with the new administration based on "the principles of equality".
In their trading of niceties, the two men also noted that 2017 will mark 210 years since the establishment of diplomatic relations between the countries, the Kremlin reported, "which in itself should stimulate a return to pragmatic, mutually beneficial cooperation".
During his campaign for office, Mr Trump repeatedly voiced admiration for Mr Putin as a "strong leader" even comparing him favourably to President Barack Obama. His stance drew strong rebukes from Hillary Clinton and other Democrats who queried his willingness to put Mr Obama in second place to the leader of a country with which the US was at odds in several areas.
It was those disagreements, as well as a clear lack of personal chemistry, that frequently saw Mr Obama and Mr Putin clashing with one another. Not least, the US was forthright in condemning Russia's taking of Crimea and its interference in eastern Urkaine. The two powers were also repeatedly at odds over Syria and the fate of its leader, Bashar al-Assad.
Mr Putin expressed his hopes of a better relationship with the US President-elect for the first time last week in the immediate aftermath of his victory over Ms Clinton.
Putin: Russia ready to restore US relations after Trump win
"Trump's first statements give us hope that steps towards improving relations between the USA and Russia are possible," Mr Putin said via spokesman Dmitry Peskov. "The U.S. election result does not mean that all contentious issues in relations between Moscow and Washington will be resolved," he added. "The main thing is the intention to resolve them through dialogue."
The apparent courtship of Mr Putin by President-elect Trump has sounded alarm bells among foreign policy experts in Washington who are concerned that a less firm stance by the US and the West might embolden the Russian president's expansionist instincts. It is of particular worry to the Baltic States, who are also awaiting Mr Trump's cabinet choices with trepidation.
They are especially terrorised by the notion that Newt Gingrich could become Secretary of State who during the campaign suggested that Estonia was "in the suburbs of St Petersburg".
Register for free to continue reading
Registration is a free and easy way to support our truly independent journalism
By registering, you will also enjoy limited access to Premium articles, exclusive newsletters, commenting, and virtual events with our leading journalists
Already have an account? sign in
Register for free to continue reading
Registration is a free and easy way to support our truly independent journalism
By registering, you will also enjoy limited access to Premium articles, exclusive newsletters, commenting, and virtual events with our leading journalists
Already have an account? sign in
Join our new commenting forum
Join thought-provoking conversations, follow other Independent readers and see their replies