Mystery surrounds Donald Trump and Vladimir Putin's 'security deal' as Pentagon and administration stay silent
The US leader only 'clarified' his comments on election meddling but has not mentioned an agreement as yet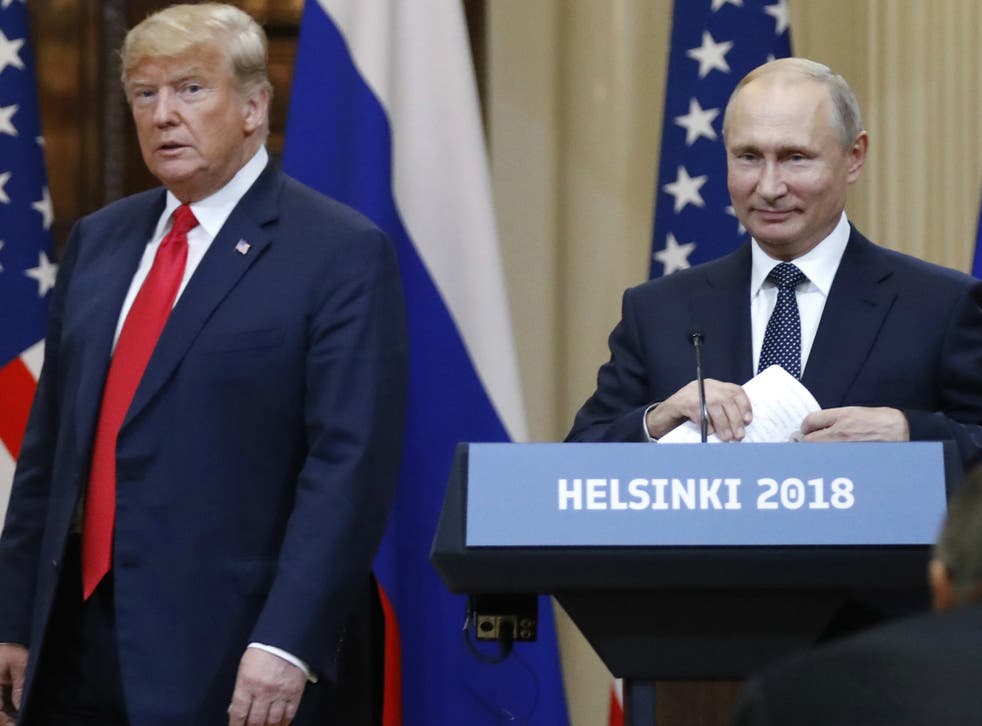 The Pentagon has been silent on a supposed joint security deal agreed to by Donald Trump and Russian President Vladimir Putin.
After the pair's private meeting during a summit in Helsinki, Finland, Russian Ministry of Defence spokesman Igor Konashenkov said in a statement to state news agency Tass that the department was "ready for practical implementation of the agreements in the sphere of international security reached by" the two leaders.
He went on to say the ministry was also "ready to enliven contact with the US colleagues, between our General Staffs and via other communication channels, to discuss extension of the START Treaty, cooperation in Syria, and other topical issues of military security".
The "treaty" referred to is the New Start (Strategic Arms Reduction Treaty), signed in 2010 by Russia and the US to reduce nuclear arms.
It is expected to expire in 2021 and Mr Putin said he told Mr Trump Russia would be willing to extend it.
However, top US military leaders, including Defence Secretary James Mattis, have not addressed the matter.
The Pentagon did not immediately respond to a request for comment.
Trump and Putin's Helsinki summit: What you need to know
A spokesperson for the National Security Council told CNN the office was still "reviewing the discussion" between the leaders which supposedly resulted in an agreement of sorts.
"The Helsinki summit was the beginning of a process between the US and Russia to reduce tensions and advance areas of cooperation in our mutual interest," the NSC spokesperson said.
World news in pictures

Show all 50
Mr Trump did not take any other Americans into the room for the two-hour meeting with Mr Putin, save for one interpreter.
There are also no known recordings of the meeting from the US side.
Democratic Senator Jeanne Shaheen, who sits on the Senate armed services and foreign relations committees, asked that the translator be allowed to testify before Congress about what actually happened in the meeting.
Mr Trump has discussed the meeting and his comments afterwards but has not mentioned any kind of agreement.
He only backtracked his support of Mr Putin's denial of Russian involvement in 2016 US election meddling, claiming he "misspoke" during a press conference with the Russian leader and "accepts" US intelligence reports that Moscow sought to influence the election.
Join our new commenting forum
Join thought-provoking conversations, follow other Independent readers and see their replies