G20 Hamburg: Vladimir Putin says Donald Trump believed his hacking denials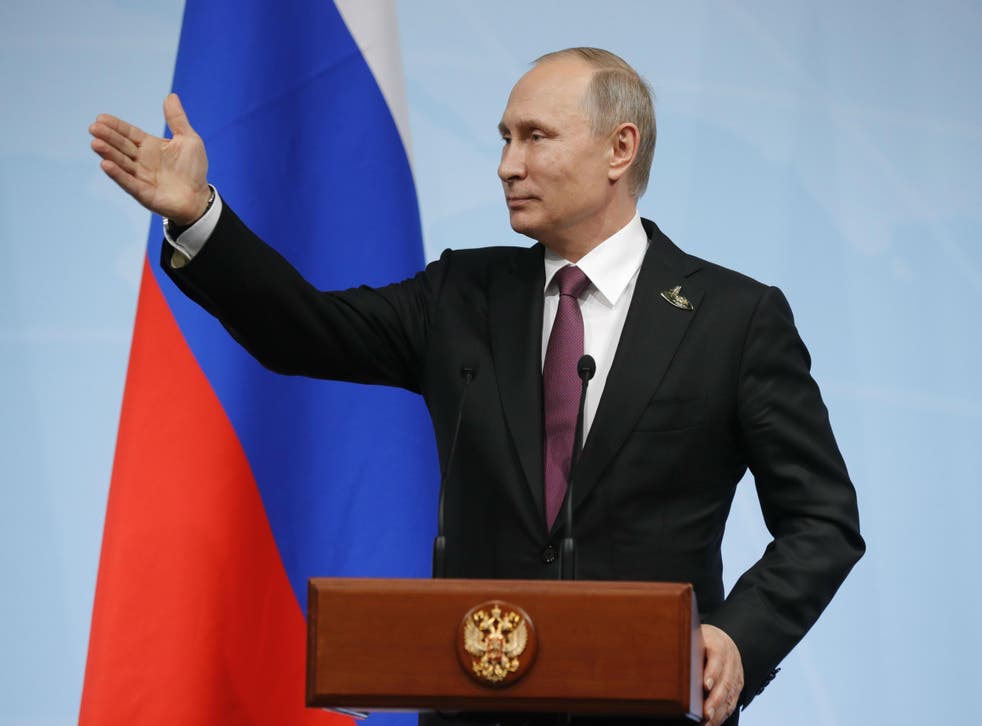 Vladimir Putin has said he thought Donald Trump believed his personal denials of Russian meddling in the 2016 election.
In his first televised remarks since the two men held a meeting lasting two hours and 15 minutes, Mr Putin said the US President had asked him a number of questions about Russia's alleged interference.
Mr Putin said he believed that the journalists would do better to seek Mr Trump's opinion as to whether he believed his denials. But he added: "He asked questions, I replied. It seemed to me that he was satisfied with the answers."
Mr Putin's comments at the G20 in Hamburg on Saturday came after the two countries offered different accounts of what happened during the first meeting between the two men.
US Secretary of State Rex Tillerson had claimed that from the very start of their meeting Mr Trump had pressed Mr Putin on the issue. Russian Foreign Minister Sergey Lavrov then told reporters that Mr Trump had accepted his denials, which a US official subsequently disputed.
"The President opened the meeting raising the concerns of the American about Russian interference in the 2016 presidential election," said Mr Tillerson. "They had a very lengthy and robust conversation on this"
He said Mr Trump pushed him on the issue and that Mr Putin stood firm in his denial.
Putin and Trump joke about journalists being hostile to them
"I think the President is rightly focused on how do we move forward from something that may be an intractable disagreement at this point," Mr Tillerson said.
On Saturday, Mr Putin appeared at ease when he faced reporters, even joking that Moscow would not hack Germany's election in September.
World news in pictures

Show all 50
Later, pressed about the issue, Mr Putin said of Mr Trump: "He started to ask pointed questions, he was really interested in particular details. I, as much as I could, answered him in a fairly detailed way.
"I believe it would not be entirely appropriate on my part to disclose details of my discussion with Mr Trump. He asked, I answered him. He asked pointed questions, I answered them. It seemed to me that he was satisfied with those answers."
Mr Putin cited a Syria ceasefire agreement the two countries had announced the day before, saying he believed the US had now reached a more "pragmatic" stance in its view on Russia.
"I believe that we have established personal relations already," he said on his meeting with Mr Trump, according to Reuters.
"The TV Trump is very different from the person in reality. He is absolutely precise, he reacts as you would expect to his interlocutor, he analyses fairly quickly, answers questions that are put to him.
"It seems to me that if we build our relations the way that our conversation went yesterday, then we all have grounds to believe that we can, at least in part, restore the level of cooperation that we need."
Join our new commenting forum
Join thought-provoking conversations, follow other Independent readers and see their replies