Donald Trump vows to make America great again - but when exactly was that?
Mr Trump was campaigning ahead of a crucial contest in Indiana
Andrew Buncombe
Carmel, Indiana Comments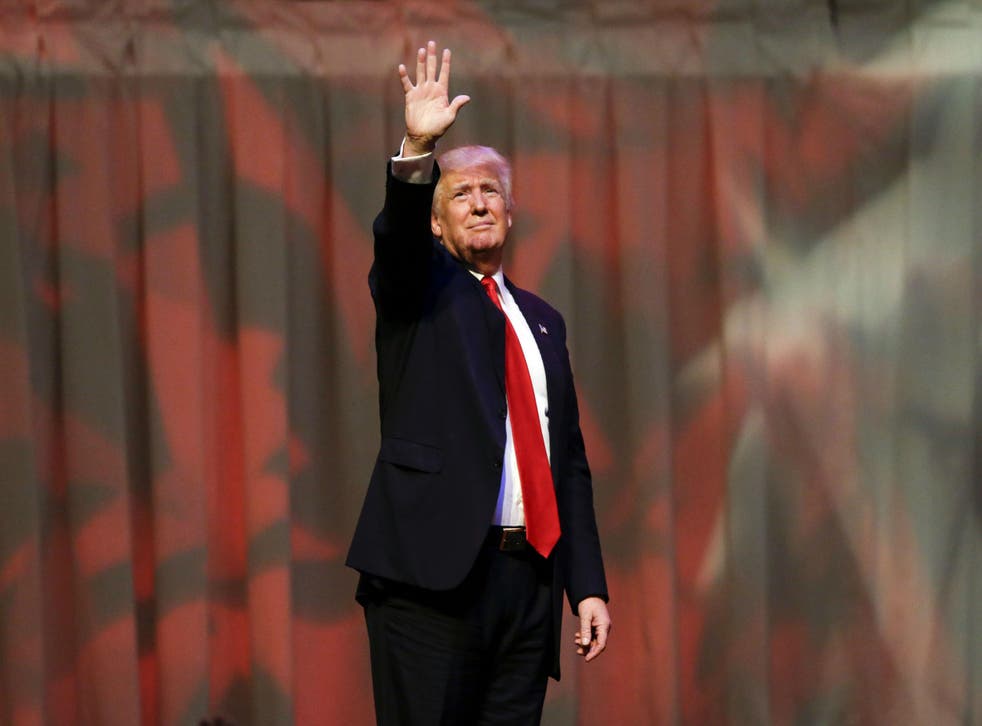 It has become his catchphrase, a slogan that glides from his lips, and which adorns the red caps worn by his supporters - "Make America great Again".
On the eve of the primary contest in Indiana, an election the polls suggest could hand him a decisive victory, Donald Trump was hitting the line again.
"We are so embarrassing," he told an audience of cheering supporters in Carmel, north of Indianapolis, denouncing the Obama administration.
"We are going to make our country so great again. We are not going to be embarrassed again."
One thing the New York tycoon has never made clear is when, precisely, he believed his country was truly great, a paradise that he alone can restore. Was it in the 1970s when he was making a name for himself as a playboy and celebrity, in the 1980s when he established casinos in Atlantic City that would eventually go bust, or in the 1990s when he married his second wife, Marla Maples, and divorced his first, Ivana?
On Monday evening, speaking with no small energy inside the ornate Palladium at the Centre for the Performing Arts, he offered a few clues. He condemned a situation in which American jobs had been allowed to leave America for countries such as China, Mexico and India, and he vowed to bring them back.
He also promised he would enact an overhaul in the US's military prowess. Decisions - such as the US's withdrawal from Iraq - would not be announced in advance, and certainly not to the enemy, he said. "We have to be unpredictable, especially when it comes to the military."
And he said the days of making deals with the likes of Iran were over. "We're going to take care of people, but it's America first now," he said, to more roars and applause.
Those gathered to see him, and those unable get inside the 1,600-seat performance centre and listening outside on speakers, said they believed Mr Trump was the only candidate ready to shake things up. He was an outsider, they insisted, and it needed an outsider to shake up the politics-as-usual that had engulfed America.
"I made my mind up to support him six months ago," said Doug Schaeffer, a financial trader. "I lost a good friend because of my decision to support him. He's a liberal."
And when, in Mr Schaeffer's opinion, was America last great, and why?
"It ended with Obama's first term in office. He has been a disaster for the country," he said.
Janet Logan said she believed the US had last been a great nation during the two terms of Ronald Reagan. "The economy was good, the military was strong and America was looked up to," she said. "Now we give it all away."
Walter Maruin, a retired software engineer who had driven almost four hours from Kentucky to see Mr Trump, said America had changed after World War II, but that it had really suffered during the 1990s.
Russ Beale, 63, said he believed America had been great in the 1960s but that it had changed during the administration of Lyndon Johnson, who served from 1963 to 1969 and who introduced the so-called war on poverty. "We spent millions and what did we do?" he said.
Pamela Sasse, an optician from Indianapolis, said she was also someone who believed the Reagan years represented the good times. "He brought things around," she said. "And I think that Trump is going to be the same."
Her friend, Peggy Yoerger, a retired teacher, said she also admired the way George W Bush, had sought to rally the country after the attacks of 9/11.
"He did a good job. He stood up for what he believed in," she said.
Mr Trump oozed confidence and he missed no opportunity to take a dig at Senator Ted Cruz, who is trailing the tycoon by several points. He said Mr Cruz could not stop lying about him, and he mocked his way of speaking.
"Why is everything like Shakespeare," he said, to loud laughs.
Mr Cruz is desperately trying to stop Mr Trump securing the 1,237 delegates he needs to win the nomination ahead of the party's convention in July. Mr Trump currently stands on 996, more than 400 clear of Mr Cruz on 565. Mr Trump will not be able to pass that total until the final primary, California, in June.
But most observers believe that Indiana, with its haul of 57 delegates, is the last chance for Mr Cruz to stop Mr Trump. If the 69-year-old wins here on Tuesday, most experts believe he is almost certain of securing the nomination.
Mr Trump certainly believes so. "If we win Indiana it's all over," he declared on Monday night. "We have a very easy path."
Register for free to continue reading
Registration is a free and easy way to support our truly independent journalism
By registering, you will also enjoy limited access to Premium articles, exclusive newsletters, commenting, and virtual events with our leading journalists
Already have an account? sign in
Join our new commenting forum
Join thought-provoking conversations, follow other Independent readers and see their replies