Donald Trump supporters tell immigrants 'The wolves are coming, you are the hunted' as race hate fears rise
Observers warn of an outpouring of hate that might exceed post-Brexit racism, as some Trump supporters revel in video telling 'leftist' immigrants 'The wolves are coming ... And you are the hunted'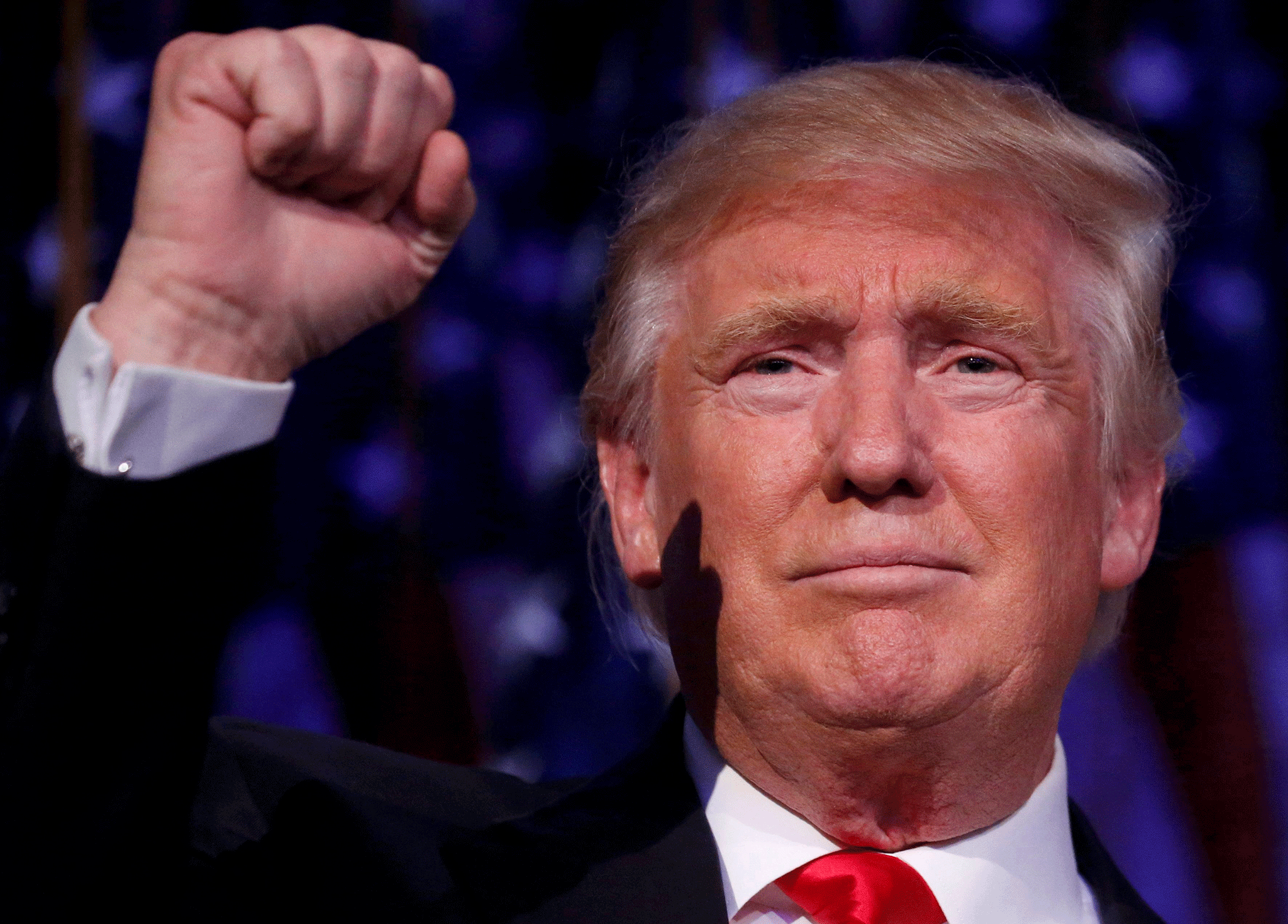 Donald Trump's election as US President is showing signs of producing an outpouring of race hate to mirror that which followed the Brexit vote in the UK.
A small minority of Trump supporters have started using twitter to tell immigrants they think are illegals to "pack your bags" and "get the f**k out you piece of "s**t."
Some are explicitly linking Trump's victory to the Brexit vote by calling Nigel Farage, the ex-Ukip leader who backed the Republican candidate, "the smartest man on the planet" and posting video of his mocking address to the European Parliament after the EU referendum result.
Trump victory speech calls on Americans to become 'one united people'
Possibly the most sinister social media post comes in the form of a video posted by a Trump supporter under the caption: "The wolves are coming. Do you hear them? They've had a taste of blood. They want their meal."
Posted on US election night, by "Grabby Nimble", a twitter user whose feed is headed by a photo of planet Earth wearing a "Make America Great Again" cap, it features a bearded man talking outside, in the dark.
After blowing cigarette smoke into the camera, he says, with a smirk:
"To the leftists. We the wolves, who have not had a taste of blood for the better part of 20 years, have finally gotten a taste.
"The wolves … are now at the table, and you are dinner."
"So my advice to you" he adds, "Is if Mr Trump becomes President Trump, emigrate. Some of you have an option to repatriate to another country, in the Middle East. Maybe you wanna do that.
"Because, again, wolves are hungry and we have have been spoiling for a fight."
"The forest is now our turf," he concludes, "And you, ideologically – perhaps not physically but at least ideologically – are now the hunted."
The video generated a succession of approving responses from other Trump supporters.
After retweeting the video as "F***ing brilliant", "Daniel MacDaniel", whose social media page includes Trump slogans like "drain the swamp", wrote: "I hope the #Dreamers [Clinton supporters] are going to dream about going back to their homeland tonight. #ElectionNight #SendThemBack."
Prominent immigrants were targeted for particularly virulent abuse.
Jose Antonio Vargas, a gay Filipino journalist and immigration activist, who has lived in the US since the age of 12 but who in 2011 went public with his undocumented status, was trolled for writing: "many undocumented people follow me and I want them to know I will not be intimidated, that we are not going anywhere."
A succession of Trump supporters taunted him that he was being deported. One, calling himself Johnny Deplorable in reference to Hillary Clinton's description of Trump supporters as "a basket of deplorables", told Vargas: "Don't know if you've seen the news. You're getting deported. Better pack up."
Another responded with a photograph from 2000 of a Border Patrol Tactical Unit agent pointing a gun towards a terrified six-year-old Cuban boy. Donald Trump's face was superimposed on that of the agent.
At the time, there was outrage at the heavy handedness shown towards the boy, Elian Gonzalez, who was involved in a high profile immigration and parental custody controversy after his mother drowned when they were shipwrecked trying to get to the US.
Today, however, the tweeted photo drew approving responses such as "I can't wait to watch his [Vargas'] deportation livestream." The doctored picture had been accompanied by the words: "Pack your bags. Your ass is going back."
The sentiments expressed at times seemed to mirror those aired during the upsurge in so-called "post-referendum racism" that occurred in the UK after the summer's Brexit vote.
US Election night in pictures

Show all 24
As revealed by The Independent, incidents included a Brexit supporter wearing a T-shirt saying "Yes! We won! Now send them back," and "F*** off to Poland" letters being sent in Tunbridge Wells, Kent.
With commentators saying that the referendum result had emboldened people to feel it was now legitimate to express long-felt hatred, police reported that hate crime incidents rose by 57 per cent in the four days following the referendum.
Some American Trump supporters sending insults made an explicit link to Brexit.
Grabby Nimble, who posted the Wolves are coming' video, also re-tweeted footage of Mr Farage telling the European Parliament, after his Brexit victory: "You all laughed at me. Well I have to say, you are not laughing now, are you?"
"Johnny Deplorable" praised the former Ukip leader for backing Trump and wrote: "Nigel Farage is proving to be the smartest man on the planet."
He was backed by a British supporter calling himself Farage/Trump 2017 who wrote: "This is so exciting."
Priska Komaromi, the co-author of the report Post-referendum racism and xenophobia, which analysed the incidents that followed the Brexit vote, told The Independent she feared that the American online abuse might escalate to violence even worse than that seen in the UK.
"I am extremely worried," she said. "Because there are certainly similarities to do with how rhetoric by powerful political figures can have real consequences - but in the case of Trump it was at a completely different level: his whole campaign was inciting racial hatred. And in the US they have guns.
"They also don't seem to have an legislation against hate speech because the First Amendment protecting freedom of speech is such a sacred thing.
"I am expecting the worst."
Join our new commenting forum
Join thought-provoking conversations, follow other Independent readers and see their replies