North Carolina protesters who tore down Confederate monument 'could face prosecution'
Investigators are analysing video to find those responsible
Clark Mindock
New York
Tuesday 15 August 2017 19:17 Comments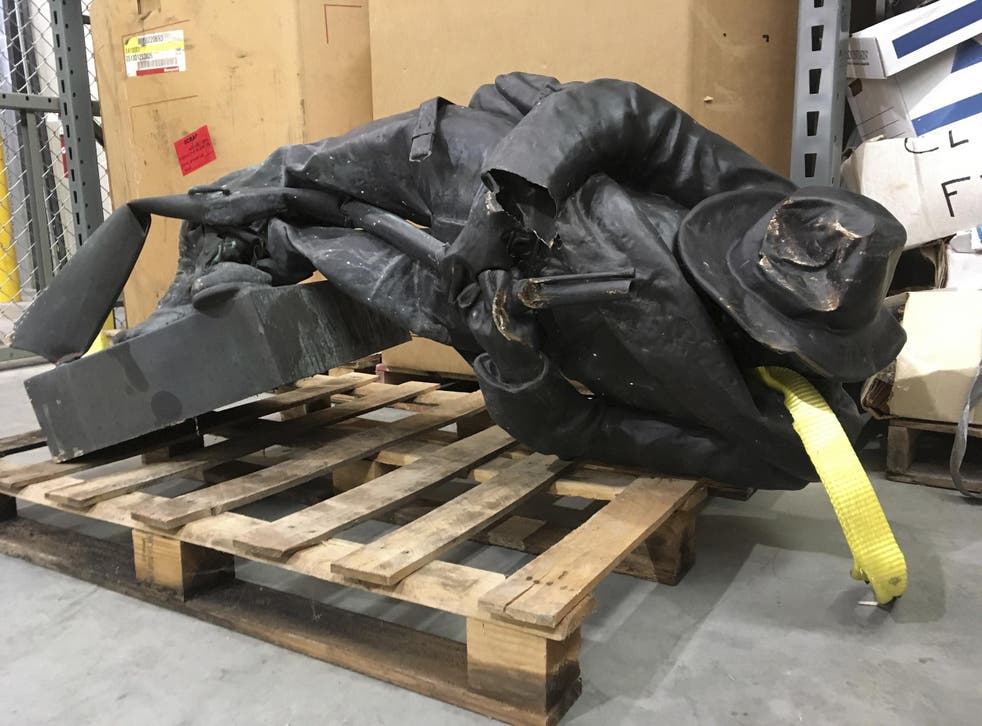 The protesters who tore down a Confederate monument in North Carolina could face charges for the vandalism if local investigators are able to figure out their identities.
Durham Sheriff Mike Andrews said that he was relieved nobody was hurt when the protesters wrapped a yellow strap around the Confederate Soldiers monument and pulled it off its pedestal.
"Collectively, we decided that restraint and public safety would be our priority" Mr Andrews said in a statement. "As the sheriff, I am not blind to the offensive conduct of some demonstrators more will I ignore their criminal conduct."
Videos captured at the scene are being analysed by investigators, he said, to figure out who was responsible for the actions. The sheriff emphasised that "racism and incivility" wouldn't be allowed to run rampant in his county.
The statue, which is nearly a century old, is called the "Confederate Soldiers Monument". The statue was dedicated in 1924.
Protests were held outside of the Durham County Courthouse to protest racism there just days after a white supremacist rally in Charlottesville, Virginia, turned violent when a vehicle plowed through a group of counter protesters. A 32-year-old woman was killed by that vehicle, and 19 others were injured.
That rally in Charlottesville was organised to protest the recent decision by city officials to remove a statue honouring Confederate General Robert E Lee. Those officials reasoned that Lee had no real historical connection to the city, and that its continued placement on public grounds in the city was inappropriate.
Violence on the streets of Charlottesville

Show all 9
The rally quickly fell into chaos, however, and police attempted to disperse crowds soon after the planned start time. Reports of the two sides brawling ran amok, and videos showed white supremacist demonstrators beating up counter protesters. Some demonstrators used tear gas, while others used police batons and other weapons.
Confederate monuments have been a point of contention since at least 2015, when Dylann Roof, a 21-year-old white man, entered a historically black church and shot nine black people to death in Charlotte, South Carolina. Investigations into that attack — carried out by Roof in the hopes of sparking a race war — later unveiled pictures of Roof posing with a gun and the Confederate flag.
The flag photos quickly sparked a national debate over why the Confederate flag — which was flown by the Confederate army when the South seceded from the United States in protest of pro-emancipation policies in the North — was still flying on public grounds.
That uproar later led the South Carolina governor at the time, Nikki Haley, to force her legislature to write a law to remove the flag from state grounds. Other states and localities have since followed suit or have considered it, and the topic of monuments has been considered as well.
There are over 1,500 Confederate monuments or tributes on public grounds in the United States, according to a database compiled by the Southern Poverty Law Center. That includes 718 monuments or statues, 109 public schools, 80 counties, and 10 US military bases named for Confederate soldiers.
Register for free to continue reading
Registration is a free and easy way to support our truly independent journalism
By registering, you will also enjoy limited access to Premium articles, exclusive newsletters, commenting, and virtual events with our leading journalists
Already have an account? sign in
Register for free to continue reading
Registration is a free and easy way to support our truly independent journalism
By registering, you will also enjoy limited access to Premium articles, exclusive newsletters, commenting, and virtual events with our leading journalists
Already have an account? sign in
Join our new commenting forum
Join thought-provoking conversations, follow other Independent readers and see their replies