Facebook under fire as it reveals 150m Americans saw Russian election propaganda
'I don't think you get it...What we're talking about is the beginning of cyber warfare'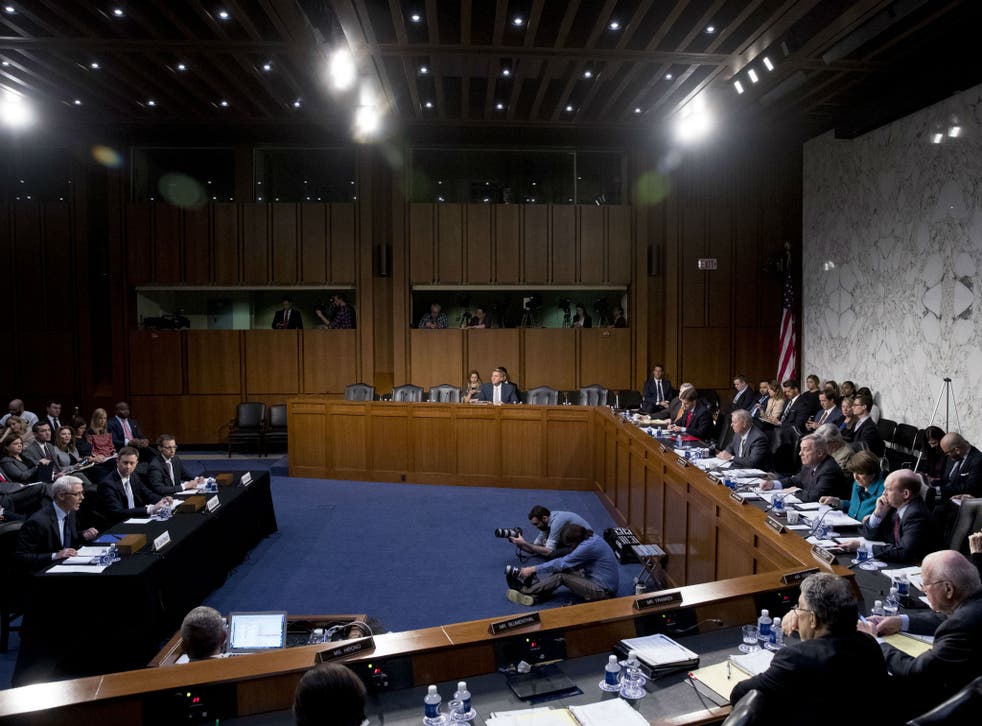 Facebook has raised its estimate as to how many Americans saw Russian-generated content in the run-up to the 2016 election to 150 million, as senators railed against the conduct of the tech company during the latest hearings into election .
Executives from Facebook, Google and Twitter were in their second day of testifying to Congress about a campaign, directed by the Russian government, to cause turmoil in the presidential election.
The scope of Russian activity was also revealed to be wider than previously stated. Facebook General Counsel Colin Stretch had said Russian-linked operatives disseminated tens of thousands of misleading or inflammatory posts that, juiced by thousands of Facebook advertisements, appeared before some 126 million Americans.
On Wednesday Mr Stretch increased that estimate to around 150 million Americans who were exposed to the content, when Facebook-owned image sharing site Instagram is included.
The company's representatives have at times faced withering questions from lawmakers incensed that the platforms did not do more to identify Russian-generated content that spread widely. In a heated exchange yesterday, Minnesota Democrat Al Franken seemed incredulous the companies allowed foreign actors to purchase ads. Senators continued to apply pressure on Wednesday, chastising the tech industry's representatives for downplaying the threat.
"I don't think you get it", said Sen Dianne Feinstein, D-California, whose state hosts the headquarters of all three companies. "What we're talking about is the beginning of cyber warfare".
Cybercrime: Uncovered

Show all 2
The Russian-linked content Facebook has identified so far was largely intended to divide, the company has said, by highlighting fractious social issues. Among the examples of Russian-generated content senators have displayed were Facebook pages claiming Democratic nominee Hillary was "despised by the overwhelming majority" of the military and a fake "Miners for Trump" event page.
Sen Mark Warner, Democrat of Virginia, had previously excoriated Twitter for a closed-door hearing he called "deeply disappointing" and "inadequate on almost every level", and he again called the tech sector to task for not initially acknowledging what he called a threat to American democracy.
Trump-Russia investigation: who has been charged in the Mueller probe
Concerns about Russian infiltration "were blown off by the leadership of your companies", Mr Warner said.
"All of what the Russians did last year", said Maine independent Angus King, "has basically been a free pass".
Tech companies have been scrambling to show they are taking the issue seriously. Facebook CEO Mark Zuckerberg has had to walk back his statement, made shortly after the election, that it would be "crazy" to suggest Facebook functioned as a vessel for Russian influence. Twitter and Facebooked have proclaiming their commitment to election integrity and rolled out new advertising disclosure rules.
Lawmakers have introduced a measure that would regulate online political ads like broadcast and print advertising, requiring disclosures about who is paying for content. Tech executives sidestepped questions about whether they would back that bill, saying they supported the concept and pointing to internal steps to increase transparency.
Join our new commenting forum
Join thought-provoking conversations, follow other Independent readers and see their replies