Facing campaign cash crisis, Donald Trump promises to match donations dollar for dollar
Candidate launches email Trumpathon one day after firing his campaign manager
David Usborne
New York
Tuesday 21 June 2016 16:15 Comments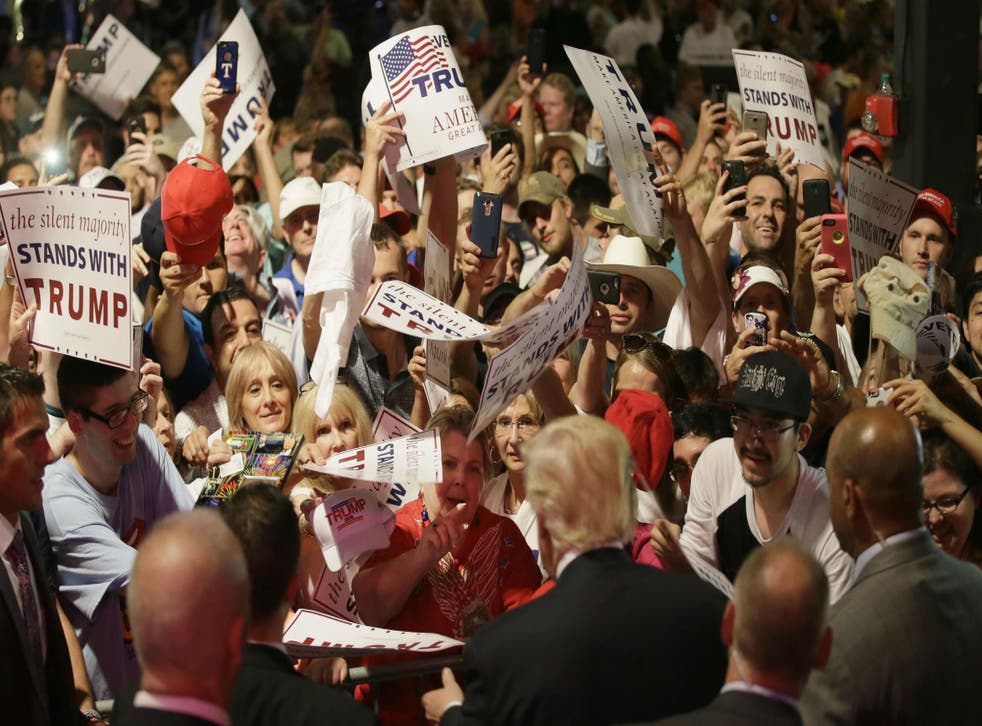 Donald Trump is brushing off a cash crunch that threatens to cripple his campaign for president hinting that he is ready to dig deeper into his own pockets if necessary to battle Hillary Clinton.
New campaign financing reports filed by both candidates revealed that the self-proclaimed multi-billionaire's campaign had ended May with just $1.3 million in the bank, a figure that is not even close to what a conventional presidential bid would normally need to remain competitive.
By contrast, Ms Clinton has built a fund-raising Leviathan. She closed off the month with $42.5 million in hand. Since starting her campaign, she has raised $238.2 million and is thus well on the way to meeting her declared goal of $1 billion before it's all over.
The implications for Mr Trump are potentially far-reaching. He is already allowing Ms Clinton to run a barrage of TV and radio ads against him in battleground states - more than 3,000 in one week alone this month - without running a single broadcast spot of his own. Indeed, he has yet to book any airtime for advertising in the summer or autumn, further indicating a campaign almost unable to handle - or fund - all the tasks now before it.
Already hesitant donors will not be impressed, moreover, with some of the expenses being reported by the Trump campaign, some of which have been going back into his pockets or to his own companies. Items reported include $423,000 paid in May alone to his own club in Palm Beach, Florida, Mar-a-Lago. "What is Trump spending his meager campaign resources on? Why, himself, of course," Hillary Clinton said in a mocking Twitter message on Tuesday.
On Tuesday, Mr Trump sent out his first personal email soliciting funds. In it he promised to match donations dollar for dollar with his own money up to a maximum of $2 million. Thus was born the first presidential Trumpathon, even if it is happening via email, not on television.
"This is the first fundraising email I have ever sent on behalf of my campaign. That's right. The FIRST ONE," it began. He then vowed to "help make it the most successful introductory fundraising email in modern political history by personally matching every dollar that comes in WITHIN THE NEXT 48 HOURS, up to $2 million!"
He has also fallen far behind in assembling the national infrastructure that would normally be vital for winning enough states in November to win the White House. While Ms Clinton already has 700 employees on her campaign books, he has so far managed only about 70 people. While the former first lady has teams of press spokespeople, Mr Trump still has only one - Hope Hicks - who since the start of the campaign has given the impression of a person drowning.
Both the pitiful amounts of money he is managing to raise and the puny scale of his on-the-ground operations suggest a campaign perhaps for a junior US Senator on Capitol Hill rather for commander-in-chief of the United States.
His thirst for money has also forced him to spend precious time in states with large numbers of Republican donors pregnant with cash but which will barely be competitive in the general election. Last week, saw him travel for two days first to Texas and then to Arizona.
The question is being asked with increasing urgency: at what point does Mr Trump's own faith in his ability to mount a campaign fueled by media noise crash against the reality that he will still need all the usual paraphernalia - a humming fundraising operation, massive voter digital outreach as well as a network of war-rooms in all the key swing states - to win?
Mr Trump's surprise decision to sack his longtime manager, Corey Lewandowski, on Monday suggested that he might have started to get the message - including from members of his own family - that the time to start building a more conventional campaign has arrived.
On Wednesday, Mr Trump will give "a speech about the election," at his own Soho Trump Hotel in Manhattan. While there is no intelligence on what the specific topic of the address will be, it may be the moment he pivots publicly towards a more traditional strategy against Ms Clinton.
That, for certain, is what many in the Republican Party will want to hear, including its leaders, Paul Ryan, the House speaker, and Mitch McConnell, the party leader in the US senate, who have endorsed Mr Trump but continue to speak critically of him.
Hoping for a change of tone from the candidate also are the many traditional donors, whose reluctance to embrace him so far in part explains his desperate cash drought.
But on Tuesday, the mogul feigned scant concern. "I understand money better than anybody," Mr Trump said on The Today Show on NBC, before adding: "If it gets to a point, I'll do what I did in the primaries. I spent $55 million in the primaries. I may do it again in the general election."
"We're going to be running a little bit different campaign," he told Fox News. "We want to keep it lean. I'm not looking to spend all this money. She's going to spend more than $1 billion. I can go a different route, I could just spend my own money, have a lot of cash and do like I did with the other and just spend money on myself and go happily along and I think I win that way,"
Mr Trump also suggested that his cash difficulties are in part precisely thanks to the party and its reluctance full to embrace him. "It would be nice to have some help from the party," he said, adding that the Republican National Committee and its chairman, Reince Priebus, "have been terrific," but "it would be nice to have full verbal support from people in office."
He also sent an email to reporters insisting his campaign cash problems would be overcome. "If need be, there could be unlimited "cash on hand" as I would put up my own money, as I have already done through the primaries, spending over $50 million dollars," he said. "Our campaign is leaner and more efficient, like our government should be."
Among those still not convinced that even the firing of Mr Lewandowski signals a real shift in strategy is Veteran GOP fundraiser Fred Malek.
"If it signals a change in his style and approach, it can only be positive. But I feel he needs to do more. And I feel that, no matter what he does on the fundraising front, he's going to be at a huge financial disadvantage," he said, noting that it usually takes two years to build the kind of fund-raising operation that a presidential campaign would need.
Register for free to continue reading
Registration is a free and easy way to support our truly independent journalism
By registering, you will also enjoy limited access to Premium articles, exclusive newsletters, commenting, and virtual events with our leading journalists
Already have an account? sign in
Join our new commenting forum
Join thought-provoking conversations, follow other Independent readers and see their replies