Trump's new FBI Director Christopher Wray threatened to quit over pressure to fire deputy, according to report
Even former FBI Director James Comey weighed in on the news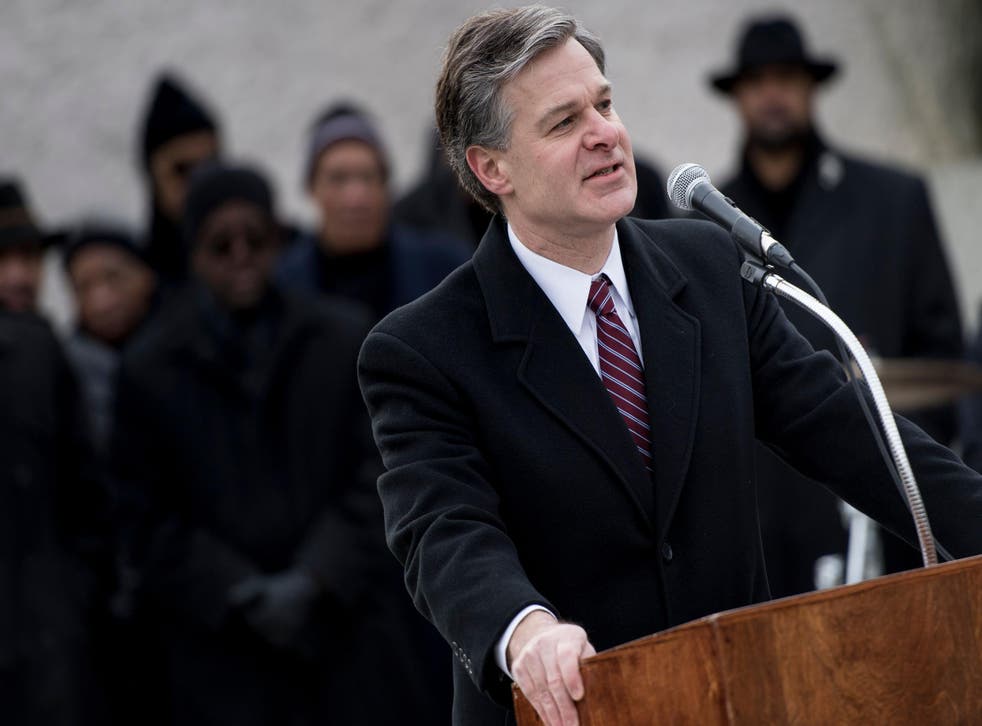 Christopher Wray, the man Donald Trump chose to replace former FBI Director James Comey, has reportedly already threatened to resign.
The threat reportedly came as the Trump administration pressured Mr Wray to fire his deputy director, Andrew McCabe. For months, Mr Trump pushed for Mr McCabe's ouster via Twitter, while Attorney Jeff Sessions applied pressure privately, asking Mr Wray to get rid of his deputy, according to Axios.
Mr Wray refused. The newly appointed director made it clear that he and Mr McCabe were a package deal: If the deputy director was forced out, Mr Wray would leave as well. Fearing a public relations nightmare – especially after Mr Comey's turbulent departure – the White House relented.
White House Counsel Don McGahn also reportedly played a role, telling Mr Sessions that the issue was not worth losing Mr Wray.
Mr Trump denied this report on Tuesday, saying Mr Wray had never threatened to retire – "not even a little bit."
"The president appointed Chris Wray because he is a man of true character and integrity and the right choice to clean up the misconduct at the highest levels of the FBI and give the rank and file confidence in their leadership," White House Principal Deputy Press Secretary Raj Shah said in a statement.
The FBI and Department of Justice declined to comment.
The biggest names involved in the Trump-Russia investigation

Show all 17
Mr Comey appeared to weigh in on the news, however, tweeting: "Good to read reports of people standing up for what they believe in. 'The ultimate measure of a man is not where he stands in moments of comfort and convenience, but where he stands at times of challenge and controversy' – MLK."
Mr Trump has repeatedly taken to Twitter to attack Mr McCabe – a career civil servant who participated in both the investigation of Hillary Clinton's private email server and the investigation of Russian meddling in the 2016 US election.
The President was especially concerned when Mr McCabe's wife mounted a Democratic bid for a Virginia State Senate seat. Ms McCabe accepted nearly $500,000 in donations from the political organisation of Virginia Governor Terry McAuliffe, a longtime friend of Ms Clinton, as part of her campaign.
Trump's FBI pick suggests Donald Trump Jr should have gone to agency over Russia meeting
"How can FBI Deputy Director Andrew McCabe, the man in charge, along with leakin' James Comey, of the Phony Hillary Clinton investigation (including her 33,000 illegally deleted emails) be given $700,000 for wife's campaign by Clinton Puppets during investigation?" Mr Trump tweeted last month.
Mr Trump fired his previous FBI Director, Mr Comey, in May. At the time, Mr Trump said he was concerned with Mr Comey's handling of the Clinton email server investigation. Later, the President admitted that the Russia investigation – which Mr Comey was leading – played into his decision.
Mr McCabe served as acting FBI director between Mr Comey's firing and Mr Wray's swearing-in.
Register for free to continue reading
Registration is a free and easy way to support our truly independent journalism
By registering, you will also enjoy limited access to Premium articles, exclusive newsletters, commenting, and virtual events with our leading journalists
Already have an account? sign in
Register for free to continue reading
Registration is a free and easy way to support our truly independent journalism
By registering, you will also enjoy limited access to Premium articles, exclusive newsletters, commenting, and virtual events with our leading journalists
Already have an account? sign in
Join our new commenting forum
Join thought-provoking conversations, follow other Independent readers and see their replies