1.4 million ex-felons can now register to vote in Florida: 'You can see the expansion of democracy'
Ex-felons tell The Independent the fact they can vote again is a story of American redemption and second chances
Clark Mindock
New York
Wednesday 09 January 2019 00:27 Comments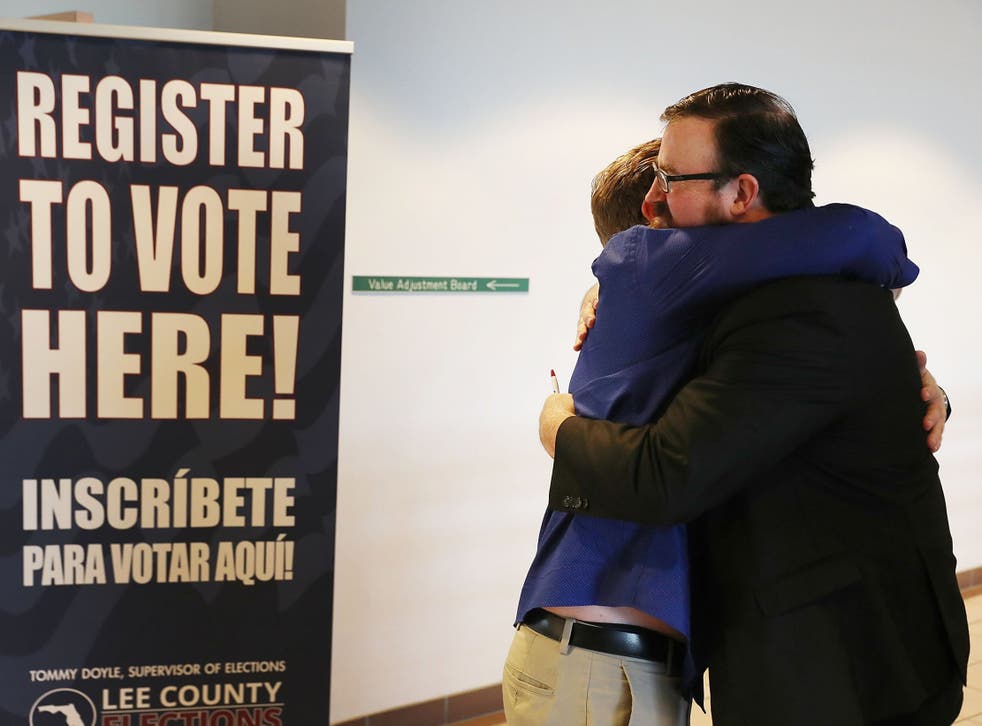 More than a dozen years after his life began to fall apart, Neil Volz spent the morning eating breakfast and praying with his family at a diner before doing something that would have been impossible just a day earlier: he registered to vote.
The former chief-of-staff to a US congressman who was convicted of fraud 13 years ago is among the more than 1.4 million ex-felons in Florida who can now vote after a historic voter-approved constitutional Amendment 4 came into effect on Tuesday.
After years of campaigning, the final implementation of the law signals a second chance for many and a moment of redemption that celebrates the very fabric of democratic institutions.
"You can see the expansion of democracy in real time, and take part in it. In the process, I just walked away with such gratitude for everyone who helped protect the right to vote, build the right to vote, and just saw it with brand new eyes," Mr Volz, who helped organise in favour of Amendment 4 alongside the Florida Rights Restoration Coalition, told The Independent.
Mr Volz's story is at once unique and yet had been representative of a common tragedy that had played out in Florida for years. After his fraud conviction in Washington, he lost his job and family before moving south where he took a job earning the US minimum wage as a janitor.
But, after serving probation, Mr Volz was not allowed to return to the voting booth, even has he remarried and volunteered with faith-based and human rights groups in his community. He had been denied suffrage, just like more than 1.4 million ex-felons in the state – a situation that has now been overturned as Florida voters overwhelmingly approved Amendment 4, with more than 5.1 million people casting ballots in support of the measure.
That was more than one million more votes than either of the leading two candidates for Florida governor.
"It's really an opportunity for redemption and it's a celebration of democracy, and love, and second chances," Rashmi Airan, who pleaded guilty in 2014 to financial crimes and was also involved in the push for Amendment 4, said.
World news in pictures

Show all 50
Airan, who will still not be able to vote until the end of her probation and a resolution to a multimillion dollar restitution judgement, continued: "I'm really excited for what's going to come."
Amendment 4 became law in spite of remarks from then-governor-elect Ron DeSantis, who said last month that he wanted to wait to implement the measure until the state legislature could reconvene this year. Mr DeSantis became the state's governor on Tuesday.
But advocates for the measure argued that the amendment was designed to be self-implementing and the measure – which has attracted support from liberal and non-partisan organisations, such as the ACLU of Florida, as well as from groups connected to the conservative Koch Brothers – went ahead on Tuesday with county supervisors registering ex-felons across the state.
Desmond Meade, who has been credited with spearheading the effort behind Amendment, was homeless and struggled with drug addiction 18 years ago, the last time he was convicted of a felony in 2001 on charges related to possessing a firearm as a felon.
But since then, he has focused on giving back to his community and raising a family. The young man who was in and out of trouble with the law is long gone, he said, and replaced by an upstanding American citizen eager to participate in the most fundamental American traditions of going to the ballot box.
Support free-thinking journalism and attend Independent events
On Tuesday, Mr Meade joked with his two children at home before heading to register to vote. He said he felt a sense of awe when he entered the county supervisor's office, and became a returning citizen with the right to vote in Florida.
To Mr Meade, his story and those of his fellow reformed ex-felons is quintessentially American.
"That's the story of overcoming obstacles. That's the story of second chances," he said.
He continued, referencing the surprise college football victory of Clemson University over the top ranked University of Alabama team on Monday: "Listen, last I checked, this nation has always been one of second chances, and we've always loved a good underdog. Everybody is celebrating the Clemson win, and everybody is celebrating Amendment 4."
Register for free to continue reading
Registration is a free and easy way to support our truly independent journalism
By registering, you will also enjoy limited access to Premium articles, exclusive newsletters, commenting, and virtual events with our leading journalists
Already have an account? sign in
Join our new commenting forum
Join thought-provoking conversations, follow other Independent readers and see their replies