Florida primary: Chaos as workers fail to man polling station over coronavirus fears
As voters in three US states headed to the polls on Tuesday, coronavirus concerns stopped some polling stations in Florida from opening
Gino Spocchia
Tuesday 17 March 2020 17:36 Comments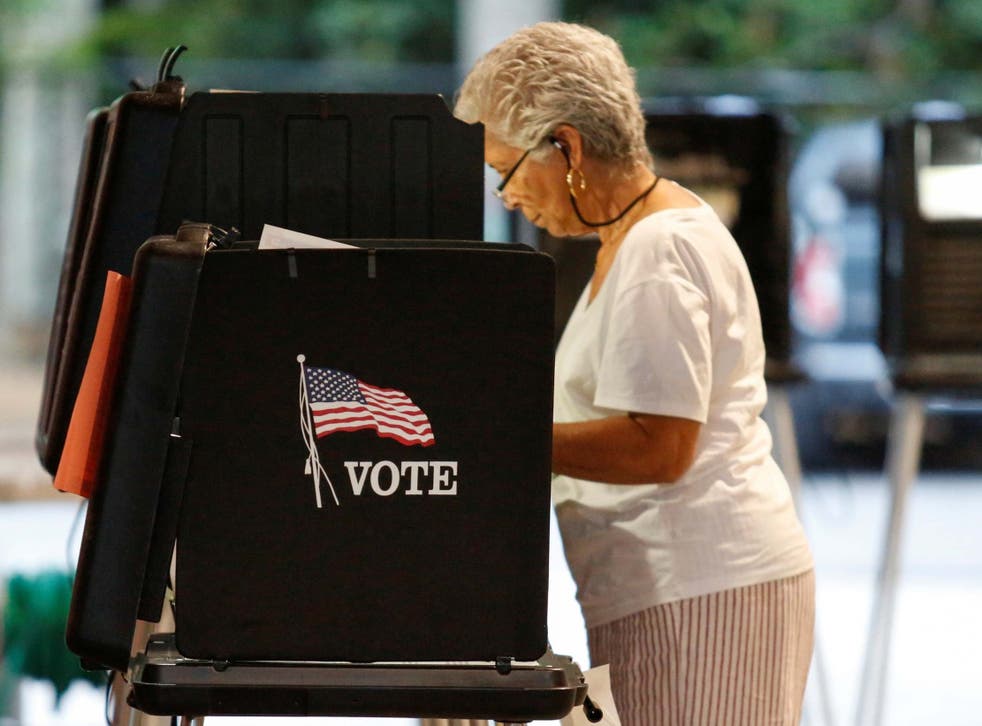 Concerns over coronavirus in Florida meant that some polling stations could not open on primary day due to a shortage of workers.
Ahead of polling day, approximately 100 staffers had volunteered to replace around 800 poll workers who had already pulled out, leaving many stations in Florida such as Palm Beach County, without staff.
According to the elections department in Palm Beach County, many workers failed to show up in at least five locations in the county as Florida, alongside Arizona and Illinois, ploughed ahead with their Democratic primaries.
Up to 441 delegates to the Democratic National Convention are in contention on Tuesday as Joe Biden and Bernie Sanders await to see how the coronavirus outbreak will impact turnout at the ballot box.
Ohio, on the other hand, postponed its primary after the state's Republican governor, Mike DeWine, declared a health emergency as a result of the ongoing Covid-19 epidemic. In his announcement, the governor declared that "to conduct an election tomorrow would would force poll workers and voters to place themselves at a unacceptable health risk of contracting coronavirus".
In addition to Palm Beach, Florida's Pinellas County also reported staff shortages.
"There's no hiding from the fact that now we are in dire straits between the number of workers who have dropped out and the number we need to run an election," said Dustin Chase, a spokesman for the Pinellas County Supervisor of Elections Office, on Monday.
In a Tampa Bay Times report, Mr Chase revealed that of Pinellas county's 1,700 polling staff, more than 260 had decided to pull out due to the risk of coronavirus. In response, many polling stations were understaffed and more than a dozen of Pinellas' precincts were relocated to other polling locations.
Some of these changes occurred as late as Monday, the day before the primary. The Pinellas spokesman added: "Can I foresee lines longer than 30 minutes?", "Yes, I can."
Florida's Secretary of State, Laurel Lee, announced ahead of Tuesday's polling day that the state's Democratic primary would go ahead.
In a statement, Ms Lee said that the decision by officials in Florida was based on the advice of health professionals and the Florida Department for Health.
The state secretary tried to reassure voters in Florida that the elections were safe, saying on Monday that "we are confident that voters in Florida can safely and securely go to the polls and cast their ballots in tomorrow's election".
Meanwhile, volunteers across the three states voting in today's primary took to Twitter to complain of a lack of cleaning supplies at some polling stations.
Register for free to continue reading
Registration is a free and easy way to support our truly independent journalism
By registering, you will also enjoy limited access to Premium articles, exclusive newsletters, commenting, and virtual events with our leading journalists
Already have an account? sign in
Join our new commenting forum
Join thought-provoking conversations, follow other Independent readers and see their replies