Georgetown law professors kneel in protest at Jeff Sessions speech
We 'condemn the hypocrisy of Attorney General Sessions speaking about free speech', the professors wrote in a letter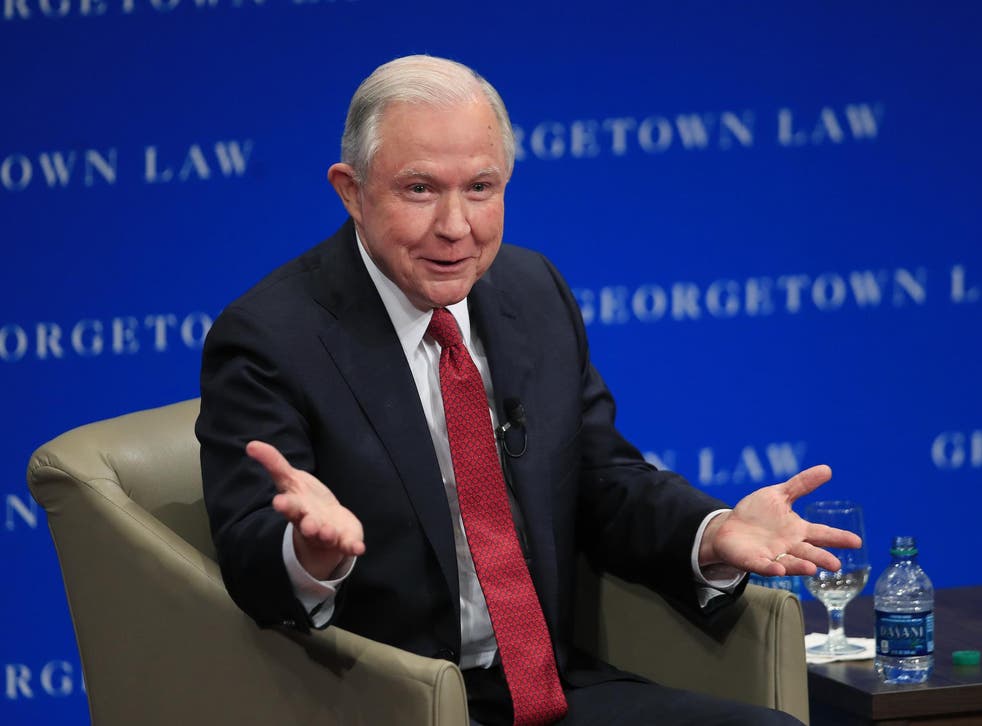 The kneeling protests that started among American footballers in the NFL have spread to academics at Georgetown Law, a private research university in Washington DC.
Professors at the law school knelt on Tuesday to protest a visit by Attorney General Jeff Sessions, who was scheduled to give a talk about campus free speech.
Ahead of the event, more than 30 faculty members also signed a letter condemning the attorney general's hypocrisy for speaking about free speech days after the President suggested players who kneel during America's national anthem should be fired.
"We, the undersigned, condemn the hypocrisy of Attorney General Sessions speaking about free speech," the letter reads. "Sessions is a key cabinet member in an administration headed by a President who spent last weekend denouncing athletes engaging in free expression and calling for them to be fired."
Mr Trump's controversial comments at a rally in Alabama sparked a wave of football protests on Sunday, with many NFL players across the US and in London kneeling during the national anthem.
While many did not condone the demonstrations during the playing of the Star-Spangled Banner, several others said the players had a right to protest.
Donald Trump's international Presidential trips

Show all 22
Chicago Bears chairman George McCaskey said in a statement that "what makes this the greatest country in the world are the liberties it was founded upon and the freedom to express oneself in a respectful and peaceful manner."
In their letter, the law professors also compared Mr Trump's use of an expletive to refer to athletes who kneel during the anthem to his previous comments saying that some participants in a white nationalist rally in Charlottesville, Virginia were "very fine people".
They went on to point out the Justice Department's prosecution of a woman for laughing during Mr Sessions' confirmation hearing as well as the agency's efforts to get a company to hand over data connected to an online protest of Mr Trump's inauguration.
"These are just three examples of governmental action antithetical to freedom of speech and association for which Attorney General Sessions is either closely affiliated or directly responsible," the professors wrote. "A man who fails to recognize paradigmatic violations of the First Amendment is a poor choice to speak about free speech on campuses."
Register for free to continue reading
Registration is a free and easy way to support our truly independent journalism
By registering, you will also enjoy limited access to Premium articles, exclusive newsletters, commenting, and virtual events with our leading journalists
Already have an account? sign in
Register for free to continue reading
Registration is a free and easy way to support our truly independent journalism
By registering, you will also enjoy limited access to Premium articles, exclusive newsletters, commenting, and virtual events with our leading journalists
Already have an account? sign in
Join our new commenting forum
Join thought-provoking conversations, follow other Independent readers and see their replies