Georgia special election: Karen Handel feels the pressure as Democrats aim to take seat controlled by Republicans for 38 years
The seat was once held by Speaker Newt Gingrich
Andrew Buncombe
Roswell, Georgia
Tuesday 20 June 2017 01:53 Comments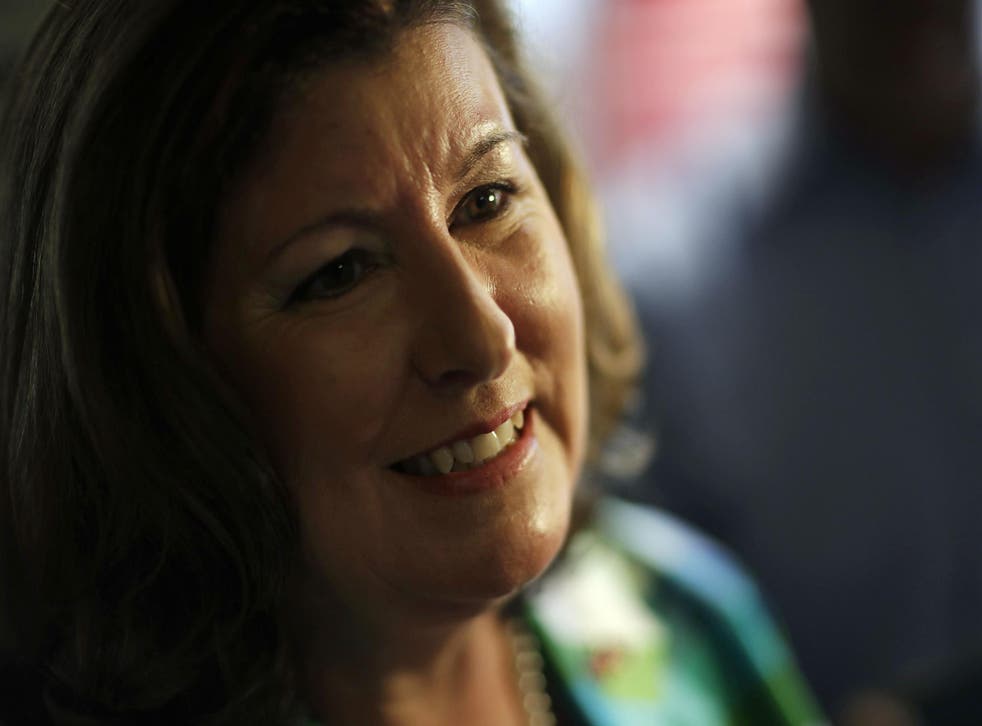 Karen Handel - fighting to hold onto a seat the Republicans have occupied four decades - received a message of support on the eve of polling in a pair of tweets from Donald Trump.
"Karen Handel's opponent in #GA06 can't even vote in the district he wants to represent," wrote Mr Trump, in tweets in which he initially misspelled Ms Handel's name. "…because he doesn't even live there! He wants to raise taxes and kill healthcare. On Tuesday, #VoteKarenHandel."
Ms Handel, 55, a former state official, could probably use all the help she can get as she seeks to win the battle for Georgia's 6th congressional district. After weeks of hard campaigning, the race against her Democratic challenger, Jon Ossoff, has come down to the wire.
A poll published by a local television network, WSB, put Mr Ossoff on 49 points and Ms Handel on 48.9. It said a mere 2.1 per cent of people were undecided, and said it contained a margin of error of 4.4 per cent.
Ms Handel, a social conservative who previously served as Georgia's secretary of state, has been stressing her local roots and saying she has the better experience to deliver on local issues.
She and outside groups supporting her campaign have instead tried to link Mr Ossoff to House Minority Leader Nancy Pelosi, and money that has flooded into his campaign from out of the state. The race - made necessary when incumbent congressman Tom Price joined Mr Trump's cabinet - will be the costliest special election in US history and estimates suggest more than $50m will have been spent.
"The strategy for this campaign has always been about who is best and the right fit for people of this district," Ms Handel told the Associated Press. "The people of this district are not from a views and a values standpoint aligned with Nancy Pelosi."
World news in pictures

Show all 50
Ms Handel finished her campaign with an event at a restaurant in the upmarket suburb of Roswell, located around 20 miles of Atlanta. There she was joined on stage by Georgia's Republican governor, Nathan Deal.
Those who spoke before her, sought to mock the "California money" that had gone to Mr Ossoff's campaign. Others joked that they never saw him in the district and could not be considered a local. (While Mr Ossoff grew up in the district, he lives with his fiancee, a medical student at Emory University, a few miles outside of the district boundary.)
Andra Martin, who lives in Roswell, said she was supporting Ms Handel because she had known her for a long time and believed she would put making the best decisions for local people over politics. "She is 100 per cent the real deal," she said.
Al Mayer, 54, another of those in attendance, said she had integrity. "She is going to hold true to the values of the district. They are good people," he said.
Jon Ossoff: Georgia election will come down to turn out
Both Mr Ossoff, who once studied at the London School of Economics, and Ms Handel have sought to stress the local nature of the contest. Some local have resent the national attention the contest has received.
Yet Democrats across the country are determined to turn the battle for the seat that Republicans have held since 1979, into a referendum on Mr Trump and his performance as president. They hope if they win here, it would give them the momentum to win the 24 seats they would require to take back control of the House of Representatives.
Ms Ossoff, who once described his bid to take the Republican-controlled district as an opportunity to "make Trump furious", has more recently calmed such talk.
He has repeatedly downplayed Mr Trump's role in the race while rallying supporters at a campaign office in Chamblee on Monday but acknowledged that it motivates many people.
"There are many in this community, myself among them, who have deep concerns about the direction of things in Washington, about the integrity and competence of this administration," he said.
"I think that those concerns have only grown over time. And with a commitment to working across the aisle to get things done, to holding people in Washington accountable regardless of their political party, some fresh leaders can hopefully break through some of this nonsense."
Register for free to continue reading
Registration is a free and easy way to support our truly independent journalism
By registering, you will also enjoy limited access to Premium articles, exclusive newsletters, commenting, and virtual events with our leading journalists
Already have an account? sign in
Join our new commenting forum
Join thought-provoking conversations, follow other Independent readers and see their replies