Giuliani asked Trump to extradite Muslim cleric wanted by Erdogan's government, reports say
White House aides strongly objected and insisted such requests should go through formal channels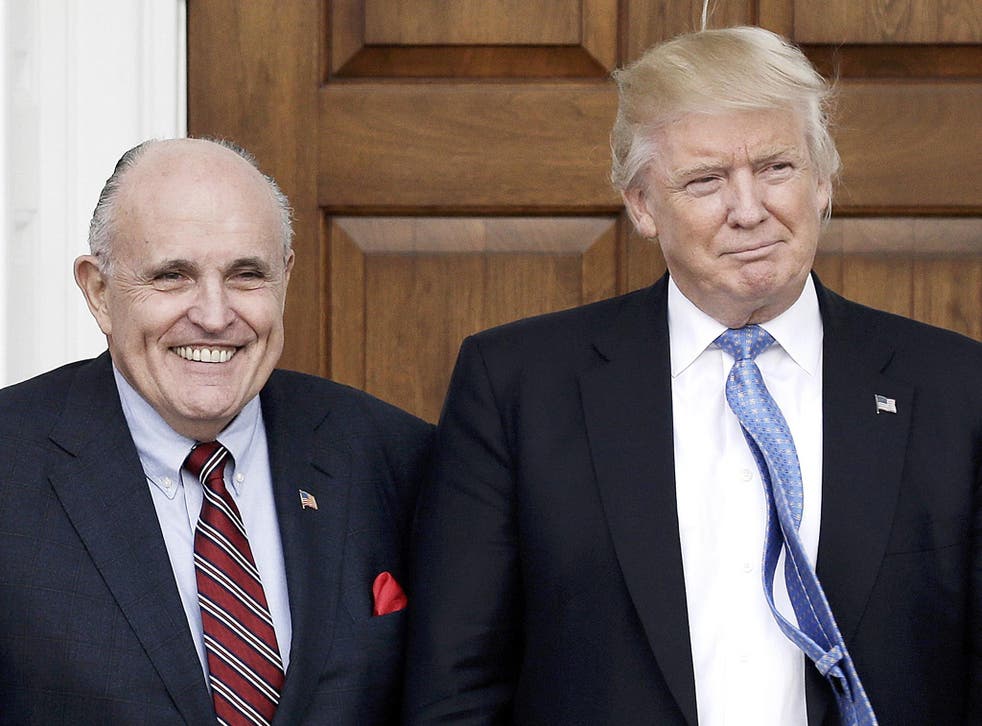 Donald Trump's personal lawyer, Rudy Giuliani, reportedly asked him to extradite a Turkish cleric from the United States.
The Muslim cleric, Fethullah Gulen, is a prominent opposition leader who has been living in exile in Pennsylvania for two decades as a permanent resident of the United States.
Turkish president Recep Tayyip Erdogan has been demanding the cleric's extradition and made it one of his top priorities in dealing with Washington. Mr Erdogan accuses the influential cleric of plotting a coup against him in 2016, but Mr Gulen has denied having any role in the events.
Senior administration officials said that in 2017 Mr Giuliani repeatedly pushed President Trump to hand the cleric over to the Turkish government, but White House aides strongly objected and made it clear that the department of justice should evaluate such requests.
Despite the push-back from US officials, Mr Trump seemed receptive to the request and frequently asked his advisers why Mr Gulen couldn't be extradited to Turkey, the Washington Post reported.
Trump impeachment: Who's who in the Ukraine scandal

Show all 26
Mr Giuliani is not the only Trump associate who pushed for the extradition of Mr Gulen. Mr Trump's former national security adviser, Michael Flynn, secretly worked towards the same goal.
Back in December 2018 special counsel Robert Mueller's report disclosed that Flynn had been lobbying for Turkey and a key aspect of his work involved efforts to extradite Mr Gulen. Mr Mueller's report also stated that Flynn tried to cover up his ties to the government of Turkey while he was a senior official on Mr Trump's election campaign and transition team.
It is still not clear why Mr Giuliani pushed for the Turkish president's demand, but critics point to similar actions on Ukraine.
Samantha Vinograd, a former national security official in the Obama administration, wrote on Twitter: "Giuliani says he doesn't rep Turkey but is pushing for what Erdogan wants. He pushed for Yovanovitch to be recalled because his Ukrainian-American associates wanted him to. We later learned he was paid $500K by them. If Rudy's history is a guide…"
Support free-thinking journalism and attend Independent events
US relations with Ankara are currently troubled over Turkey's incursion into northern Syria and attacks on Kurdish forces who had been American allies in the war against Isis.
The White House and Congress have announced plans to take punitive measures against the Turkish government. Mr Erdogan has been invited to meet Mr Trump at the White House next month although it is not clear if that invitation would be cancelled in light of current events.
Register for free to continue reading
Registration is a free and easy way to support our truly independent journalism
By registering, you will also enjoy limited access to Premium articles, exclusive newsletters, commenting, and virtual events with our leading journalists
Already have an account? sign in
Register for free to continue reading
Registration is a free and easy way to support our truly independent journalism
By registering, you will also enjoy limited access to Premium articles, exclusive newsletters, commenting, and virtual events with our leading journalists
Already have an account? sign in
Join our new commenting forum
Join thought-provoking conversations, follow other Independent readers and see their replies