Democrats issue new plea for gun control after worst shooting in Texas history
But action on the issue is still unlikely to occur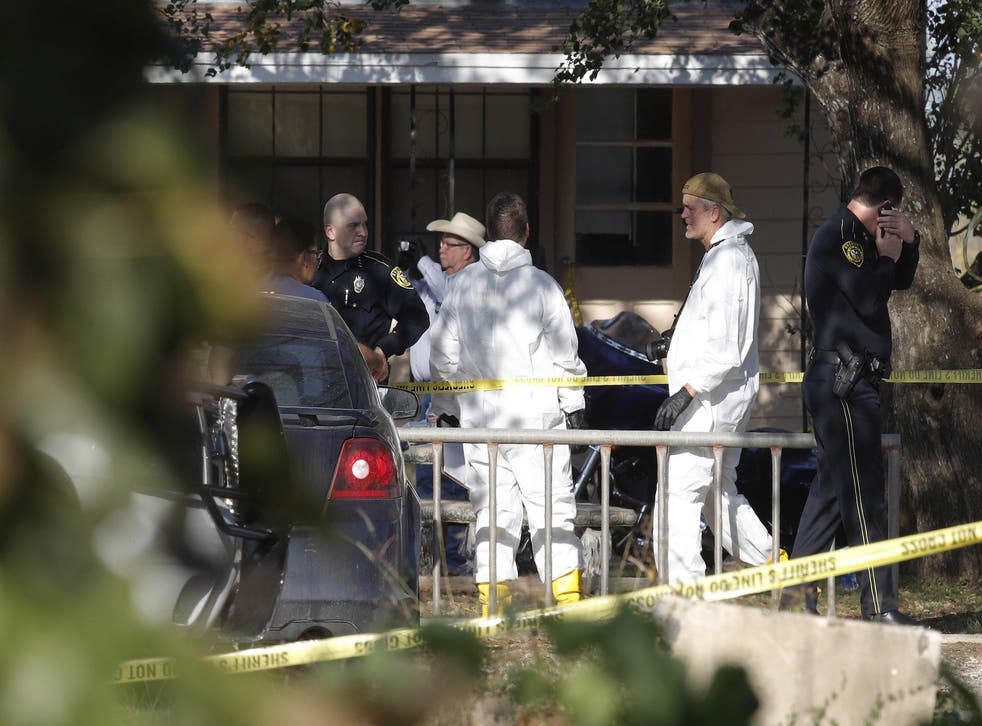 Democrats have once again issued a plea for action on gun control in the wake of another mass shooting, with one senator saying "no one is safe if Congress chooses to do nothing".
However, as with previous attempts, it is likely to fall on deaf ears despite last chance-style rhetoric.
The attack at a rural Texas church, which has left at least 26 dead and 20 others injured, is the third high-profile shooting to occur under President Donald Trump during his first nine months in office.
The President, who was in Asia when he learned about the massacre, said at a news conference that the incident "isn't a guns situation."
"I think that mental health is your problem here," Mr Trump said, calling the shooter a "deranged individual".
"I mean, we could go into it, but it's a little bit soon to go into it. ... But this is a mental health problem at the highest level," the President added.
About a month after he was inaugurated, Mr Trump – who has declared that he loves the Second Amendment – signed a resolution blocking an Obama-era rule that would have prevented an estimated 75,000 people with mental disorders from buying guns. The rule had been part of former President Barack Obama's push to strengthen the federal background check system.
Senator Chris Murphy, one of the Democratic Party's most outspoken supporters of gun control legislation has criticised Congress for its repeated failures to take action on the gun control issue.
In a statement, Mr Murphy noted several other recent shootings in the US, including the attacks in Las Vegas last month, in Orlando last year, and at the Emanuel African Methodist Episcopal Church in Charleston, South Carolina, in 2015.
"The terrifying fact is that no one is safe so long as Congress chooses to do absolutely nothing in the face of this epidemic," Mr Murphy said. "The time is now for Congress to shed its cowardly cover and do something."
Donald Trump's least presidential moments so far...

Show all 30
Before becoming a senator, Mr Murphy was a representative for Newtown, Connecticut, the site of the 2012 Sandy Hook Elementary School shooting.
"The paralysis you feel right now – the impotent helplessness that washes over you as news of another mass slaughter scrolls across the television screen – isn't real," Mr Murphy said. "It's a fiction created and methodically cultivated by the gun lobby, designed to assure that no laws are passed to make America safer, because those laws would cut into their profits."
He continued: "As my colleagues go to sleep tonight, they need to think about whether the political support of the gun industry is worth the blood that flows endlessly onto the floors of American churches, elementary schools, movie theaters, and city streets."
Other Democrats, including senators Dick Durbin, Elizabeth Warren, Kamala Harris and Bob Casey also urged Congress to act.
"How many more people must die at churches or concerts or schools before we stop letting the @NRA control this country's gun policies?" Ms Warren tweeted, referring to one of the nation's most powerful gun advocacy groups, the National Rifle Association.
Republican Senator Jeff Flake offered some comments that could be considered encouraging to some of his colleagues on the other side of the aisle, acknowledging that something must be done.
During an interview with CNN, he called for improvements in how information is shared between federal and local law enforcement agencies.
"In this case, I think what will come to light is we need better information sharing, if nothing else, in terms of criminal convictions or background check issues. We don't have a good system now," Mr Flake said.
The Arizona Republican, who announced last month that he would not run for re-election in 2018, also reflected on his own experience with gun violence. At a baseball practice in June, less than a week before the annual congressional baseball game, a shooter open fired on Republican lawmakers, wounding four people including House Majority Whip Steve Scalise.
"There's no way you can experience something like that, and see bullets pitching right in front of you and not figure what can we do? We've got to do something more," Mr Flake said.
"We have to have a change in attitude and behavior. This person who fired on the baseball field, he had a legally possessed weapon and he wouldn't have shown up on anything," the senator continued. "Sometimes there are things that would matter in terms of what Congress does. Sometimes it's more of a cultural issue, or it's a matter of discourse and how we treat each other."
Other Republicans, however, have suggested that civilians' possession of weapons may have helped bring the attack in Texas to a quicker end.
"I don't want to create impediments for law abiding citizens having guns," Texas Attorney General Ken Paxton said on MSNBC's Morning Joe. "The people who slowed this guy down were people who had guns."
The shooter, reported to be 26-year-old Devin Kelley, was shot by an armed neighbour of the church after the massacre. According to Texas Governor Greg Abbott, Mr Kelley should not have had access to firearms; he had applied for a license to carry a gun in Texas, but had been denied.
Initial reports suggest that Mr Kelley had a troubled life, and had committed crimes in the past that could have conceivably barred him from legally obtaining a gun.
According to CNN reporter Manu Raju, when Senate Majority Leader Mitch McConnell was asked what the Senate could do in the wake of shootings, he responded: "It's hard to envision a foolproof way to prevent individual outrages by evil people".
Given Republican sentiment on gun control, any attempts to tighten gun laws are likely to stall.
Directly following the Las Vegas shooting in early October, there was a push to ban bump stocks – an accessory the shooter used to increase his semi-automatic weapon's rate of fire.
However, the momentum to do so has since died down. A bill that would outlaw the accessory still has no Republican support. There is also question over whether a bump stock ban would have made a difference regarding the Texas shooting.
Additionally, even if gun control legislation was approved by Congress, there is uncertainty over whether Mr Trump would sign it into law.
Mr Trump declared in April to members of the NRA, who contributed significantly to his presidential campaign, that he "will never, ever infringe on the right of the people to keep and bear arms. Never ever."
Register for free to continue reading
Registration is a free and easy way to support our truly independent journalism
By registering, you will also enjoy limited access to Premium articles, exclusive newsletters, commenting, and virtual events with our leading journalists
Already have an account? sign in
Register for free to continue reading
Registration is a free and easy way to support our truly independent journalism
By registering, you will also enjoy limited access to Premium articles, exclusive newsletters, commenting, and virtual events with our leading journalists
Already have an account? sign in
Join our new commenting forum
Join thought-provoking conversations, follow other Independent readers and see their replies