Department of Justice to investigate 'alarming' trend of hate crimes following Donald Trump election
Loretta Lynch said the Justice Department would continue to 'champion diversity and inclusion' – but as Jeff Sessions prepares to take her place, will that pledge stand?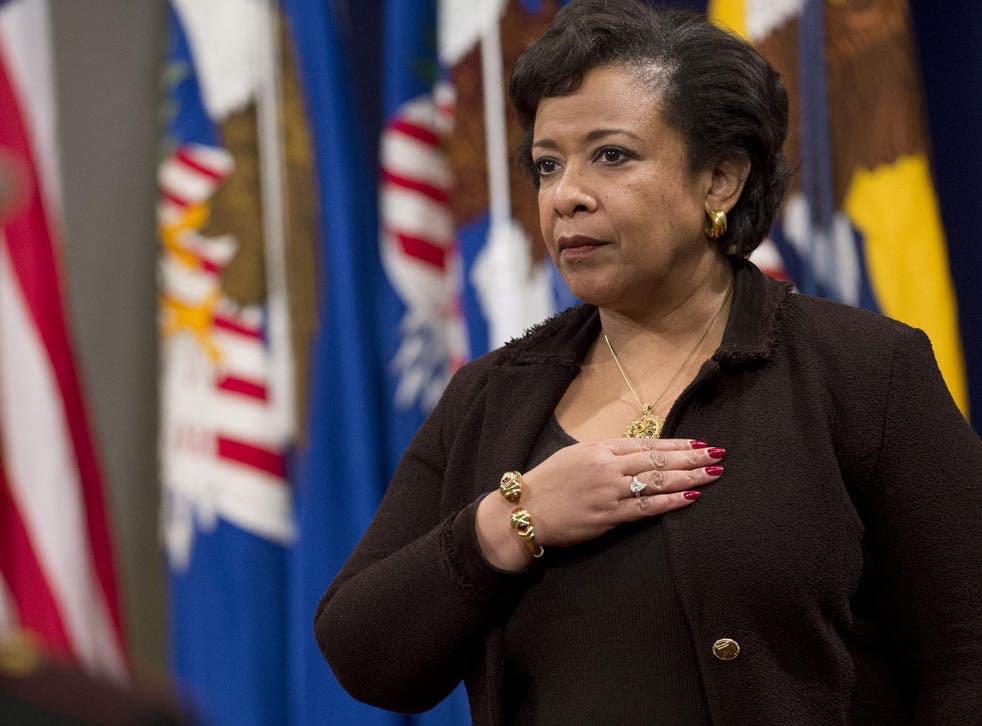 The US Department of Justice announced it will will review the hundreds of reports of alleged hate crimes that followed the election of Donald Trump, as tensions continue to simmer in the aftermath of the presidential race that galvanised white supremacists in the United States.
Attorney General Loretta Lynch released a video statement addressing the sharp rise in hate crimes in 2015, calling the trend "alarming" and "sobering" – a message given even greater weight with the appointment of Alabama Senator Jeff Sessions, who has been accused of racism, to take the place of Ms Lynch.
President Trump protests

Show all 20
The statement follows a recent report from the Federal Bureau of Investigation that showed an increase of hate crimes against Muslim Americans by 67 per cent in 2015. The report also found a rise in hate crimes targeting people of colour, LGBTQ communities, and Jewish Americans.
"These numbers should be deeply sobering for all Americans," the Attorney General said.
Ms Lynch's statement also addressed the wave of reported hate crimes that have surfaced across the US in the week since Donald Trump won the presidency.
Mr Trump campaigned on a platform of bigotry; targeting Mexicans and Muslims in promises to restrict immigration to the US. He had also disparaged black people in his apparent attempt to appeal to African American voters by likening urban areas as "more dangerous" than war-zones.
High profile white supremacist groups, like the Ku Klux Klan and the American Nazi Party, have celebrated Mr Trump's ascent to the White House. Their bond was only empowered by his appointment of Steve Bannon – who ran the white nationalist-approved news website Breitbart.
And with fears of the return of white supremacy to mainstream US politics, Ms Lynch urged Americans to continue reporting hate crimes so federal authorities can continue investigating and prosecuting them.
"Beyond these 2015 statistics, I know that many Americans are concerned by a spate of recent news reports about alleged hate crimes and harassment," she said. "The FBI is assessing, in conjunction with federal prosecutors, whether particular incidents constitute violations of federal law."
Donald Trump calls for a Muslim registry in the United States
However, her promise for the Department of Justice to "continue to champion the values of diversity and inclusion" remains uncertain as Mr Sessions awaits his confirmation for the job as top prosecutor.
While the Republican-led Congress suggests that they will quickly approve Mr Sessions, he was denied a federal judgeship in 1986, at the height of Ronald Reagan's presidency, as he was deemed too racist to serve in the role.
The Senate Committee on the Judiciary blocked Mr Sessions' appointment after hearing allegations of racist remarks.
A black assistant US attorney, Thomas Figures, testified in the 1986 hearing that Mr Sessions made disparaging remarks about the National Association for the Advancement of Coloured People and the American Civil Liberties Union, calling them "un-American"; said he thought Ku Klux Klan members were "OK, until he learned they smoked marijuana"; called him "boy" on multiple occasions; and agreed a white lawyer representing black clients was a "race traitor".
Mr Sessions called the allegations "ludicrous" at the time.
"I am not a racist, I am not insensitive to blacks. I have supported civil rights activity in my state. I have done my job with integrity, equality, and fairness for all," he told the committee.
Within the Trump administration, Mr Sessions will likely back some of the New York businessman's more controversial proposals – such as the temporary ban on Muslims entering the country.
"Well, all I can tell you is, the public data that we have had indicated that there are quite a number of countries in that region that have sent a large number of people that have become terrorists," he told CNN in June.
The president of The Leadership Conference on Civil and Human Rights, Wade Henderson, decried the appointment of Mr Sessions.
"This nomination is deeply troubling to Americans who care about equal protection under the law," he said. "Throughout his tenure in the Senate, Senator Sessions has been one of the chamber's leading antagonists of immigrants and the LGBT community, continuing his long record of obstructing civil rights that began in his tenure as US attorney for the Southern District of Alabama."
Register for free to continue reading
Registration is a free and easy way to support our truly independent journalism
By registering, you will also enjoy limited access to Premium articles, exclusive newsletters, commenting, and virtual events with our leading journalists
Already have an account? sign in