Mitch McConnell delays Senate recess to allow more time to pass healthcare bill
The Senate Majority Leader is still struggling to get the votes he needs to pass the measure that would overhaul Obamacare 
Alexandra Wilts
Washington DC
Tuesday 11 July 2017 18:41 Comments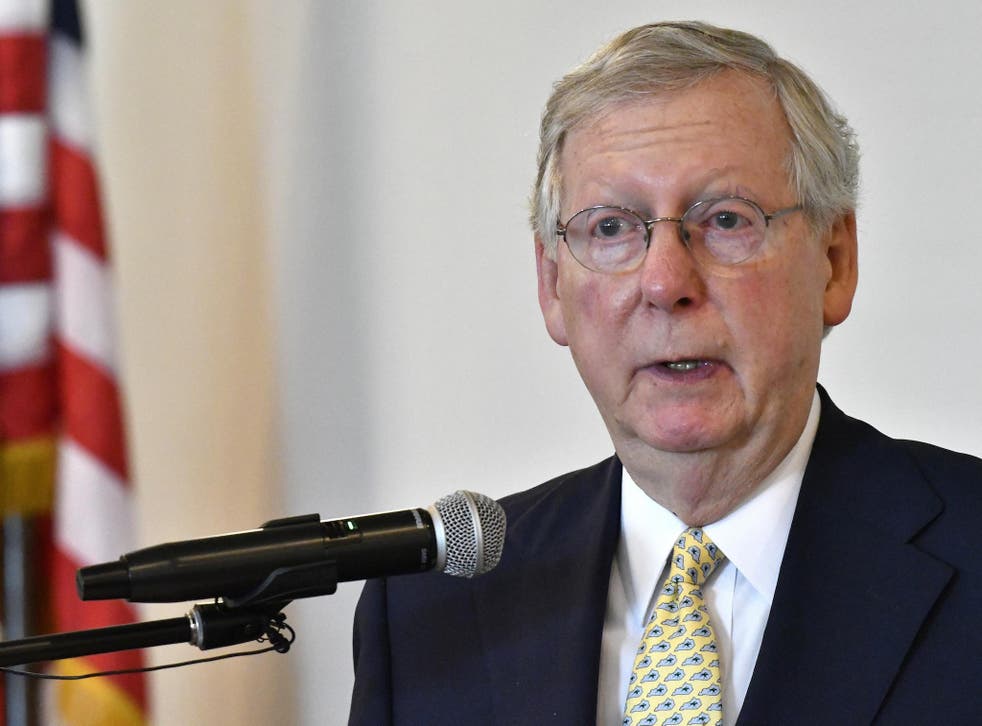 Facing increasing pressure to quickly pass a healthcare bill, Senate Majority Leader McConnell has delayed the start of the Senate's August recess by two weeks.
"In order to provide more time to complete action on important legislative items and process nominees that have been stalled by a lack of cooperation from our friends across the aisle, the Senate will delay the start of the August recess until the third week of August," Mr McConnell announced in a statement.
While Republicans continue to primarily focus on passing legislation that will repeal and replace Obamacare, they still aim to take up tax reform and other legislative items by the end of the year.
"Once the Senate completes its work on health care reform, we will turn to other important issues including the National Defense Authorization Act and the backlog of critical nominations that have been mindlessly stalled by Democrats," Mr McConnell said.
With Republican legislators' overlapping concerns and competing interests, Mr McConnell has struggled to win support for the Senate healthcare measure. Moderate senators worry that millions of people would lose their insurance following cuts to Medicaid – a healthcare programme for the poor – while conservatives assert that the bill does not do enough to erase Democratic former President Barack Obama's signature domestic legislation.
Conservative Senator Mike Lee told reporters again on Tuesday that he could not support the first iteration of the bill that was released last month, but that there are changes that could be made to get him to vote 'yes'.
Mr Lee and Senator Ted Cruz, another conservative, have been pushing hard for the adoption of an amendment, known as the "consumer freedom option", that would offer cheaper, deregulated plans for healthy people – a proposal that has been criticised by other Republican members of Congress. While allowing healthy and young people to get cheap coverage, opponents say the amendment would shift the sick and those with pre-existing conditions into high-risk pools that would likely cause premiums to spike to unaffordable levels.
With a majority of 52 Republican senators, Mr McConnell can only afford to lose two votes on the healthcare bill and still be able to pass it. In the event of a 50-50 tie, Vice President Mike Pence would be asked to cast the deciding vote. No Democrats are expected to support the legislation.
Thousands march against Donald Trump in LGBT rights parade

Show all 8
Ten Republican senators had sent a letter to Mr McConnell at the end of June requesting that he consider truncating, if not completely foregoing, the scheduled August recess to allow them more time "to deliver conservative solutions for pressing legislative issues on behalf of the American people".
If Mr McConnell had not changed the schedule, there were only 30 working days as of Tuesday until the end of the fiscal year on 30 September, by which the Senate has to use the appropriations process to fund the federal government as well as deal with the debt limit.
During a press conference with eight of the legislators who had signed the letter, many of them newly elected, Senator Steve Daines said he did not see any reason why they should be leaving Washington in August given all of the work they have to get done.
"Most of us are new," said Senator Mike Rounds. "So, we are very close to what people back home are telling us. And they expect results up here."
Reporters also asked if the Republican senators had a response to the revelation that Donald Trump's eldest son, Donald Trump Jr, met with a Kremlin-connected lawyer in June 2016 after being promised that he would receive damaging information about his father's campaign opponent, Hillary Clinton.
"I'd like to respond to it in this way: It has nothing to do with what we need to get done in August," Senator Thom Tillis said.
"That's the very thing that we need to not be distracted by," he added. "We have specific things that we have to do here. We've got to come up with a healthcare outcome, we've got to come up with a tax plan, we've got to come up with a spending strategy, and we've got to be disciplined and not get distracted by things that may be legitimate but not right now in our lanes."
Register for free to continue reading
Registration is a free and easy way to support our truly independent journalism
By registering, you will also enjoy limited access to Premium articles, exclusive newsletters, commenting, and virtual events with our leading journalists
Already have an account? sign in
Join our new commenting forum
Join thought-provoking conversations, follow other Independent readers and see their replies