What is in the Senate's healthcare bill? All you need to know about the latest Trumpcare proposal
Senate Republican leadership is pushing for a vote next week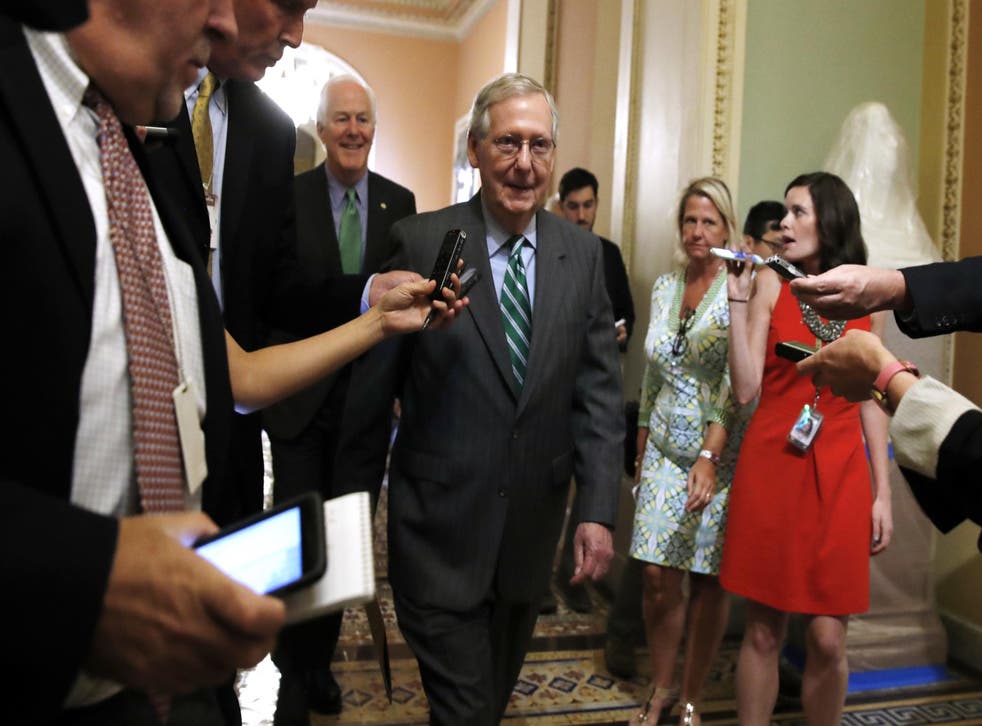 Senate Republicans have finally unveiled a draft of their Obamacare replacement bill, which Democrats were quick to condemn.
Majority Leader Mitch McConnell is pushing for a vote before senators leave Washington, DC for the Fourth of July recess. But with some Republicans already saying they aren't ready to support the legislation, there is uncertainty over whether that is possible. To pass the bill, Mr McConnell can only afford to lose two 'yeas'.
What is the new healthcare bill?
Senate Republican leadership released a "discussion draft" of their healthcare bill on Thursday, saying that there will be ample opportunity for senators to analyse, discuss and provide their thoughts before the legislation goes to the floor for a vote.
The measure aims to repeal and replace Obamacare, officially known as the Affordable Care Act. The House of Representatives narrowly passed its own Obamacare repeal and replacement bill in May.
What is in the new healthcare bill?
• The elimination of the individual mandate, which says that all Americans must have health insurance or pay a tax penalty.
• The repeal of the employer mandate, which requires companies with more than 50 employees to provide health insurance or pay a penalty.
• Deeper cuts to Medicaid – a healthcare programme for the poor. Speaking on the Senate floor, Senate Minority Leader Chuck Schumer asserted that the Senate's version would end Medicaid "as we know it" by decreasing federal support for the programme even more than the House bill, which cut it by more than $800bn, he said.
• A longer phase out of Medicaid expansion. The House bill discontinues the extra federal funds for Medicaid expansion starting in 2020. But the Senate bill begins phasing out this increased funding starting in 2021 and restores it to pre-Obamacare levels by 2024.
Thousands march against Donald Trump in LGBT rights parade

Show all 8
• A cap on the amount states can receive from the federal government for Medicaid for the first time in the programme's history.
• A new system of federal tax credits to help people afford their premiums. Under Obamacare, tax credits are primarily based on income, age and geography, benefitting lower- and moderate-income people who purchase insurance on the exchanges. The House's bill factors in age, but not income, when determining how much financial assistance to provide people. Meanwhile, the Senate's measure considers age, income and geography, but apparently people would need to be lower-income than under the ACA to receive them.
• Defunding of Planned Parenthood for one year. This could be an issue for Republican senators Susan Collins of Maine and Lisa Murkowski of Alaska. The bill also prohibits people from using tax credits to purchase plans that offer coverage for abortion services.
• An additional $2 billion in fiscal year 2018 for states to confront the opioid crisis.
• Funding to continue cost-sharing reduction payments for health insurers through 2019. The payments help offset costs for insurers in exchange for offering more affordable coverage to low-income Americans.
• More flexibility for states to roll back the ACA's insurance regulations and consumer protections. But in a departure from the House's bill, states can't opt of regulations that currently prevent insurers from charging people with pre-existing conditions more for their medical coverage.
• The ability for insurers to charge older adults five times more than younger people. Obamacare currently lets insurers charge older people only three times more.
• The repeal of almost all of the taxes that were implemented to help the government pay for Obamacare. In both the House and Senate bills, the cuts to spending on Medicaid and other programmes would go toward funding a substantial tax cut for the healthcare industry and the wealthy.
• The suspension of the so-called "Cadillac" tax, a fee levied on expensive employer health plans, through 2025.
Where can I read it?
You can read the draft of the healthcare bill on several news sites. It is also posted here, on Republican Senator Tom Cotton's website.
Register for free to continue reading
Registration is a free and easy way to support our truly independent journalism
By registering, you will also enjoy limited access to Premium articles, exclusive newsletters, commenting, and virtual events with our leading journalists
Already have an account? sign in
Register for free to continue reading
Registration is a free and easy way to support our truly independent journalism
By registering, you will also enjoy limited access to Premium articles, exclusive newsletters, commenting, and virtual events with our leading journalists
Already have an account? sign in
Join our new commenting forum
Join thought-provoking conversations, follow other Independent readers and see their replies