Republicans still don't have the votes to pass Trump's 'beautiful new healthcare bill'
Senate Republican leaders are hoping to pass legislation that would repeal and replace Obamacare before Congress's August recess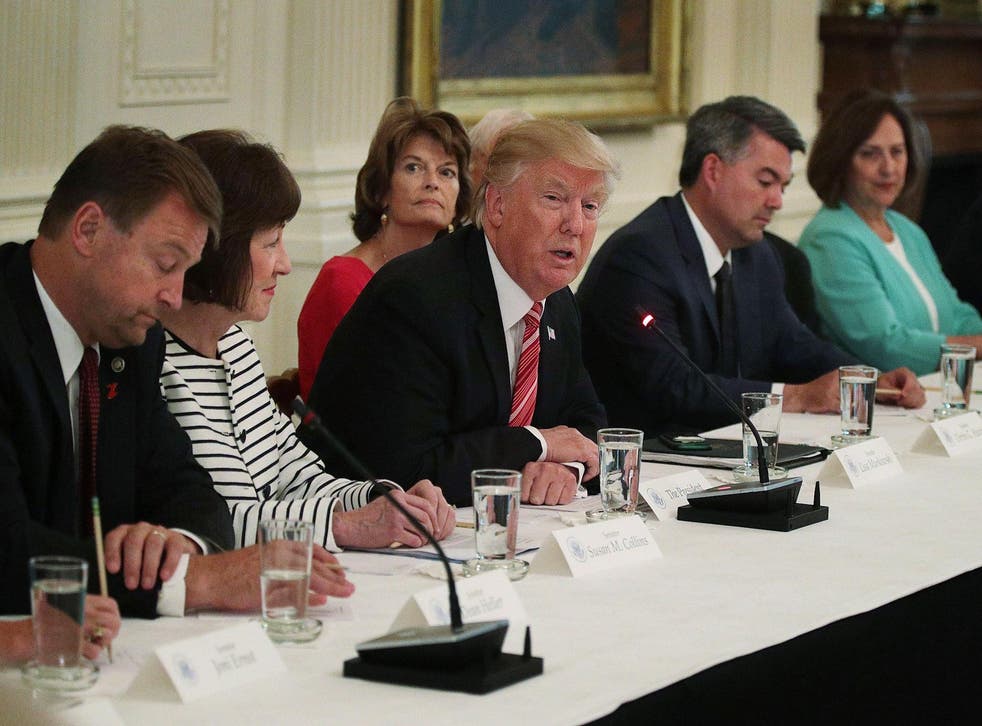 Donald Trump's efforts to repeal and replace Obamacare with "a beautiful new healthcare bill" are continuing to face hurdles in the Senate, where Republicans still do not appear to have the votes to pass a measure.
Senate Republican leadership is hoping to deliver Mr Trump a legislative victory on healthcare before a month-long congressional recess in August.
In an early morning tweet on Monday, Mr Trump wrote: "I cannot imagine that Congress would dare to leave Washington without a beautiful new HealthCare bill fully approved and ready to go!"
Despite optimism from the White House that the Senate will be able to pass a healthcare bill either before the start of Congress' August recess "or maybe a little bit into" the recess, White House chief of staff Reince Priebus told "Fox News Sunday", other Republicans have been more pessimistic.
"My view is that it's probably going to be dead," Senator John McCain said of the healthcare legislation on CBS's "Face the Nation". However, he added that he has been wrong before.
"I think I fear that it's going to fail," Mr McCain added. "And then we should convene a Republican conference, say, 'What are we going to do?' Introduce a bill. Say to the Democrats, 'Here's a bill.' It doesn't mean they don't, that they control it. It means they can have amendments considered. And even when they lose, then they're part of the process. That's what democracy is supposed to be all about."
Iran's 'Trumpism' contest

Show all 10
Senate Republican leadership had been hoping to hold a vote on a healthcare bill before senators left Washington for the 4 July recess. But with Republican legislators' overlapping concerns and competing interests, Senator Majority Leader Mitch McConnell was forced to postpone the vote after it was clear that he did not have enough support to pass the legislation.
Moderate senators worry that millions of people would lose their insurance following cuts to Medicaid – a healthcare programme for the poor – while conservatives assert that the bill does not do enough to erase Democratic former President Barack Obama's signature domestic legislation.
Conservative Senators Ted Cruz and Mike Lee are pushing hard for the adoption of their amendment, known as the "consumer freedom option", that would offer cheaper, deregulated plans for healthy people. While allowing healthy and young people to get cheap coverage, opponents say the amendment would shift the sick and those with pre-existing conditions into high-risk pools that would likely cause premiums to spike to unaffordable levels.
Republican Senator Chuck Grassley has warned that Mr Cruz's and Mr Lee's proposal could be "subterfuge to get around pre-existing conditions."
Responding to Mr Grassley's comments on ABC's "This Week", Mr Cruz said the Iowa senator was borrowing talking points from Senate Democratic Leader Charles Schumer.
"The Consumer Freedom option is the key to bringing Republicans together and getting this passed," Mr Cruz said. "What's being repeated [by Mr Grassley] is what Chuck Schumer said this week."
However, if Mr Lee and Mr Cruz are able to succeed in moving the bill further to the right on the political spectrum, the shift could alienate moderate Republicans.
With a majority of 52 Republican senators, Mr McConnell can only afford to lose two votes on the healthcare bill and still be able to pass it. In the event of a 50-50 tie, Vice President Mike Pence would be asked to cast the deciding vote. No Democrats are expected to support the legislation.
Republican leaders are currently waiting for an updated estimate from the nonpartisan Congressional Budget Office on how tweaks to the first version of the bill would affect national coverage levels and federal spending. In its analysis of the original version of the measure, the CBO forecasted that the legislation, if passed, would lead to 22 million people losing medical insurance by 2026 than under Obamacare – all while cutting the federal deficit by $321bn.
Register for free to continue reading
Registration is a free and easy way to support our truly independent journalism
By registering, you will also enjoy limited access to Premium articles, exclusive newsletters, commenting, and virtual events with our leading journalists
Already have an account? sign in
Register for free to continue reading
Registration is a free and easy way to support our truly independent journalism
By registering, you will also enjoy limited access to Premium articles, exclusive newsletters, commenting, and virtual events with our leading journalists
Already have an account? sign in
Join our new commenting forum
Join thought-provoking conversations, follow other Independent readers and see their replies