Republicans consider dropping healthcare bill's tax cut for rich in order to pass Senate hurdle
Republican leadership can only afford to lose two 'yea' votes on the bill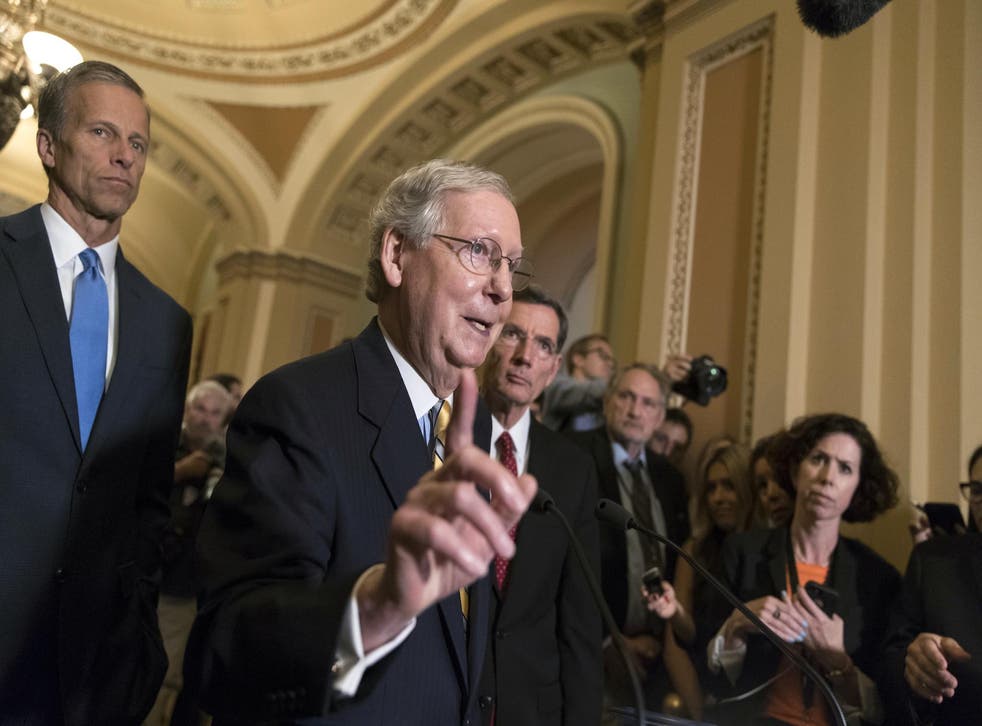 As Republicans work swiftly to amend their controversial healthcare bill, different wings of the party appear to be divided on whether they should give a tax break to the rich or protect spending on some of the nation's most vulnerable.
John Thune, the third highest-ranking Republican senator, told reporters "there is interest among a number of our members" to nuke the measure's tax cuts for the wealthy to gain the votes of moderate Republicans on the bill.
With a majority of 52 senators, Republican Senate leadership can only afford two defections on the bill and still be able to pass it. No Democrats are expected to vote in favour of the legislation.
Majority Leader Mitch McConnell is reportedly rewriting his proposal to provide more money for opioid treatment and assistance to low- and moderate-income Americans, according to the Washington Post. This could potentially be done by preserving a 3.8 per cent tax on investment income that had been established by the Affordable Care Act, otherwise known as Obamacare.
"Obviously we'd like to get rid of all the taxes because the taxes were raised in order to pay for Obamacare," Mr Thune said. "We're repealing Obamacare. The assumption would be that we'd get rid of the taxes too."
"If it takes something like [keeping the tax on the wealthy] to get our members on board to move this process forward, I think we have to consider that," he added. "And I think there are a number of our members who do care about that."
However, when asked if he knew of any senators who would vote 'no' if tax cuts to the wealthy were not included in the bill's text, Mr Thune responded that "there probably are a few".
Thousands march against Donald Trump in LGBT rights parade

Show all 8
The 3.8 percent tax applies only to individuals who make more than $200,000 a year, and married couples that earn over $250,000 annually.
"We [want to] address the issue of ensuring lower-income citizens are in a position to buy plans that actually provide them appropriate healthcare," said Senator Bob Corker. To do that, "my sense is the 3.8 percent repeal will go away."
Republican legislators' overlapping concerns and competing interests have presented Mr McConnell with a balancing act. Moderate senators worry that millions of people would lose their insurance following cuts to Medicaid – a healthcare programme for the poor – while conservatives assert that the bill does not do enough to erase Democratic former President Barack Obama's signature domestic legislation.
The Congressional Budget Office now estimates that Medicaid spending would be 35 per cent lower than under Obamacare in 2036 if the Senate Republicans' proposal were to become law.
The CBO also estimated that under the ACA, Medicaid spending would grow 5.1 per cent a year during the next two decades. Under the Republican Senate plan, it projected growth of just 1.9 per cent a year through 2026 and about 3.5 percent per year in the subsequent 10 years.
Senate Democrats requested the latest CBO report to analyse the impact of the Republican healthcare bill's Medicaid cuts between 2026 and 2036. The CBO can typically only score legislation in a 10-year window. But some of the changes to Medicaid proposed by Republicans would not go into effect until 2021, with more drastic cuts and a federal overhaul of the program in 2025.
Republicans are trying to send a revised version of their healthcare bill to the CBO by Friday so that the nonpartisan group can measure the legislation's impact on coverage levels and federal spending by the time senators return to Washington DC in mid-July.
The CBO forecasted on Monday that the existing bill would lead to some 22 million people losing medical insurance by 2026 than under Obamacare – all while cutting the federal deficit by $321 billion.
Join our new commenting forum
Join thought-provoking conversations, follow other Independent readers and see their replies