Global markets in 'early stages of panic' after poll gives Donald Trump narrow lead
Clinton camp rejects findings of ABC/Post poll, questioning methodology
Adam Withnall
Wednesday 02 November 2016 08:34 Comments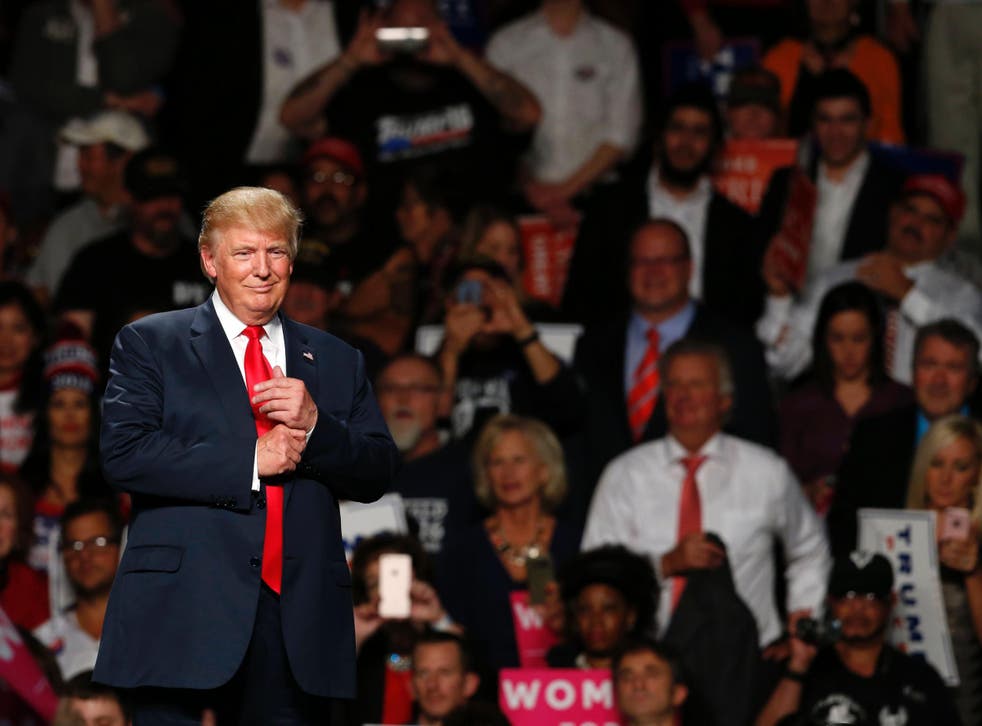 Stock markets across the world appear to be reeling after a tracking poll put Donald Trump in the lead with less than a week to go to election day.
Hillary Clinton's campaign team has rejected the findings of the poll for ABC News and the Washington Post, which put Mr Trump a single percentage point ahead, calling into question the methodology used.
The poll gave the Republican 46 per cent to Ms Clinton's 45 per cent nationally, a slump for the Democrat after news emerged that the FBI was investigating a new tranche of her emails.
And as shares in Asia hit a seven-week low following losses on Wall Street, FXTM Chief Market Strategist Hussein Sayed said he believed the markets were in the "early stage of panic" about next week's vote.
Donald Trump says US 'should just cancel the election' and call it in his favour as Hillary Clinton leads polls
British government bond prices jumped on Wednesday, tracking US and German debt prices higher as markets reacted to the increased uncertainty.
Europe's Stoxx 600 index, which includes the 600 largest companies across the region, has hit its lowest level since 11 July, and the VIX, a volatility measure dubbed the "fear gauge" for Wall Street, jumped 14 per cent on Tuesday to its highest level since June.
Ms Clinton flew in for a number of campaign events on Tuesday night in Florida, a state which her team sees as holding the key to victory on 8 November.
And a senior aide told reporters on the campaign plane that they simply do not believe the new email story could have given Mr Trump the lead - or even affected their position in the polls at all.
The official said: "It's not what we see all," according to a report in The Guardian. "There seems to be something about that [ABC/Post] model that seems odd.
"The race has tightened the way that we thought it would tighten, but we do not see anything that would suggest [the tracking poll] is right."
It is not just the ABC/Post poll that indicates a negative fallout for Ms Clinton from Friday's announcement, when FBI director James Comey said the agency was looking into emails, sent by the then-Secretary of State to senior aide Huma Abedin, found during an unrelated investigation into Ms Abedin's estranged husband Anthony Weiner.
According to the Real Clear Politics tracker which averages most major polls, the Democrat's lead slumped from 4.6 percentage points on Friday to 2.5 points late on Monday.
And a Reuters survey conducted in the midst of the FBI's announcement showed Ms Clinton on 44 per cent of the vote to Mr Trump's 39 per cent, already slipping slightly from a six-point lead with that pollster.
But the aide was reportedly adamant. "We do not see any evidence that the Comey story has had an impact. We've seen anecdotal evidence about turnout and our voter registering, volunteer numbers, etc, that suggests that if anything it has encouraged our supporters."
ABC News and the Post said the latest poll was conducted by Langer Research Associates by telephone on October 27-30, among a random national sample of 1,773 adults including landline and cellphone respondents. Among the results for likely voters, the error margin was plus or minus three points - a fact noted in reporting of the poll.
Both sides continued to spar on Tuesday over the FBI revelation, with an Abedin lawyer saying her client learned only from media reports on Friday that a laptop she shared with Mr Weiner might contain some "pertinent" emails. The attorney said Ms Abedin had still not been contacted by the FBI about the development and she would cooperate if asked.
"The Trump campaign is on the offensive and we're expanding our map," Trump aide David Bossie said, suggesting the campaign now sees opportunities to compete in traditional Democratic states such as New Mexico and Michigan.
In Wisconsin, Mr Trump urged early voters there who "are having a bad case of buyer's remorse" to change their ballots before Thursday's deadline. "A lot of stuff has come out since you voted," he said.
Four states — Wisconsin, Michigan, Minnesota and Pennsylvania — allow early vote switches but the practice is extremely rare, according to the Early Voting Information Center at Reed College.
US election 2016: the race for the White House in pictures

Show all 12
Otherwise, Mr Trump strove to blend a quieter, presidential tone with his usual tough rhetoric. Clearly briefed to focus on policy prescriptions, he spent the day on message, delivering carefully scripted remarks focused mostly on health care. He cautioned that Clinton's plan to strengthen "Obamacare" would lead to dire consequences, although he offered few specifics about his own plan.
"If we don't repeal and replace Obamacare, we will destroy American health care forever," Mr Trump said in a speech outside Philadelphia.
He also promised, if elected, to call a special session of Congress to replace the law. However, Congress would already be in session when the next president takes office, raising the question of just what he meant.
Having addressed the FBI announcement at two events on Monday, Ms Clinton — with help from President Barack Obama — used her Tuesday events to unleash a fresh offensive against her rival and his vulgar comments about women.
"For my entire life, I've been a woman," Ms Clinton said. "And when I think about what we now know about Donald Trump and what he's been doing for 30 years, he sure has spent a lot of time demeaning, degrading, insulting and assaulting women."
Trump has faced multiple allegations of sexual misconduct in recent weeks, complicating his efforts to win over women in both parties. He has denied every accusation, but President Obama said there was a pattern at work to which voters needed to pay heed.
"This is a lifetime of calling women pigs and dogs and slobs," Mr Obama said at a rally in Ohio. "The part we're concerned about is if we start acting like this is normal."
"If you disrespected women before you were elected, you will disrespect women once you're president," Mr Obama said.
Register for free to continue reading
Registration is a free and easy way to support our truly independent journalism
By registering, you will also enjoy limited access to Premium articles, exclusive newsletters, commenting, and virtual events with our leading journalists
Already have an account? sign in
Join our new commenting forum
Join thought-provoking conversations, follow other Independent readers and see their replies