Hillary Clinton emails: FBI probe is 'bigger than Watergate', says Donald Trump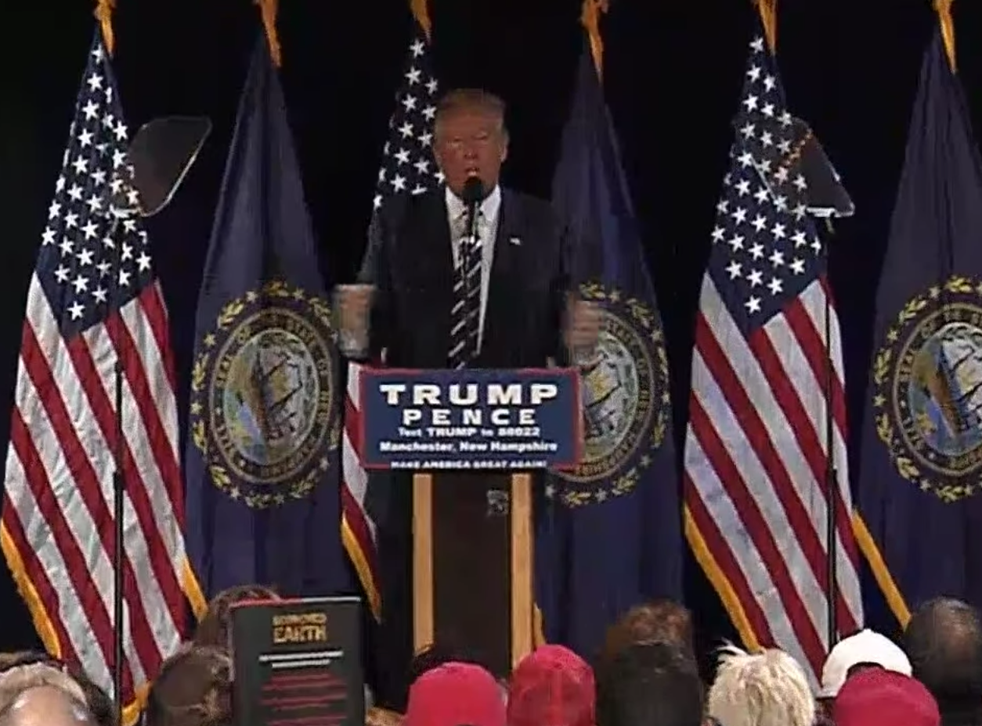 Donald Trump has seized on the FBI decision's to reopen its investigation of his rivals emails, claiming the alleged scandal was "bigger than Watergate".
The Republican candidate appeared before supporters in Manchester, New Hampshire, barely able to control his pleasure over the latest revelation, that has come just 11 days before voters got to the polls.
"I have great respect for the fact the FBI and the Department of Justice are now willing to have the courage to right the horrible mistake that they made," he said.
"This was a grave miscarriage of justice that the American people fully understood and it's everybody's hope that it's about to be corrected."
Michelle Obama joins Hillary Clinton on stage in North Carolina
An average of polls put Mr Trump about five points behind Ms Clinton. Both the same polls, also show that Ms Clinton is not greatly trusted by the public. Mr Trump has repeatedly used the controversy over her private use of an email server - an issue for which she was previously cleared of criminal wrongdoing by the FBI - to attack his opponent.
"So that is a big announcement I heard 10 minutes ago and I guess obviously most of you folks have heard about it and for all fairness for all the people that have suffered for doing so much less and four star General James Carter, General Portas and many other, perhaps finally justice will be done," he said.
"With that being said the rest of my speech is going to be so boring. Should I even make the speech?"
He added: "We will talk about borders, we will take about trade, we'll bring back our jobs, strengthen our military and let's get going. This is bigger than Watergate."
Mr Trump's running mate, Mike Pence also applauded the decision by the FBI and its "courage to reopen the case".
Republican National Committee Chairman Reince Priebus said the FBI's letter announcing the review of a new batch of Hillary Clinton's emails raises serious questions and should disqualify her from running for the White House.
"The FBI's decision to reopen their criminal investigation into Hillary Clinton's secret email server just eleven days before the election shows how serious this discovery must be," he said.
"This stunning development raises serious questions about what records may not have been turned over and why, and whether they show intent to violate the law."
He added: "What's indisputable is that Hillary Clinton jeopardised classified information on thousands of occasions in her reckless attempt to hide pay-to-play corruption at her State Department.
"This alone should be disqualifying for anyone seeking the presidency, a job that is supposed to begin each morning with a top secret intelligence briefing."

Join our new commenting forum
Join thought-provoking conversations, follow other Independent readers and see their replies