Hillary Clinton rocks it out at Harlem's Apollo Theater for African American votes
Ms Clinton is still sparring with Bernie Sanders over racial injustice and prison reform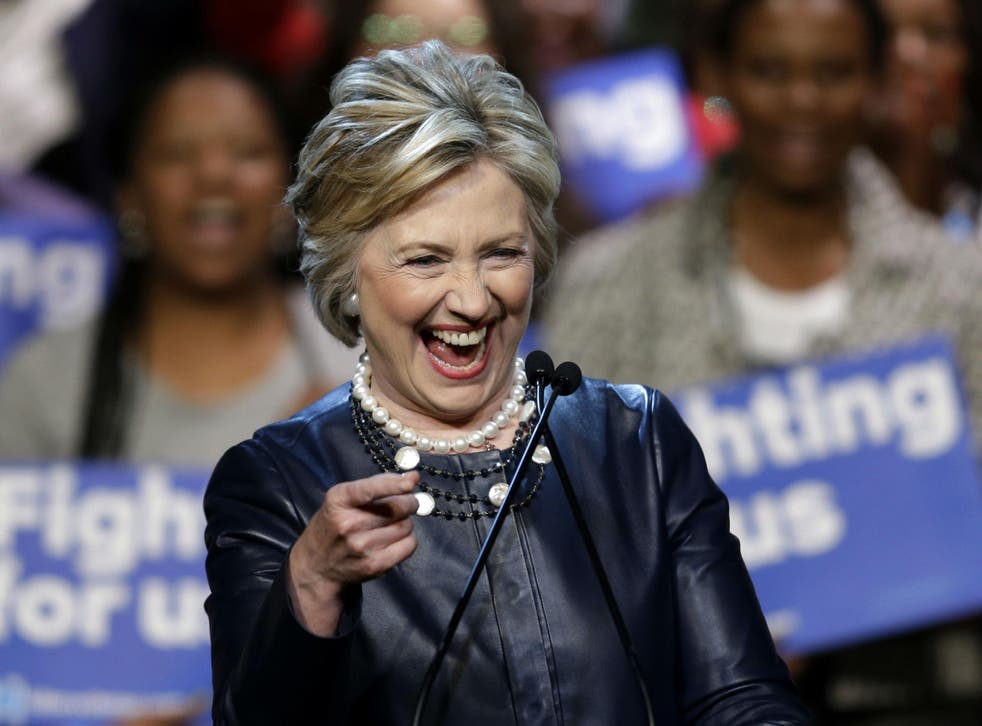 At the Apollo Theatre's amateur night in Harlem, there is a phrase called "be good or be gone".
Famous artists have been booed off the stage over the years - but Hillary Clinton was welcomed to thunderous applause and whooping cheers.
Even though she was over 30 minutes late, the party-like atmosphere was whipped up to fever pitch with determination and continuity, mostly thanks to one very enthusiastic volunteer.
A surprise backing dancer delighted the crowds - Charles Rangel, the 85-year-old US representative for Harlem's congressional district, sashayed and waved his way across the stage, followed by smiling bodyguards.
Next was Renee Elise Goldsberry, the star of the sell-out Broadway musical "Hamilton", to sing the national anthem.
Then, on the same stage that has seen the likes of James Dean, James Brown, Stevie Wonder and Nina Simone, Ms Clinton walked on, flanked by her former New York senator colleague Chuck Schumer.
Mr Schumer reminded the audience that Bill Clinton had chosen to keep his offices in Harlem when he was president. He also spoke of the cultural diversity in the area - one could walk along West 125th street and "eat chicken and waffles at Sylvia's, end up with Asian noodles and have a bagel with lox and schmear [cream cheese] for lunch" - a nod to their opponents' anti-immigrant remarks.
If Ms Clinton wanted to wanted to woo those of Harlem, she chose her venue, her music and her guest speakers very wisely.
Her speech about shutting down the gun lobby and fighting for equal pay, issues close to the community, earned her two standing ovations.
"Republicans say that when I talk like this I'm playing the gender card. My answer is very simple. If fighting for equal pay and for a minimum wage is playing the gender card, then deal me in!"
The audience sprang to their feet and called out, in echo: "Deal me in! Deal me in!"
A male supporter from the upper west side of Manhattan who works in postal distribution and did not want to be named, said: "It's Hillary's turn. We need to have a woman president. We really need to break that barrier."
As New York approaches the primary on 19 April, Ms Clinton told her supporters: "I've received nearly nine million votes, nearly one million more than Donald Trump and nearly two and a half times more than Senator Sanders."
"But I don't need to tell you this is a wild election year. I'm not taking anything or anyone for granted."
Register for free to continue reading
Registration is a free and easy way to support our truly independent journalism
By registering, you will also enjoy limited access to Premium articles, exclusive newsletters, commenting, and virtual events with our leading journalists
Already have an account? sign in
Register for free to continue reading
Registration is a free and easy way to support our truly independent journalism
By registering, you will also enjoy limited access to Premium articles, exclusive newsletters, commenting, and virtual events with our leading journalists
Already have an account? sign in
Join our new commenting forum
Join thought-provoking conversations, follow other Independent readers and see their replies