Republicans vote to release memo alleging government surveillance abuse despite security concerns
Final decision over release of controversial memo now in Donald Trump's hands
Jeremy B. White
San Francisco
Tuesday 30 January 2018 01:05 Comments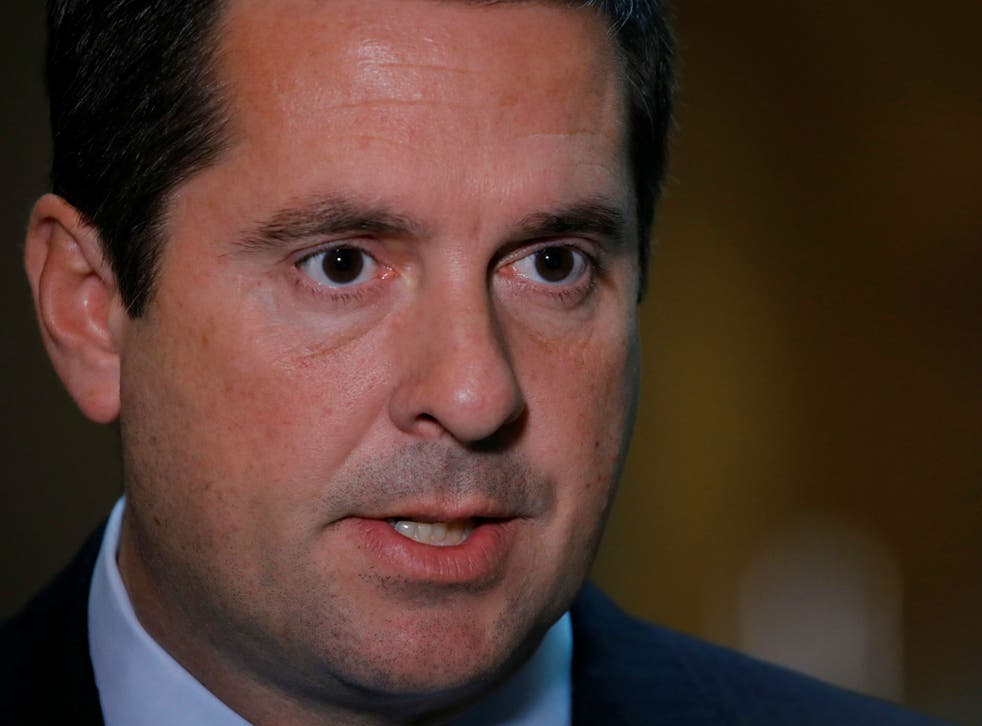 Republicans have voted to release a politically charged document they allege shows government abuse, forcing Donald Trump to decide whether to overrule the Department of Justice.
The decision by the Republican majority of the House Intelligence Committee means the President will have to balance the demands of elected officials in his own party, who have mounted a public campaign for the memo's release, against a Department of Justice plea urging against it. Mr Trump must decide within five days whether to make the classified memorandum public.
For weeks, Republicans have hinted that the memo shows the FBI misused its authority in investigating potential links between the Trump campaign and the Russian government, contending it illustrates improper government surveillance. They have called the evidence of government overreach dire enough to merit sharing it with the American people.
Democrats have dismissed the memo as a misleading political attack meant to distract from Special Counsel Robert Mueller's Russia investigation. After the vote, California Democrat Adam Schiff blasted the "transparently political objective behind" the move, decyring "an effort to circle the wagons around the White House and distract from the Russia probe".
The Justice Department waded into that dispute last week with a letter warning off Rep Devin Nunes, a California Republican and ally of Mr Trump who oversaw the memo's creation.
Writing that officials were "unaware of any wrongdoing" related to surveillance abuse, assistant Attorney General Stephen Boyd cautioned it would be "extraordinarily reckless" to publicly release the document.
World news in pictures

Show all 50
White House Press Secretary Sarah Huckabee Sanders declined earlier in the day to say what the administration would do if the House voted to release the memo, saying the administration sought "full transparency".
But the President has consistently argued that the Russia investigation is a baseless and politicized assault and made accusations of inappropriate surveillance. Over the weekend White House legislative affairs director Marc Short said Mr Trump believes the memo "should be put out".
"I think the President is more inclined for transparency in this investigation," Mr Short said on Fox News Sunday. "To the extent that the House, I think, has advocated that it's publicly released, I think the president is receptive to that".
Register for free to continue reading
Registration is a free and easy way to support our truly independent journalism
By registering, you will also enjoy limited access to Premium articles, exclusive newsletters, commenting, and virtual events with our leading journalists
Already have an account? sign in
Join our new commenting forum
Join thought-provoking conversations, follow other Independent readers and see their replies