Ivanka Trump defends 'innocent' Dreamers facing mass deportations from her father
'We have to figure out a good solution that protects these innocent people,' the President's daughter says
Emily Shugerman
New York
Tuesday 10 October 2017 15:34 Comments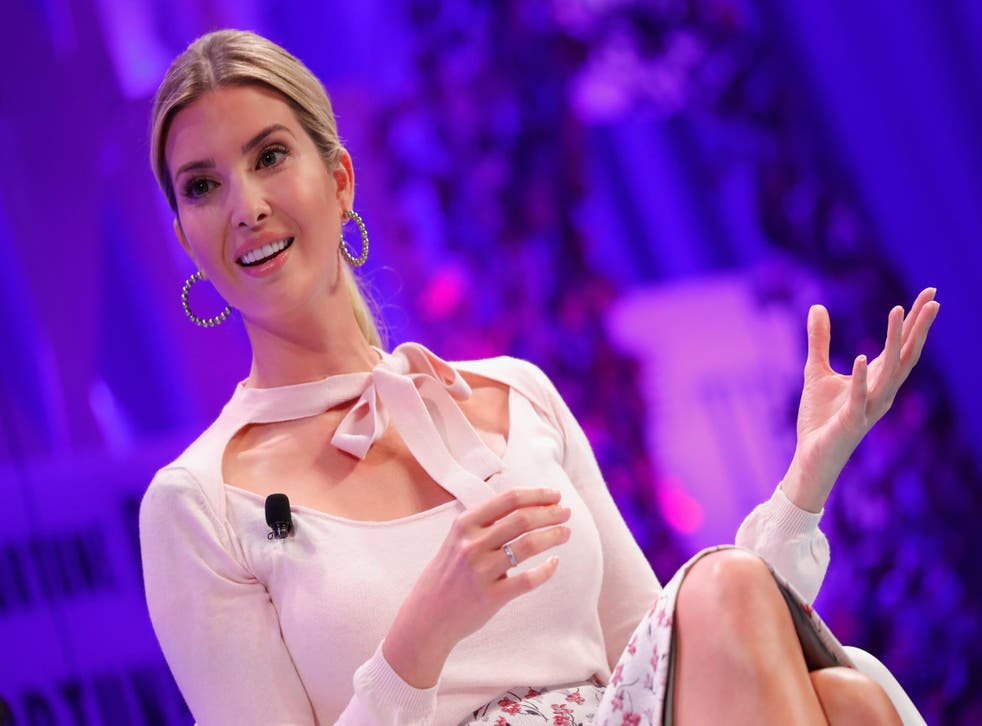 Ivanka Trump has called for a long-term solution for Dreamers, the childhood immigrants for whom her father has promised to end protections.
"I am of the opinion – and the president has stated – that we have to figure out a good solution that protects these innocent people," Ms Trump said at a dinner panel honouring powerful women.
She added: "There has to be a long-term fix. I can't be bandaged over on a presidential level by another executive order that can be rescinded by a subsequent administration."
"Dreamers" is a term used to refer to immigrants who came to America illegally as children. Under the Obama-era DACA programme, some Dreamers were given temporary work permits and protection from deportation. Donald Trump announced the end of DACA – with a six-month delay – in September, drawing outcry from many on the left.
Last month, Mr Trump looked poised to strike a deal with Democrats to protect the estimated 800,000 Dreamers in the country. He met with Democratic leaders Chuck Schumer and Nancy Pelosi, and even tweeted that he would "revisit the issue" if Congress could not come up with a solution.
People strike across America for A Day Without Immigrants

Show all 16
But the White House recently released a list of hard-line policy proposals that could put any Democratic deal in jeopardy. The policy priorities include constructing a border wall with Mexico, stopping sanctuary cities, and creating a "merit-based" immigration system – none of which would be popular with Democrats.
"The administration can't be serious about compromise or helping the Dreamers if they begin with a list that is anathema to the Dreamers, to the immigrant community and to the vast majority of Americans," Ms Pelosi and Mr Schumer responded in a statement.
White House officials clarified that the list should only be considered a starting point for a DACA deal.
US rescinds DACA program for young immigrants
The President's daughter is said to be a mediating voice in his ear on social issues, but rarely speaks out publicly on her opinion. Sunday's "Fortune Most Powerful Women" panel was an exception – if only a brief one.
After voicing her support for Dreamers, Ms Trump turned to echoing her father's calls for large-scale immigration reform.
"I think that is the right approach because our system is flawed, and it is not equipped to handle the challenges," she said. "[O]ur visa program is deeply flawed. We're not retaining the best talent for the jobs that we need and that has to fundamentally be reconsidered."
The White House's list of proposals has been sent of Congress to consider.
Register for free to continue reading
Registration is a free and easy way to support our truly independent journalism
By registering, you will also enjoy limited access to Premium articles, exclusive newsletters, commenting, and virtual events with our leading journalists
Already have an account? sign in
Register for free to continue reading
Registration is a free and easy way to support our truly independent journalism
By registering, you will also enjoy limited access to Premium articles, exclusive newsletters, commenting, and virtual events with our leading journalists
Already have an account? sign in
Join our new commenting forum
Join thought-provoking conversations, follow other Independent readers and see their replies