Ivanka Trump and Jared Kushner hold hundreds of millions in assets while working in government
The couple are reportedly still benefiting from their business empire, with assets between $240m and $740m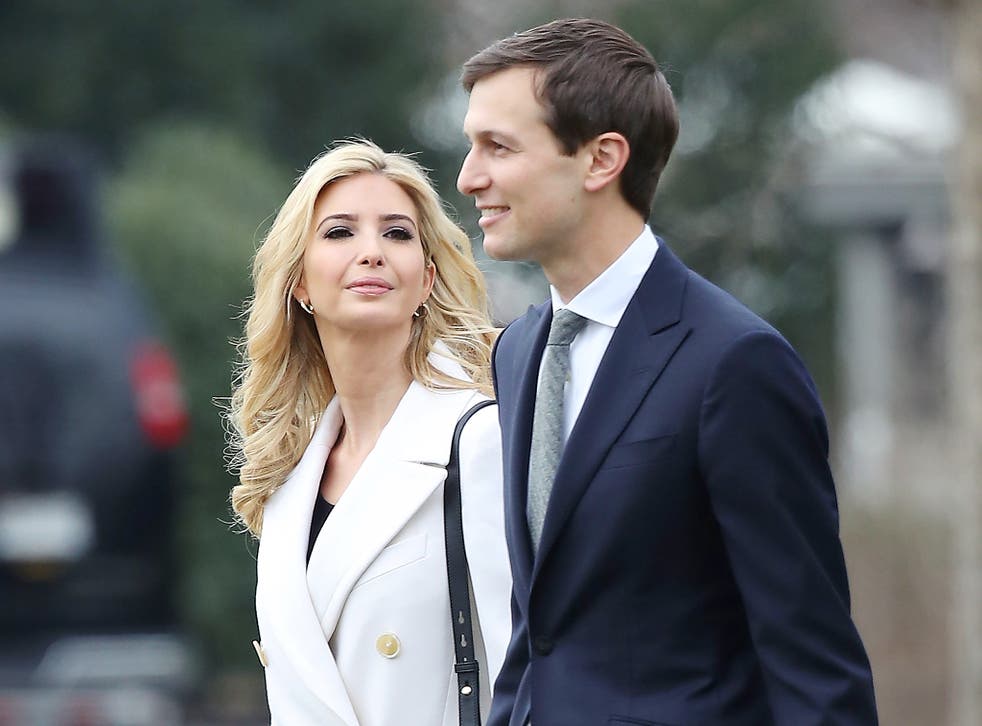 Ivanka Trump and her husband Jared Kushner hold hundreds of millions of dollars worth of assets while working for Donald Trump's administration.
A 54-page report on the financial situation of Mr Kushner, which includes most of Ms Trump's assets and income, show scores of six- and seven-figure sums.
The documents were part of financial disclosures of about 180 senior officials at the White House, which were released on Friday night.
According to the Associated Press, Ms Trump and Mr Kushner, President Trump's son-in-law but also his senior adviser, are reported to have at least $240m (£190m) in assets.
But the The New York Times reports that the couple remain the beneficiaries of their business empire still worth as much as $740m.
The documents show a snapshot of what employees' finances looked like when they first joined the US administration but they do not provide a full account of how White House staff are now disentangling from business assets that could pose possible conflicts of interest.
The forms also show President Trump, a billionaire and business tycoon, has surrounded himself with some of the wealthiest people ever to join a presidential administration.
Ms Trump and Mr Kushner resigned from all of their business activities and sold off 58 assets upon taking on jobs at the White House, but they held onto much of their sprawling global and real estate-focused empire.
Mr Kushner reportedly held executive positions with 266 limited companies, corporations, and nonprofit groups, which he had to resign from since January.
This week, Ms Trump officially moved into the West Wing of the White House and is expected to become a government employee.
She will maintain a stake, valued between $5m and $25m, in the Trump International Hotel in Washington DC.
According to Mr Kushner's financial disclosures, Ms Trump earned between $1m and $5m from the hotel between January 2016 and March 2017.
The hotel, which is just a few blocks from the White House, has raised concerns that foreign governments or special interests groups could stay there in order to gain political favours from the Trump administration.
Mr Trump has faced questions about conflicts of interest regarding his hotel and golf course businesses since his election. He has handed off control to his two oldest sons, but ethics watchdogs have complained that the arrangements do not go far enough to avoid conflicts and they have urged Mr Trump to divest fully or set up a blind trust for his assets.
The documents show Mr Kushner began selling off the most problematic pieces of his portfolio shortly after Mr Trump won the election and some of those business deals are not required to be disclosed in the forms.
The President's senior adviser has reportedly organised much of his holdings into trusts for which he is the primary beneficiary, according to AP.
World news in pictures

Show all 50
The financial disclosures released by the White House also show Mr Trump's chief strategist, Steve Bannon, disclosed assets between $13m and $56m, including his influential political consultancy, Bannon Strategic Advisors Inc, which is worth as much as $25m.
Bannon also disclosed that he earned slightly less than $200,000 last year as executive director of Breitbart News Network LLC, before he resigned to join Mr Trump's campaign last August.
Before being appointed counsellor to President Trump, Kellyanne Conway was worth as much as $40m from her investments and income from her personal political consulting firm.
Most of Ms Conway's assets, more than $31m, are held in cash or money-market accounts – likely because she had to sell most of her investments before taking a job in the White House.
She has shares in the tobacco industry including Altria and Philip Morris but also in drug giant Pfizer and snack food companies Kraft Heinz and Mondelez.
Gary Cohn, who left Goldman Sachs to become director of Trump's National Economic Council, is one of the wealthiest members of the Trump administration.
His financial disclosure shows he received at least $40m in income from Goldman Sachs-related dividends, interest, salary and bonuses, about half of which was in some form of stock compensation.
He also reported more than $1m in income from the Industrial and Commercial Bank of China, which the White House has said he is in the process of divesting along with his Goldman holdings.
President Trump and Vice President Mike Pence are not legally required to file new financial disclosures until next year.
Register for free to continue reading
Registration is a free and easy way to support our truly independent journalism
By registering, you will also enjoy limited access to Premium articles, exclusive newsletters, commenting, and virtual events with our leading journalists
Already have an account? sign in
Register for free to continue reading
Registration is a free and easy way to support our truly independent journalism
By registering, you will also enjoy limited access to Premium articles, exclusive newsletters, commenting, and virtual events with our leading journalists
Already have an account? sign in
Join our new commenting forum
Join thought-provoking conversations, follow other Independent readers and see their replies