Ivanka Trump backs White House plan to scrap Obama's gender pay gap policy
'The proposed policy would not yield the intended results,' Ms Trump has claimed
Emily Shugerman
New York
Wednesday 30 August 2017 19:22 Comments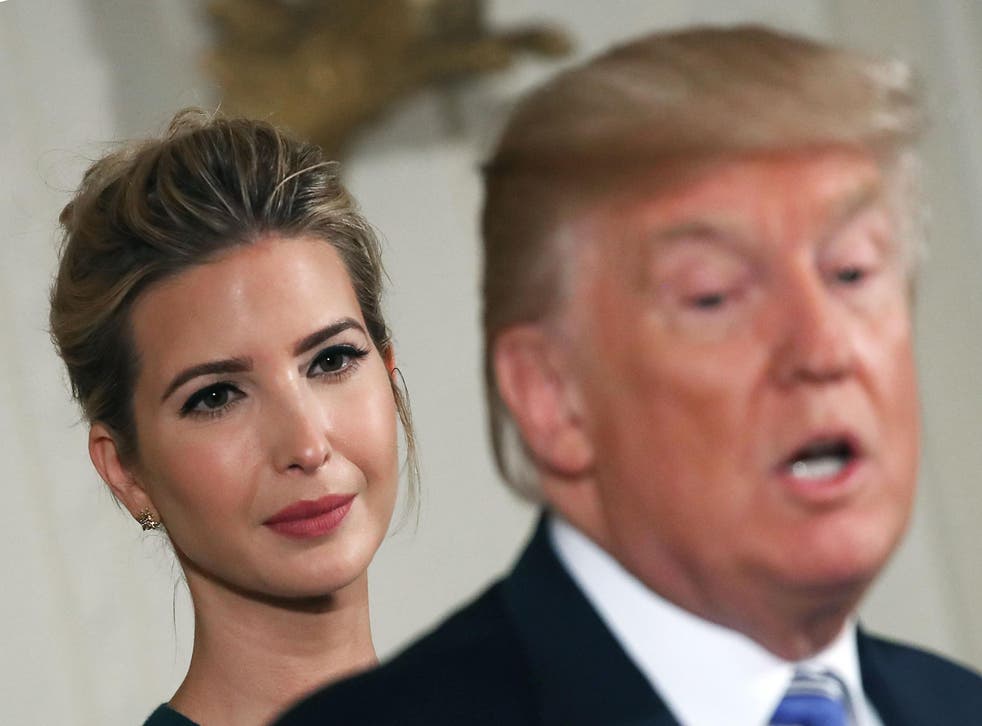 Ivanka Trump, a White House adviser on women in the workplace, will support the rollback of an Obama-era rule aimed at closing the gender pay gap.
The White House recently decided not to require businesses to report pay data for workers of different genders, races, and ethnic groups – a policy the Obama administration had proposed in order to combat wage disparities.
In a statement, the White House Office of Management and Budget said parts of the plan "lack practical utility, are unnecessarily burdensome, and do not adequately address privacy and confidentiality issues".
Ms Trump – who has written editorials and hosted roundtables on the issues facing working women – announced her support for the decision on Tuesday.
"Ultimately, while I believe the intention was good and agree that pay transparency is important, the proposed policy would not yield the intended results," she said in a statement.
She added that she looked forward to working with "all relevant stakeholders on robust policies aimed at eliminating the gender wage gap".
Earlier this year, Ms Trump tweeted that "that women deserve equal pay for equal work".
"We must work to close the gender pay gap!" she tweeted on 4 April, also known as "Equal Pay Day".
The former businesswoman has also championed her father's family leave policy, which would require states provide six weeks of paid parental leave after the birth or adoption of a child. Ms Trump has been outspoken about how having a child can impact a woman's earnings.
"I think [women] are at this point where we're doing a lot, and a lot's falling upon us, and we need support, and we need relief," she told Business Insider last year.
The recently scrapped Obama-era policy would have required businesses with more than 100 employees to report their workers' yearly earnings. Data on companies' gender and racial makeup has been collected by the Equal Employment Opportunity Commission for decades, but this would have been the first widespread documentation of what they were paid.
Neomi Rao, the current administrator of the Office of Information and Regulatory Affairs, told the Wall Street Journal that the regulation would be "enormously burdensome," and wouldn't "actually help us gather information about wage and employment discrimination".
Women's rights activists, however, maintain that publicising this data will help identify trends in unequal pay. According to the National Women's Law Center (NWLC), the data would "encourage companies to identify and correct pay disparities and allow the EEOC to more effectively and efficiently root out and address pay discrimination".
In a series of tweets, the NWLC said they had repeatedly requested meetings with the OMB to discuss the issue, but had been rebuffed.
"Equal pay experts worked hard on this rule, but somehow @IvankaTrump on her own decided this policy 'would not yield the intended results'," the organisation wrote.
They added: "Unsurprisingly, @IvankaTrump & her dad would rather listen to billionaire corporations than those fighting for the rights of working people."
Register for free to continue reading
Registration is a free and easy way to support our truly independent journalism
By registering, you will also enjoy limited access to Premium articles, exclusive newsletters, commenting, and virtual events with our leading journalists
Already have an account? sign in
Join our new commenting forum
Join thought-provoking conversations, follow other Independent readers and see their replies