Jared Kushner has been voting as a woman for eight years
Voting records show the President's son-in-law is registered to vote as a woman in New York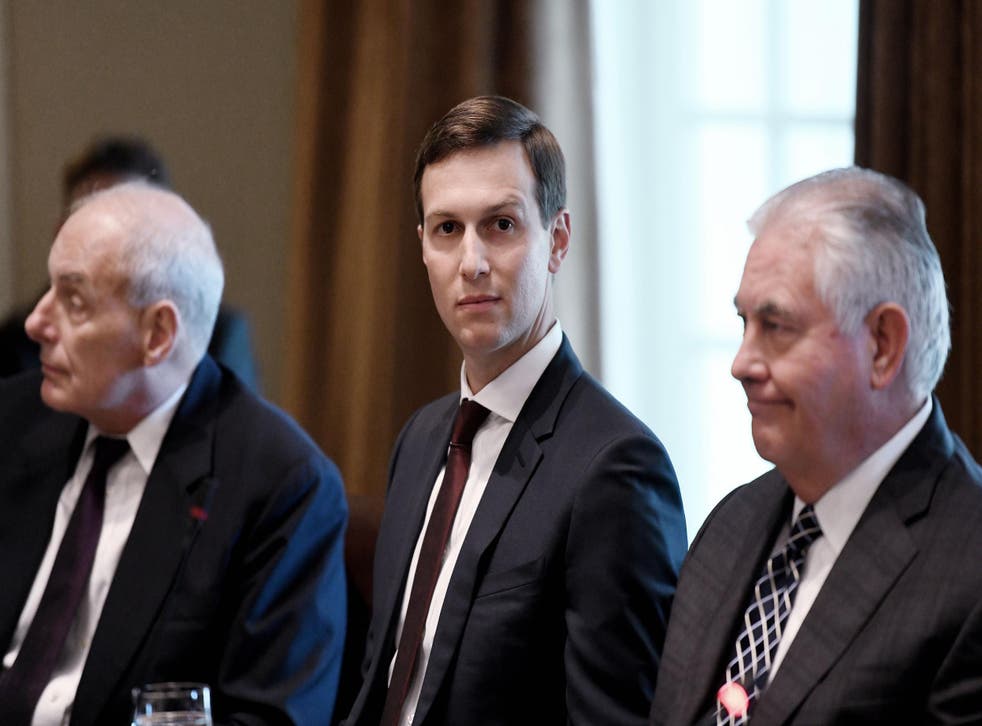 Jared Kushner, senior adviser and son-in-law to President Donald Trump, has been registered to vote as a woman for eight years.
Records from the New York State Board of Elections list Mr Kushner's gender as 'female,' according to screenshots obtained by Wired. The records indicate he registered to vote in November 2009.
It is unclear whether the listing was intentional, or a mistake. Mr Kushner last voted on 8 November, 2016 – the day of his father-in-law's election. He has yet to comment on the situation.
The inaccuracy is particularly notable in light of the Trump administration's interest in voter fraud. In fact, the President has claimed he would have won the popular vote if not for the "millions of people who voted illegally".
Mr Trump has formed a presidential advisory commission specifically to focus on the issue. The Commission on Election Integrity, led by Vice President Mike Pence and Kansas Secretary of State Kris Kobach, is charged with investigating Mr Trump's claim that between 3m and 5m people voted illegally in 2016.
The controversial orders Donald Trump has already issued

Show all 9
More than 40 states initially refused to turn over the information requested by the commission, which included registrants' full names, addresses, dates of birth, political parties, and the last four digits of their social security numbers.
"At best this commission was set up as a pretext to validate Donald Trump's alternative election facts, and at worst it is a tool to commit large-scale voter suppression," Virginia Governor Terry McAuliffe said at the time.
It's unlikely that Mr Kushner's inaccurate registration counts as voter fraud, however. According to Loyola Law School professor Justin Levitt, who spoke with Wired, fraud charges require "an intent to give the false information".
Jared Kushner says he had no improper conduct with Russian officials after appearing before Senate
The news of Mr Kushner's voter registration comes on the heels of another potentially embarrassing revelation for the administration: Both Mr Kushner and his wife, Ivanka Trump, have been using their personal email addresses for White House business.
Hillary Clinton's use of a private email server as Secretary of State was a frequent target of criticism from the Trump campaign. Mr Trump even suggested Ms Clinton be charged with a federal crime, sparking campaign-rally cries of "Lock her up!"
Mr Kushner used his personal email address to discuss media coverage and event planning with former chief of staff Reince Priebus, former chief strategist Steve Bannon, National Economic Council director Gary Cohn, and others, according to Politico.
Ivanka Trump used her personal email address to contact United States Small Business Administration administrator Linda McMahon before formally joining her father's administration, according to documents obtained by American Oversight.
Register for free to continue reading
Registration is a free and easy way to support our truly independent journalism
By registering, you will also enjoy limited access to Premium articles, exclusive newsletters, commenting, and virtual events with our leading journalists
Already have an account? sign in
Register for free to continue reading
Registration is a free and easy way to support our truly independent journalism
By registering, you will also enjoy limited access to Premium articles, exclusive newsletters, commenting, and virtual events with our leading journalists
Already have an account? sign in
Join our new commenting forum
Join thought-provoking conversations, follow other Independent readers and see their replies