Justice Department drops case against woman who laughed at Jeff Sessions
Desiree Fairooz was scheduled to face trial for a second time next week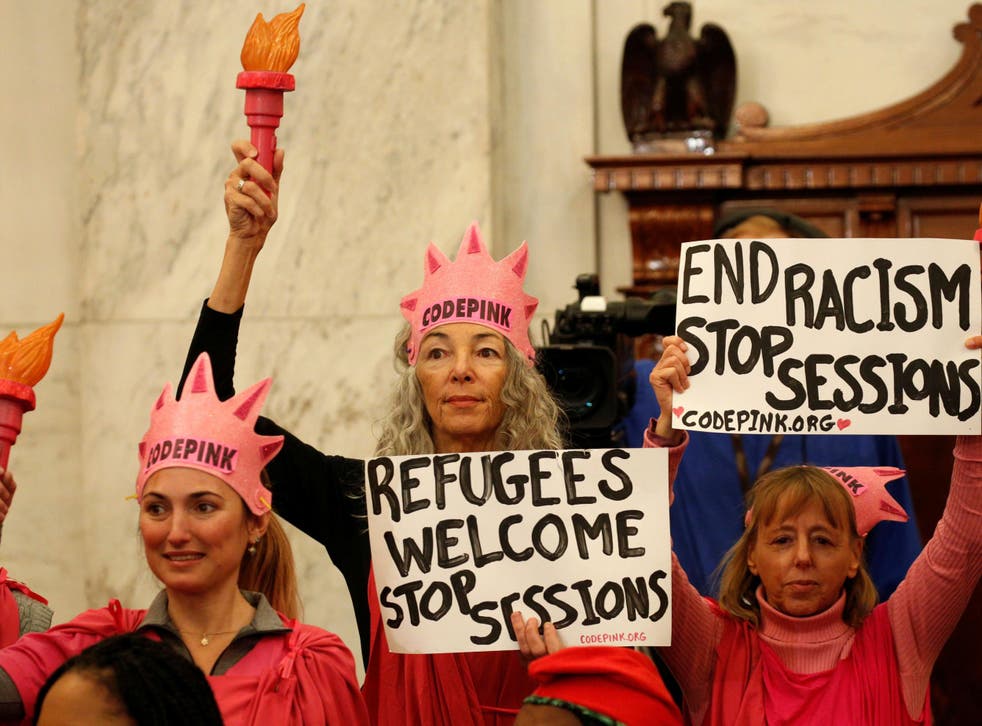 Prosecutors will no longer pursue their case against a woman who laughed at now-Attorney General Jeff Sessions during his confirmation hearing.
Activist Desiree Fairooz was scheduled to face trial for a second time next week. But an attorney for the DC US Attorney's Office is said to have quietly entered a filing which indicated the department was dropping the case.
Ms Fairooz was taken into custody in January after she giggled when a Republican senator said Mr Sessions had a "clear and well-documented" record of "treating all Americans equally under the law."
Mr Sessions was denied a federal judgeship in the 1980s amid allegations that he made racist remarks. One was that he thought the KKK was: "OK until I found out they smoked pot." He has said he was joking and has denied making racist remarks.
Ms Fairooz had attended the confirmation hearing along with about two dozen members from Code Pink, a progressive group that regularly protests on Capitol Hill.
According to the government's court filing, Ms Fairooz "let out aloud [sic] burst of laughter, followed by a second louder burst of laughter." It also says that Ms Fairooz "grew loud and more disruptive" as police led her out of the Kennedy Caucus Room, "eventually halting the confirmation hearing."
Ms Fairooz had been found guilty in May of charges of disorderly and disruptive conduct and of parading or demonstrating on Capitol grounds. Jurors who convicted Ms Fairooz told the HuffPost that they based their decision on the defendant's actions after she had laughed.
World news in pictures

Show all 50
But in July, a judge threw out the jury's conviction of Ms Fairooz, finding that the government had improperly argued during the proceedings that her laughter was enough to merit a guilty verdict.
A retrial was scheduled for November for the 61-year-old retired children's librarian, who faced possible jail time.
The government's dropping of the case came after Ms Fairooz rejected a plea deal in which she would have pleaded guilty in exchange for a recommendation of time served, according to the HuffPost.
"The last 10 months of my life have been somewhat stressful facing trial and the possibility of jail time and a criminal conviction for a chortle so I am greatly relieved that I will not stand trial again," Ms Fairooz told the media outlet in a statement. "As activists, we cannot be deterred from speaking out against injustice, standing up for our constitutional rights and yes, laughing."
In a statement, Code Pink the group Ms Fairooz was an activist for - said it "celebrates" the Justice Department's decision to drop the case against Ms Fairooz.
"The prosecution of Desiree, including one jury trial, was a waste of time and tens of thousands of taxpayer dollars. It was part the larger effort currently being made to crack down on activists. From the January 20th inauguration protests, the Department of Justice is prosecuting 200 people on multiple felony charges," the statement reads.
The statement added that Code Pink hopes the Justice Department will "scale back" its prosecution of activists and that others will be encouraged to protest in both Congress and the streets.
A spokesperson for the the US Attorney's Office for the District of Columbia said the office "typically does not discuss charging decisions, and has no comment on the decision to dismiss this particular case."
Register for free to continue reading
Registration is a free and easy way to support our truly independent journalism
By registering, you will also enjoy limited access to Premium articles, exclusive newsletters, commenting, and virtual events with our leading journalists
Already have an account? sign in
Register for free to continue reading
Registration is a free and easy way to support our truly independent journalism
By registering, you will also enjoy limited access to Premium articles, exclusive newsletters, commenting, and virtual events with our leading journalists
Already have an account? sign in
Join our new commenting forum
Join thought-provoking conversations, follow other Independent readers and see their replies