Jeff Sessions: Donald Trump's Attorney General likely met Russian Ambassador Sergey Kislyak a third time
Mr sessions has already been accused of 'lying under oath' about connections with Russia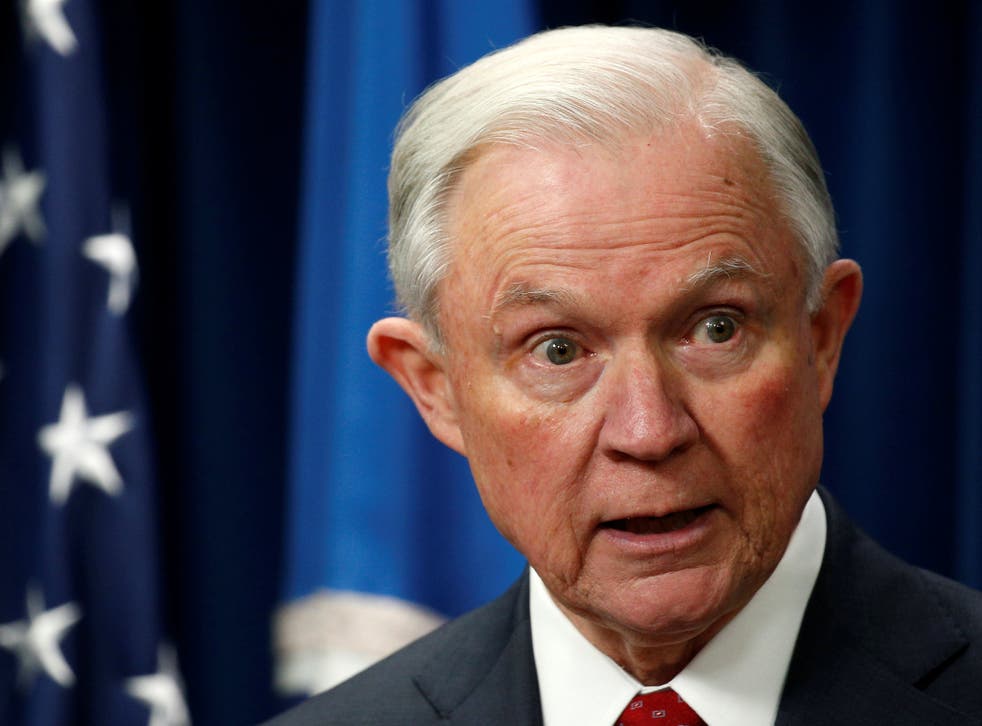 Attorney General Jeff Sessions, the United States' most senior law enforcement officer, may have met Russian ambassador Sergey Kislyak even more times than he was recently forced to admit.
Mr Sessions has already been accused of "lying under oath" by Democrats and has amended prior testimony about encounters with the Russian ambassador to the US, to say he had met with Mr Kisylak twice during Donald Trump's presidential bid.
But it now appears the two men are likely to have met a third time.
In April 2016, during Mr Trump's presidential campaign, Mr Sessions and Mr Kislyak both attended a small event at which Mr Trump made a foreign policy speech.
A cocktail meet-and-greet hosted by US conservative organisation the National Interest took place in a private room at the Mayflower Hotel in Washington DC.
About "two dozen" people were present, according to the organisation, and it was immediately followed by Mr Trump's address in which he called for an improved US-Russian relationship.
During the address, Mr Kislyak was seated in the front row. It is not known whether Mr Sessions and Mr Kislyak spoke directly.
During his Attorney General confirmation hearing in January, Mr Sessions was asked directly about contacts between the Trump Campaign and Russian officials.
Mr Sessions replied: "I didn't have, did not have communications with the Russians."
It later emerged Mr Sessions had spoken to Mr Kislyak on at least two occasions: once at the Republican National Convention in July 2016, and once at his Senate office in September 2016.
But Mr Sessions defended his January response this week. He said: "I did not mention communications I had had with the Russian ambassador over the years, because the question did not ask about them."
But he did admit that he should have been more careful in his testimony, adding: "I should have slowed down and said, 'but I did meet one Russian official a couple of times.'"
The Mayflower event was not mentioned in Mr Sessions amended testimony to the Senate Judiciary Committee.
Following the revelations about his meetings, Mr Sessions agreed to step aside from an investigation into Russian interference in the 2016 presidential election, despite still having the support of the President.
When Mr Trump was asked this week if Mr Sessions should remove himself from the investigations into Russian influence in the election, the President said: "I don't think so at all. I don't think he should do that at all."
Jeff Sessions steps aside from Russia investigations
Speaking to The Independent, Associate fellow of the US programme and council at Chatham House, Leslie Vinjamuri said: "He [Mr Sessions] went out of his way to say that he hadn't had any communications in that hearing, and that is what I think really disturbs people, this sort of voluntary lying. It was volunteered. And it certainly reads as deceit.
"The question then is why? Why go that extra step, it wasn't necessary, and there have been plenty of people who have said he was confused, or that he didn't think that was a meeting. That all seems like window dressing.
"But there is a pattern of people wanting to deny contact, and that is what is disturbing."
Mr Trump's national security adviser Michael Flynn was forced to resign last month, after it emerged he had been in "very frequent" contact with Mr Kislyak ahead of Mr Trump's inauguration, and tried to cover up the conversations.
The controversial orders Donald Trump has already issued

Show all 9
Mr Flynn admitted giving "incomplete information" to the Vice President over whether US sanctions on Russia were discussed during phone calls in December.
Ms Vinjamuri added: "Given the background context, you'd think he [Mr Sessions] would bend over backwards to be honest about the nature of the communications.
"You would put everything out there to be as clean as you could be, given you are the attorney general of the United States of America.
"It's a deeply disturbing pattern of behaviour."
Join our new commenting forum
Join thought-provoking conversations, follow other Independent readers and see their replies