Jeff Sessions fiercely defends Trump's firing of FBI Director James Comey
The attorney general also said he had no 'improper discussions' with the Russians 
Alexandra Wilts
Washington DC
Wednesday 18 October 2017 21:48 Comments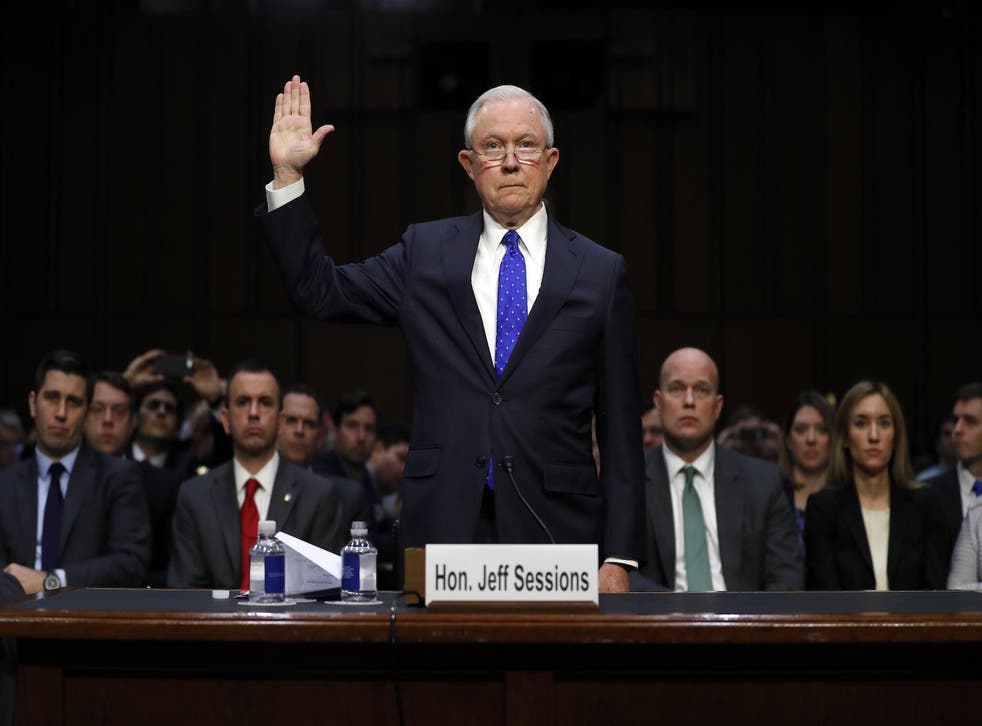 Attorney General Jeff Sessions has fiercely defended Donald Trump's firing of FBI Director James Comey, chalking it up to be the result of Mr Comey's handling of a probe into Hillary Clinton.
Speaking before the Senate Judiciary Committee, Mr Sessions it was "the first time I'm aware of" in which an FBI director had performed the traditional role of Justice Department prosecutors by announcing the conclusion of a federal investigation.
Mr Sessions said he was further astounded when Mr Comey, weeks before he was fired, insisted to a congressional committee that he would have taken the same actions again.
In July 2016, Mr Comey had recommended that no charges be filed against Ms Clinton or her aides, effectively closing a probe into her use of a private email server while she was Secretary of State.
But on 28 October, Mr Comey sent a letter to congressional leaders saying the FBI would resume the investigation after finding additional emails. Two days before the presidential election, Mr Comey wrote another letter to lawmakers saying the FBI's previous decision not to recommend charges against Ms Clinton would stand.
"I don't think it's been fully understood the significance of the error that Mr Comey made on the Clinton matter," Mr Sessions said, adding that it was "time for a fresh start" at the FBI.
Mr Trump already brought attention to the firing earlier in the day when he tweeted, based on newly released private FBI emails, that the ex-FBI chief had prematurely exonerated Ms Clinton.
Although Mr Sessions again refused to discuss his private conversations with Mr Trump, drawing criticism from Democrats, Mr Sessions said the President had asked him and Deputy Attorney General Rod Rosenstein for their recommendations about what to do with Mr Comey.
"He did ask for our written opinion and we submitted that to him," Mr Sessions said under questioning from Senator Dianne Feinstein, the committee's top Democrat.
The attorney general's comments came during his first testimony before the Senate Judiciary Committee, eight months into his tenure as the nation's chief law enforcement official.
The routine oversight hearing, which lasted about five hours, took place as Mr Sessions works to reshape the Justice Department with a sharp focus on immigration, drugs, gangs and violent crime. In the background, special counsel Robert Mueller – appointed by Mr Rosenstein – is conducting a probe into alleged ties between Russia and the Trump campaign.
The biggest names involved in the Trump-Russia investigation

Show all 17
Mr Sessions recused himself from that investigation in March after reports revealed he had two previously undisclosed meetings with Sergey Kislyak, the then-Russian ambassador, during the presidential campaign.
While Mr Sessions suggested that Mr Comey was ousted because of the Clinton email case, Mr Trump said he was thinking of "this Russia thing" when he decided to ax his FBI chief. Mr Comey was leading the investigation for the FBI at the time.
On Wednesday, Mr Sessions said he couldn't recall discussing any details about the campaign with Mr Kislyak, although there may have been some comments made about Mr Trump's positions.
The atmosphere in the room became tense at several points during the hearing, particularly when Democratic Senator Al Franken suggested that Mr Sessions had changed his narrative as information about his meetings with Mr Kislyak emerged.
"The goal post has been moved. First it was 'I did not have communications with Russians' – which was not true," Mr Franken said. "Then it was 'I never met with Russians to discuss any political campaign' – which may or may not be true. Now it is 'I did not discuss interference in the campaign' which further narrows your initial blanket denial about meeting with the Russians," Mr Franken said.
A visibly frustrated Sessions responded: "Without hesitation, I conducted no improper discussions with Russians at any time regarding a campaign or any other item facing this country."
The attorney general accused Mr Franken of making a lot of allegations and said the senator was "improperly framing" the situation.
"I have committed myself to a high level of public service to reach the highest level of ethics and decency in my service," Mr Sessions said. "You have now gone through this long talk that I believe is totally unfair to me."
Register for free to continue reading
Registration is a free and easy way to support our truly independent journalism
By registering, you will also enjoy limited access to Premium articles, exclusive newsletters, commenting, and virtual events with our leading journalists
Already have an account? sign in
Join our new commenting forum
Join thought-provoking conversations, follow other Independent readers and see their replies