Woman prosecuted for laughing at Jeff Sessions
The protester refused a plea deal and faces a jury trial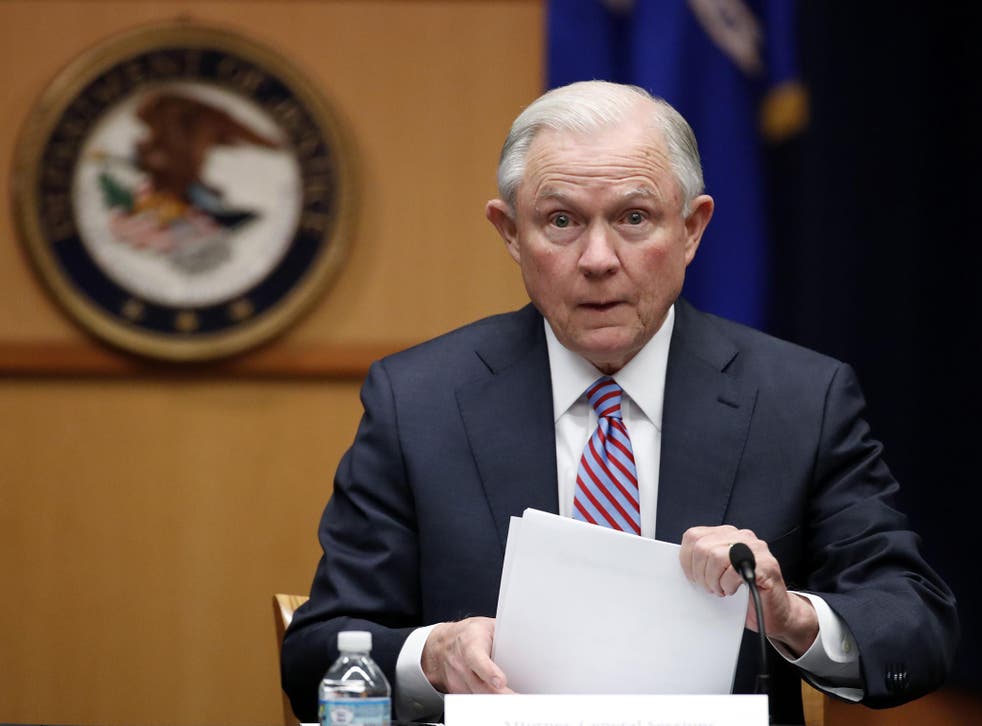 A woman is facing disorderly conduct charges for laughing during the confirmation hearing for Attorney General Jeff Sessions.
Desiree Fairooz laughed after Senator Richard Shelby, a fellow Alabama Republican, introduced Mr Sessions saying his history of "treating all Americans equally under the law is clear and well documented." Ms Fairooz was charged alongside two men — who donned white Ku Klux Klan outfits in protest — with disorderly conduct and demonstrating within a Capitol building.
All three demonstrators refused plea bargains in favour of jury trials.
"I felt it was my responsibility as a citizen to dissent at the confirmation hearing of Senator Jeff Sessions, a man who professes anti-immigrant, anti-LGBT policies, who has voted against several civil rights measures and who jokes about the white supremacist terrorist group the Ku Klux Klan," Ms Fairooz said in a statement released by the pro-women advocacy group Code Pink, which is supporting her.
Jeff Sessions says under oath that he has not had any contact with Russia
A reporter who shot a video that is being used by the prosecution in Ms Fairooz's case says that the laugh was not loud enough to be disruptive. Prosecutors say that the laugh was an attempt to "impede, disrupt, and disturb orderly conduct" of the confirmation hearing.
Donald Trump's first 100 days: in cartoons

Show all 33
Mr Sessions was a controversial pick to become the nation's leading law enforcement official and his confirmation path was wrought with contentious moments. The former senator from Alabama was repeatedly accused of expressing racist views in the past — a history of racist accusations that includes a 1980s ad aired by Mr Shelby himself that accused him of calling the KKK "good ole boys."
During his confirmation, Mr Sessions saw rare opposition from a fellow sitting senator, New Jersey's Corey Booker, who testified boldly against him during his hearings saying that his civil rights record disqualified him from the attorney general post. Mr Booker was joined by civil rights legend Representative John Lewis in voicing concerns about Mr Sessions during those hearings.
Later in the confirmation process, Massachusetts Senator Elizabeth Warren refocused national attention on Mr Sessions' alleged racism when she was silenced by Republican leadership as she read, on the Senate floor, a 1986 letter Coretta Scott King wrote while Mr Sessions was up for a federal judgeship accusing him of using public office to intimidate black voters.
Join our new commenting forum
Join thought-provoking conversations, follow other Independent readers and see their replies