Biden reads 'Sir, there is something on your chin' note passed to him by brave aide
The 78-year-old was in a meeting with governors when he was caught off-guard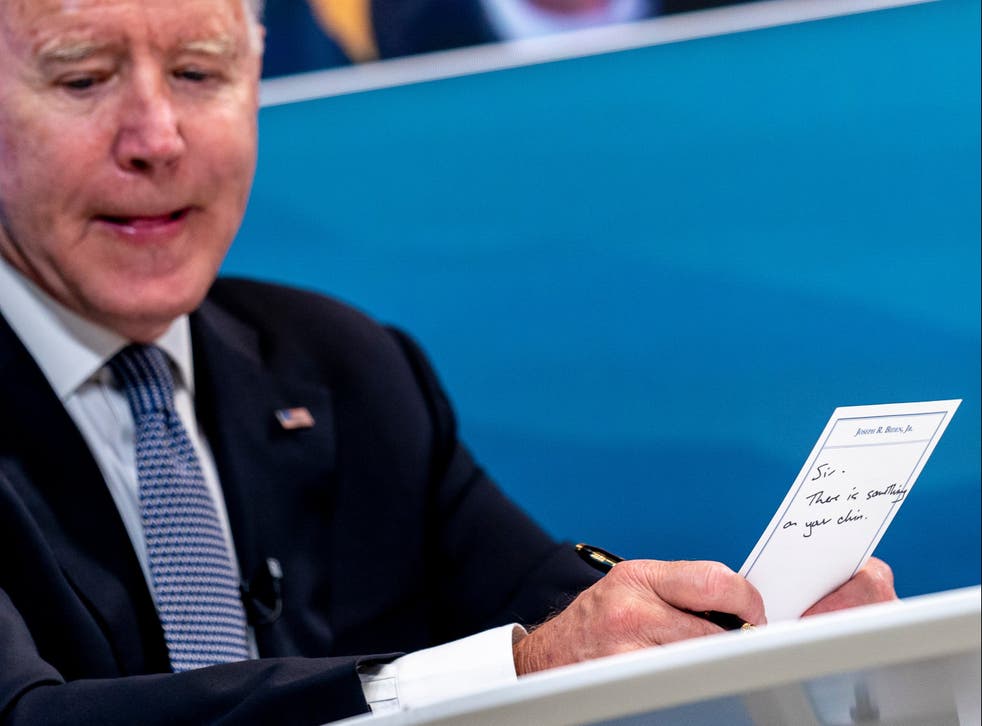 Leer en Español
Joe Biden was caught-off guard on Friday and had to be told there was something on his chin by an aide.
The US president, who was in a meeting with governors and officials, received a card with a hand written note saying: "Sir, there is something on your chin".
The incident, which happened as his vice president Kamala Harris was addressing officials on the issue of wildfires, was caught on camera – and immediately went viral on social media.
Mr Biden appeared to eventually remove whatever was on his chin, and was seen rubbing his face to remove the speck, and also licking his lips. Some Twitter users suggested the substance was mustard, but it remains unclear.
Ms Harris continued talking throughout the saga, seemingly unaware that the president had been pictured with the hand written note by an aide.
On Twitter, the mishap was ridiculed by his critics, who refereed to his old-age – a frequent taunt of his predecessor, Donald Trump, who frequently made gaffs of his own while in office.
A clip of Mr Biden's incident also found its way onto the Twitter page of the Republican National Committee's data team, RNC Research, where it was mocked.
"After a staffer gives Joe Biden a note saying, 'there's something on your chin,' Biden wipes his chin," tweeted the account, "[He] Then appears to put whatever was on his chin in his mouth?"
Others were more sympathetic and said of Mr Biden's aide: "Wish all people would be this kind".
It follows Mr Biden excused himself of a "Freudian slip" this week, after he confused Mr Trump and former president Barack Obama in a speech on the US economy. It was also widely ridiculed by Republicans.
Join our new commenting forum
Join thought-provoking conversations, follow other Independent readers and see their replies