John Boehner calls Donald Trump's presidency 'a complete disaster'
The former Speaker of the House did have some praise for the President's foreign policy
Emily Shugerman
New York Comments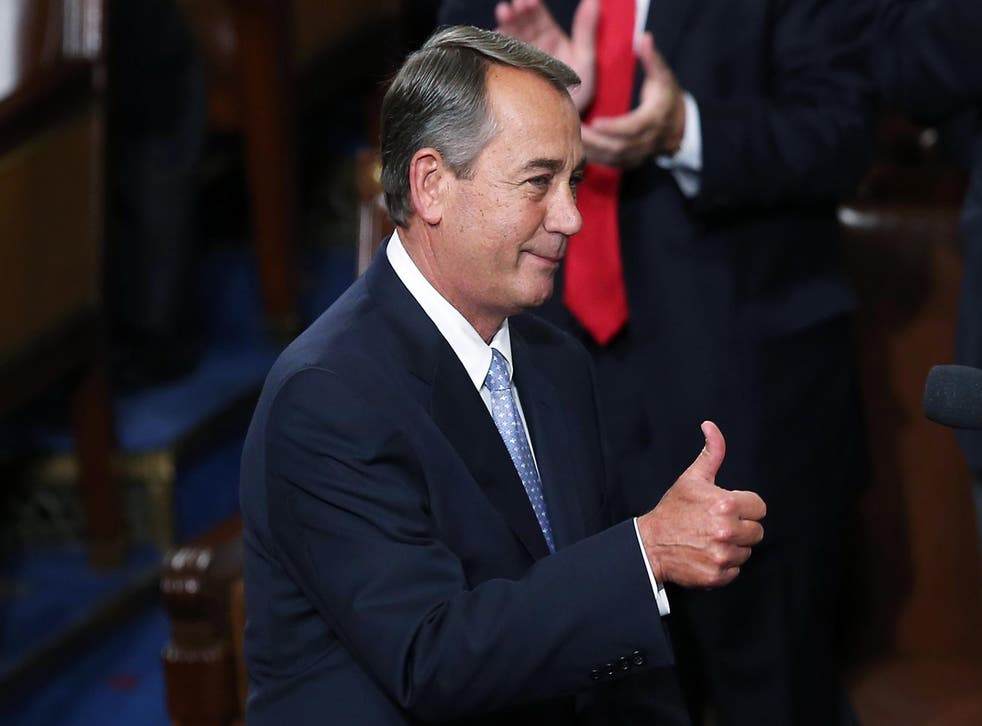 Former Speaker of the House John Boehner has called Donald Trump's presidency "a complete disaster".
The Republican – a longtime friend of Mr Trump who has previously complimented the President – spoke at an energy conference in Houston.
Mr Boehner said that, aside from foreign policy, "everything else [Mr Trump] has done has been a complete disaster".
"He's still learning how to be president," Mr Boehner added.
The former speaker has been remarkably candid about his views on the Republican party since resigning his seat in 2015. According to energy publication Rigzone, Mr Boehner heaped doubt on his party's policy proposals at Friday's event.
Mr Boehner called tax reform – which the White House has promised to deliver this year – "just a bunch of happy talk". He said the border adjustment tax touted by many Republicans is "deader than a doornail".
Mr Boehner even attacked the Republicans' highest priority of the moment: the repeal and replace of Obamacare.
"Republicans never ever agree on health care," he said, adding that full repeal and replacement is "not going to happen".
In pictures: President Donald Trump on tour

Show all 39
Mr Boehner's successor, Paul Ryan, had to pull a healthcare bill from a House vote in March, after it became clear the bill would not receive enough support. A revised version of the bill later passed the House by one extra vote.
The former speaker's comments echo those of several other prominent Republicans, who have claimed the Trump White House is "in a downward spiral" and "reaching Watergate size and scale".
Later in his remarks, however, Mr Boehner had some positive things to say about Mr Trump's foreign policy. He specifically praised the president's tough stance on Isis.
Mr Trump is currently engaged in his first trip abroad as president, during which he has spoken out repeatedly on the threats posed by Islamic State terrorists.
Mr Boehner further urged Democrats back off of impeachment talk, saying it would only "rile up" Trump supporters.
"Remember, impeachment is not a legal process; it's a political process," he said.
Talk of Mr Trump's impeachment has circulated ever since Mr Trump fired his FBI director, James Comey, who was overseeing an investigation into the Trump campaign's possible ties to Russia.
Mr Boehner made it clear that he does not envy Mr Trump's position, saying, "I drink red wine. I smoke cigarettes. I golf. I cut my own grass. I iron my own clothes. And I'm not willing to give all that up to be president."
Register for free to continue reading
Registration is a free and easy way to support our truly independent journalism
By registering, you will also enjoy limited access to Premium articles, exclusive newsletters, commenting, and virtual events with our leading journalists
Already have an account? sign in
Join our new commenting forum
Join thought-provoking conversations, follow other Independent readers and see their replies