John Kelly promises 'no mass deportations' in immigration crackdown
Homeland Security Secretary's comments come as Donald Trump calls plans to arrest and deport more illegal immigrants 'a military operation'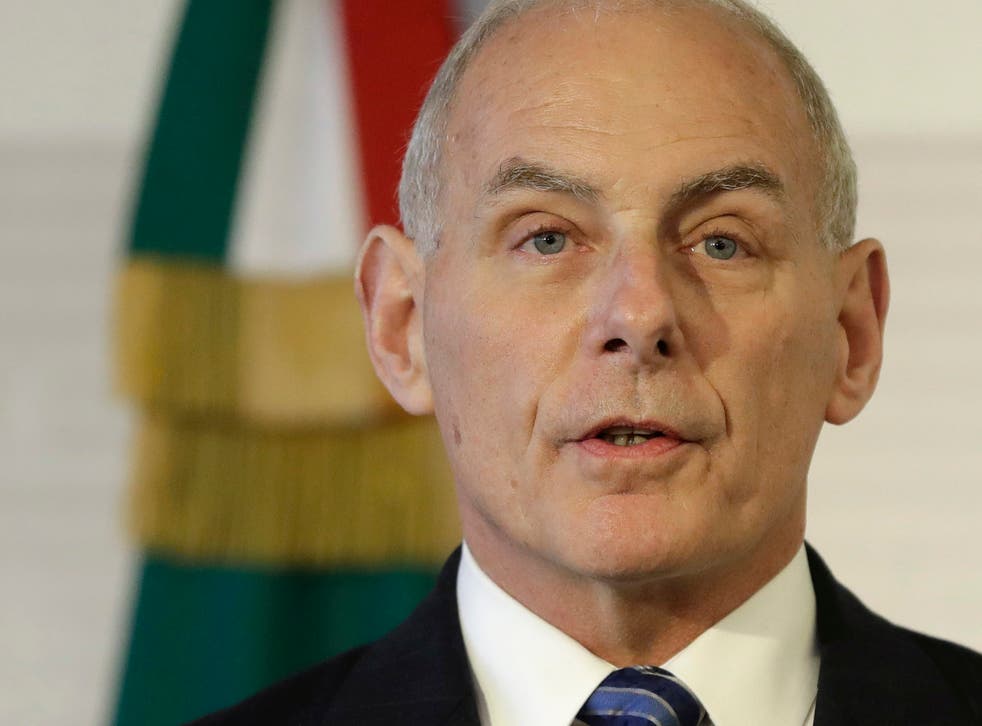 The US Secretary of Homeland Security has said there will be "no mass deportations" during Donald Trump's crackdown on illegal immigration.
John Kelly told reporters in Mexico City there would be "no use of military force for immigration operations" and said enforcing new policies would be done legally and with respect for human rights.
Mr Trump has promised to build a wall at the border between Mexico and the US and said he plans to deport two to three million undocumented immigrants with criminal records.
Mr Kelly's comments came as the President termed new efforts to arrest and deport more illegal immigrants "a military operation".
"We're getting drug lords out," he said at a White House meeting with business executives. "We're getting really bad dudes out of this country, at a rate that nobody's ever seen before."
There are around 11 million undocumented immigrants in the US, according to the Pew Research Centre. More than half of those living in America illegally are from Mexico, found the organisation in a recent report.
Donald Trump's Mexico wall: At what cost, and how long?
According to US government estimates, there are 1.9 million "removeable criminal aliens", or non-US citizens who have committed crimes and are eligible for deportation, in the country.
But this figure is not limited to illegal immigrants, and includes people from other countries living in the US legally – green card holders, for instance – who could still be sent home for breaking the law.
However, the President appears to have taken a somewhat liberal approach to these estimates.
In his first interview after his election victory, Mr Trump told CBS News he was going to "get the people that are criminal and have criminal records, gang members, drug dealers."
"A lot of these people, probably two million – it could be even three million – we are getting them out of the country or we are going to incarcerate," he said.
Mr Kelly and US Secretary of State Rex Tillerson met their Mexican counterparts in the capital. He said actions will occur in close coordination with Mexico's government.
Trumped! The best cartoons on 'The Donald'

Show all 28
Mr Trump is also expected to issue a new travel ban, replacing the directive suspending access to the US to citizens of seven mostly Muslim countries, next week.
Homeland Security Secretary John Kelly has called the revised order a "more streamlined version" of the original travel ban, which sparked widespread confusion and mass protests.
Join our new commenting forum
Join thought-provoking conversations, follow other Independent readers and see their replies