Controversial congresswoman Lauren Boebert poses for photo at Trump farewell as GOP hierarchy snub him
The Congresswoman is facing calls for her to resign or be removed from office following the Capitol riot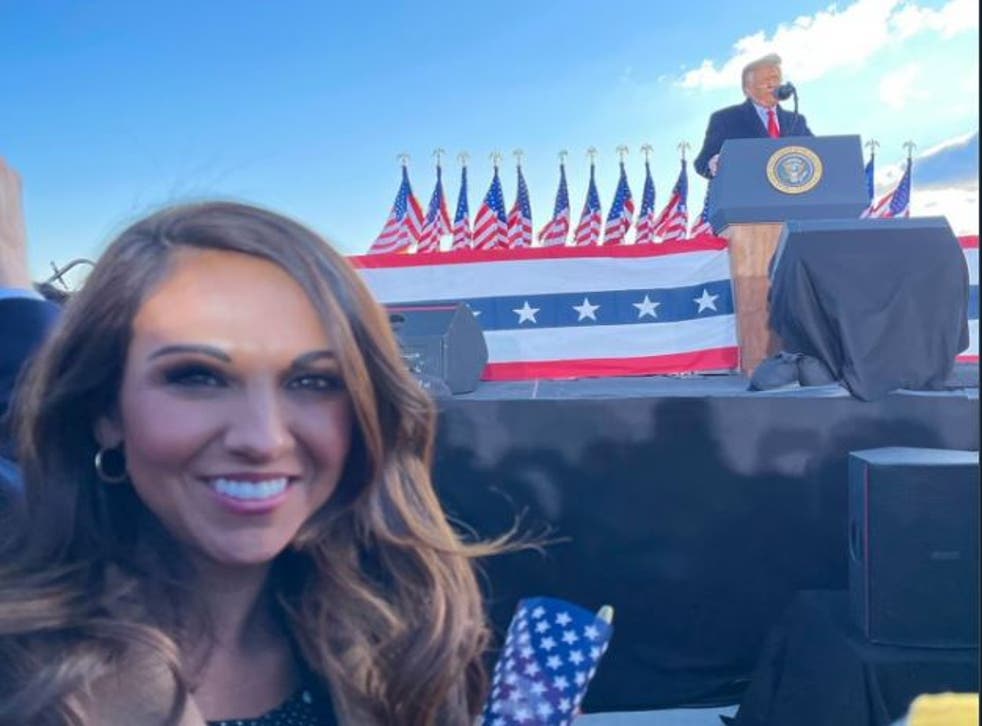 Leer en Español
Conservative Congresswoman Lauren Boebert posted a selfie from Donald Trump's final speech, apparently foregoing - or lacking an invitation to - the inauguration of Joe Biden.  
"Today. Thank you, Mr President," Ms Boebert wrote with a heart emoji. Mr Trump can be seen in the background addressing the small crowd that turned out for his farewell.
Most notable Republican lawmakers chose to attend Mr Biden's inauguration rather than Mr Trump's farewell.
Vice President Mike Pence skipped Mr Trump's speech, as did Sen. Lindsey Graham, who Mr Biden once called a "personal disappointment."
Sens. Ted Cruz and Josh Hawley, who led the Senate effort to try to overturn the 2020 election that resulted in a violent riot at the US Capitol and who now face calls from other members of Congress to resign or be removed, also attended.
Rep. Matt Gaetz, a Trump ally who backed the president's election conspiracy theories, said he planned to attend the inauguration "virtually to avoid any additional security strain on those protecting the transition of power."
On the night of 6 January, after the rioters had been cleared out of the Capitol and Congress had reconvened, Mr Gaetz advanced conservative conspiracy theories alleging the Trump supporters who attacked the Congress were actually antifa members in disguise.
Ms Boebert has gained notoriety for her potential role in the riot as well.
On the day of the attack, Ms Boebert admitted she had constituents just outside the Capitol and said she was acting as their voice.
Reps. Steve Cohen and John Yarmuth - both Democrats - said they saw Ms Boebert leading a "large" group of in a tunnel connected to the US Capitol in the days prior to the deadly insurrection.
Mr Cohen told CNN he saw the group sometime "after the 3rd but before the 6th."
"Now whether these people were people that were involved in the insurrection or not, I do not know," Mr Cohen said.
Ms Boebert called the allegations "false" and "slanderous."
If it was found she did lead a tour for the purposes of aiding the rioters, Ms Boebert could face criminal charges and be could face an effort to have her removed from office.
Ms Boebert said she has been subject to "death threats and hundreds of vile phone calls and emails" in the wake of the riots.
Register for free to continue reading
Registration is a free and easy way to support our truly independent journalism
By registering, you will also enjoy limited access to Premium articles, exclusive newsletters, commenting, and virtual events with our leading journalists
Already have an account? sign in
Register for free to continue reading
Registration is a free and easy way to support our truly independent journalism
By registering, you will also enjoy limited access to Premium articles, exclusive newsletters, commenting, and virtual events with our leading journalists
Already have an account? sign in
Join our new commenting forum
Join thought-provoking conversations, follow other Independent readers and see their replies