Lawyer explains why Michael Flynn's immunity request changes everything
'Flynn's immunity request very strongly suggests there was a criminal conspiracy at the highest levels of government'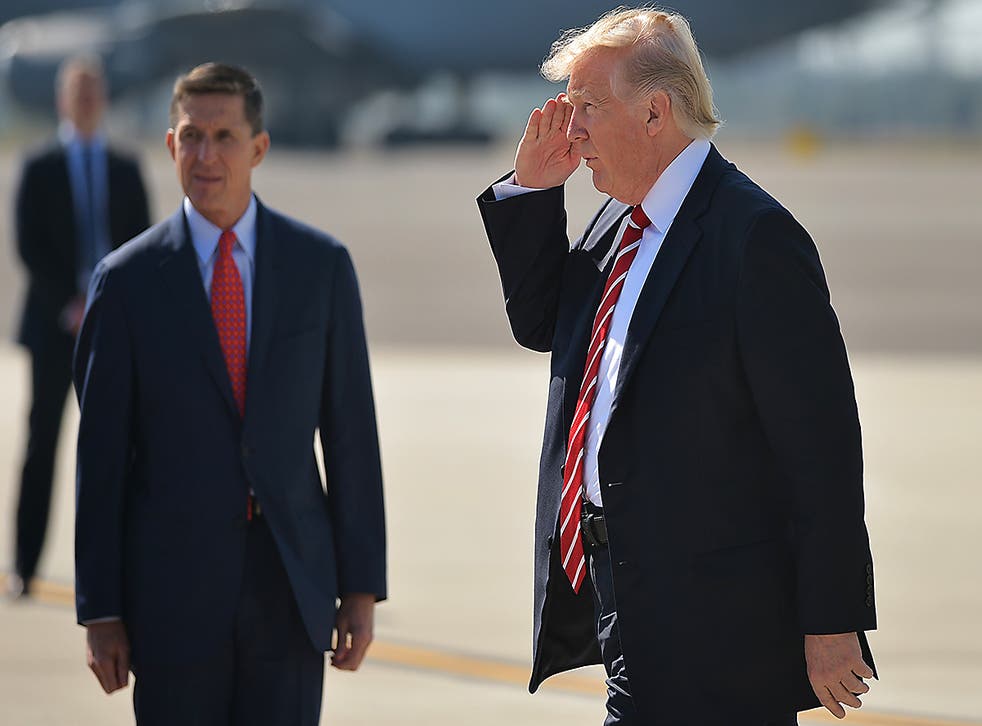 Michael Flynn's unusual immunity request suggests the Trump administration has been involved in a "criminal conspiracy", according to a US legal commentator.
The former national security adviser, who was forced to step down for failing to disclose the extent of his meetings with Russian diplomats, has agreed to co-operate with investigations into links between Russia and the Trump administration.
Mr Flynn will testify for the Senate and House Intelligence Committees' investigation into Russia links and alleged interference in the 2016 election - but only if he is granted immunity from prosecution.
"General Flynn certainly has a story to tell, and he very much wants to tell it", said his lawyer in a statement released Thursday.
Seth Abramson, a former attorney turned academic and journalist, said that a number of aspects of Mr Flynn's request were "bizarre".
Immunity is generally granted in secret deals between attorneys and investigators, so it it is unusual Mr Flynn's lawyers have made their request so publicly.
"If he really had some very specific information about Trump campaign collusion with the Russians ... there's no way a lawyer would try to sell that information for immunity by way of release of a statement," law professor Ronald Wright told Vox.​
Mr Abramson went on to speculate that the very public nature of the statement could mean that Flynn had agreed to give evidence which would incriminate Mr Trump or a large number of his associates - "delivering a bigger fish" or a "huge number of smaller ones."
"Another possibility is that Flynn might fear for his life", said the attorney. "Flynn so publicly implying he has the goods on Russiagate greatly increases the risk of discovery for anyone trying to silence him."
"Let's be clear: Flynn's immunity request very strongly suggests there was a criminal conspiracy at the highest levels of government."
He also speculated the former security adviser might be scrambling to be first in an "immunity race", as a number of other high-profile Republicans and Trump associates might also be implicated in the Russia investigation.
Michael Flynn once said anyone seeking immunity 'probably committed a crime'
However, NBC reported on Friday that the Senate Intelligence Committee had rejected the immunity request. A senior Congressional officially said immunity was "wildly preliminary" and "not on the table" at this point.
It does not necessarily rule out immunity being granted at a later date.
Mr Flynn was criticised after an interview emerged in which he said: "When you are given immunity, that means that you have probably committed a crime,"
Register for free to continue reading
Registration is a free and easy way to support our truly independent journalism
By registering, you will also enjoy limited access to Premium articles, exclusive newsletters, commenting, and virtual events with our leading journalists
Already have an account? sign in
Register for free to continue reading
Registration is a free and easy way to support our truly independent journalism
By registering, you will also enjoy limited access to Premium articles, exclusive newsletters, commenting, and virtual events with our leading journalists
Already have an account? sign in
Join our new commenting forum
Join thought-provoking conversations, follow other Independent readers and see their replies