Michael Flynn's request for immunity in Trump-Russia probe 'rejected by Senate Intelligence Committee'
Mr Flynn's legal team have been told that immunity is 'not on the table'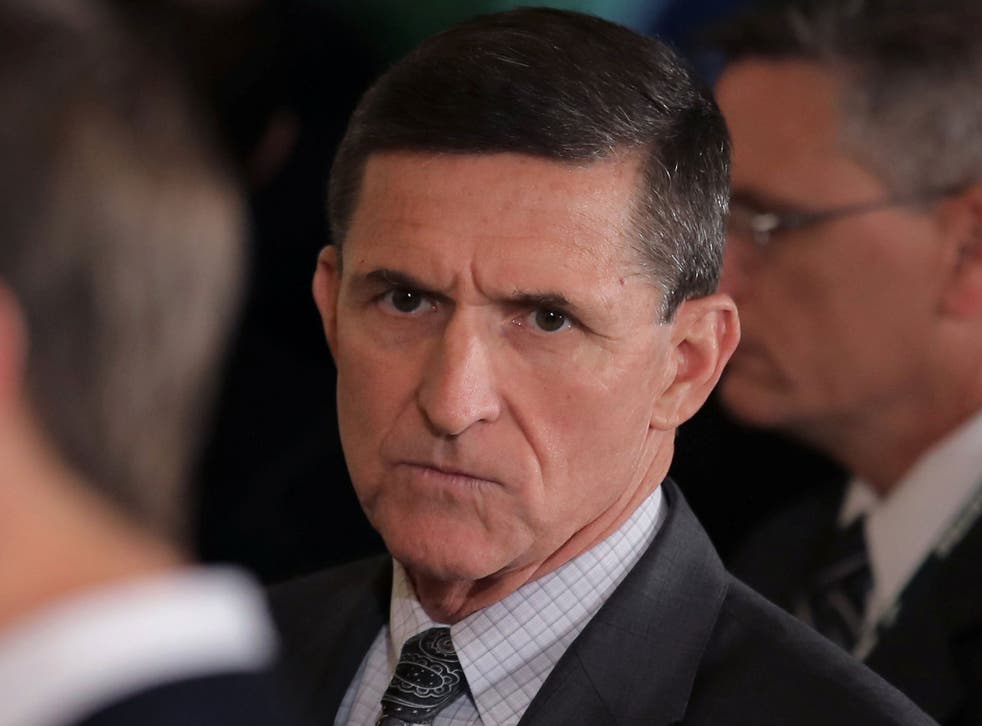 The Senate Intelligence Committee has reportedly turned down Michael Flynn's request for immunity from prosecution in exchange for being interviewed as part of their investigation into Russia's alleged hacking of the 2016 presidential election.
Mr Flynn's lawyer was told immunity was "wildly preliminary" and "not on the table" at this point, a senior congressional official told NBC. It does not necessarily rule out immunity at a later date, as the investigation is still being pursued.
President Donald Trump has supported the decision of his former national security adviser to seek immunity in exchange for his testimony in congressional probes of possible ties between the Trump campaign and Russia.
Mr Flynn wants protection against "unfair prosecution" if he testifies before the intelligence committees of the US Senate and the House of Representatives, his lawyer, Robert Kelner, said on Thursday.
Mr Kelner confirmed that discussions had taken place with the House and Senate Intelligence Committees, and said "General Flynn certainly has a story to tell, and he very much wants to tell it."
Mr Kelner said, however, that "out of respect" for the committees, he and his client would not be commenting on the details of their discussions with the committees.
He then accused the media of being "awash with unfounded allegations, outrageous claims of treason, and vicious innuendo."
As for Mr Trump, he wrote in a tweet: "Mike Flynn should ask for immunity in that this is a witch hunt (excuse for big election loss), by media & Dems, of historic proportion!".
Senator Angus King, a member of the Senate Intelligence Committee, said it was too soon to discuss immunity for Mr Flynn. A government official with direct knowledge of the case told Reuters that lawyers for Flynn raised the immunity request roughly 10 days ago with representatives of the Senate Intelligence Committee.
The controversial orders Donald Trump has already issued

Show all 9
Testimony from Mr Flynn could help shed light on the conversations he had last year with Sergey Kislyak, Russian ambassador to the United States, while national security adviser for Mr Trump's presidential campaign.
Mr Flynn was forced to resign as national security adviser in February for failing to disclose talks with Mr Kislyak about US sanctions on Moscow and misleading Vice President Mike Pence about the conversations, which occurred before Mr Trump took office.
Congressional committees and the Federal Bureau of Investigation are also looking into allegations of Russian meddling in the election campaign. Russia has denied allegations that it hacked emails of Democratic groups and released information to tip the presidential election toward Mr Trump.
Mr King said of Mr Trump's remarks on Mr Flynn: "This is not a witch hunt... This is an effort to get to the truth of some very important questions.
"There is no doubt whatsoever that the Russians were behind an effort to interfere in our elections," he told CNN. "To continue to deny that - it just flies in the face of all of the reality."
Register for free to continue reading
Registration is a free and easy way to support our truly independent journalism
By registering, you will also enjoy limited access to Premium articles, exclusive newsletters, commenting, and virtual events with our leading journalists
Already have an account? sign in
Register for free to continue reading
Registration is a free and easy way to support our truly independent journalism
By registering, you will also enjoy limited access to Premium articles, exclusive newsletters, commenting, and virtual events with our leading journalists
Already have an account? sign in
Join our new commenting forum
Join thought-provoking conversations, follow other Independent readers and see their replies