Democratic debate: Marianne Williamson says she wants constitutional amendment to allow for publicly funded campaigns
Marianne Williamson 'fires entire campaign staff' but remains in US presidential race
'It's amazing what you can do with volunteers,' candidate insists
US presidential hopeful Marianne Williamson has allegedly been forced to terminate the employment of her entire campaign staff due to funding issues, but remains in the 2020 election race.
The self-help author, spiritual leader and one-time Oprah Winfrey confidante had pledged to "harness love" in order to beat Donald Trump, but reports suggest her campaign is now on the brink of collapse.
As Ms Williamson's senior campaign advisor Paul Hodes confirmed to CMUR its reports that financial issues had forced mass layoffs – including his own – were correct, she addressed them in a statement on Thursday night.
"We've had a wonderful team, and I am deeply grateful for their energy and talents. But as of today, we cannot afford a traditional campaign staff," Ms Williamson said.
"I am not suspending my candidacy, however; a campaign not having a huge war chest should not be what determines its fate. The point of my candidacy has been to tell the heart's truth and that does not cost money.
Most shocking remarks made by Trump at campaign rallies

Show all 7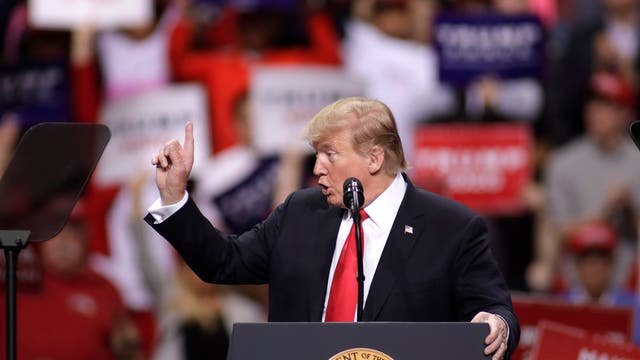 "Forging a new path for campaigns is going to be necessary, if we're ever to forge a new path for our country."
It is believed that at the height of her campaign, Ms Williamson employed around 45 staff at her headquarters and in early voting states, such as New Hampshire.
The controversial candidate entered the race with a vast fan base, having published numerous best-selling books.
While she drew the wider electorate's interest online after early Democratic debates and in the wake of several eyebrow-raising remarks, she has so far failed to cut through as a serious contender.
But Ms Williamson insisted she would remain in the race "as long as I feel a connection with voters that gets to the heart of things, bringing forth the conversation that would win the 2020 election and help transform this country".
She has voiced support for gun reforms, increased abortion access and reparations for slavery, also calling for a response to climate change akin to the Second World War effort and pledging to unpick the "amoral economics of a corporate aristocracy".
"There is an inherent value in talking about those things as a presidential candidate," she wrote on Thursday night. "In my mind, the fact that they couldn't make it into the machine of modern politics is not a reason to stop talking; if anything, it's a reason to KEEP talking.
"And that is what I'll do, as long as we have the resources to do it. In the meantime, it's amazing what you can do with volunteers."
On Thursday, Julian Castro announced he would not be continuing his presidential bid.
The former housing secretary under Barack Obama, and grandson of a Mexican immigrant, who had been one of the campaign's more progressive voices, also appeared to be suffering with funding issues.
Hours before news broke of Mr Castro's decision, Bernie Sanders revealed that his fundraising for the fourth quarter totalled a massive $34.5m from donations averaging $18.53.
For the Republicans, Mr Trump pulled in $46m for his re-election campaign over the same period.
Join our new commenting forum
Join thought-provoking conversations, follow other Independent readers and see their replies